Ham and Pasta Skillet Dinner
Simple and quick to put together, this ham and pasta skillet dinner will be your new favorite way to use up ham leftovers.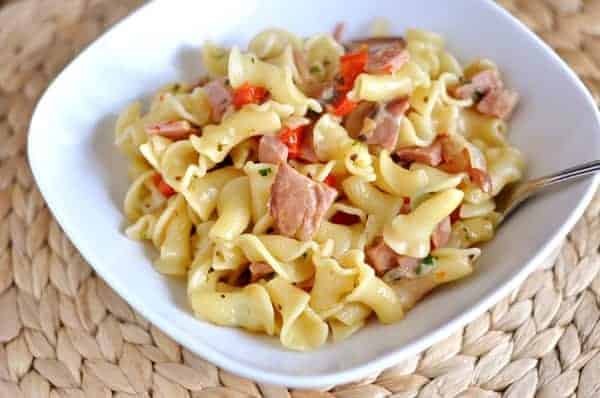 I've been making this meal for over three years now, and I always (always!) chuckle when my husband always (always!) says to me after taking the first couple bites, "Man, this stuff is tasty."
And I remind him that we've eaten it at least 25 times and he reminds me that he knows that – he just likes to reaffirm it's tastiness.
Simple and quick to put together, this is hands down my favorite way to use up ham leftovers. I find myself wanting to buy a 20-pound ham….just to have the leftovers to make this delicious pasta.
FAQs for Ham and Pasta Skillet
Can I make this with chicken instead of ham?
I think that would be delicious! Cubed and cooked would be my vote!
Can I subtitute other types of cheeses?
This recipe is really adaptable so yes, other cheeses would work. For example, cheddar or colby jack would give it a different flavor, but still be delicious.

Steamed broccoli or roasted cauliflower or even corn on the cob
A simple green salad (or for something more fancy this Gourmet Green Salad)
Fresh, seasonal fruit
Ham and Pasta Skillet Dinner
Ingredients
1 pound small tube or shell pasta
3 tablespoons olive oil
1 tablespoon butter
3 cups fully cooked ham, diced
1 large sweet red pepper, diced
1/2 medium onion, chopped
1/4 cup minced fresh parsley
2 garlic cloves, minced
1/2 teaspoon dried basil
1/2 tsp dried oregano
1 1/2 cups chicken broth or chicken stock
1 T freshly squeezed lemon juice
3/4 cup shredded Parmesan cheese
Instructions
Cook pasta according to package directions – only cooking until al dente since pasta will continue to cook and soak up liquid when added to the skillet.
While the pasta is cooking, in a large skillet, heat butter and olive oil over medium heat until butter is melted. Add pepper, onion, and garlic and cook until vegetables are tender, about 4-6 minutes. Add ham, basil and oregano and continue to cook, stirring occasionally, for another 2-3 minutes. Stir in broth (or stock) and lemon juice. Bring to a boil. Reduce heat; simmer, uncovered, for about 10 minutes or until liquid is reduced by half (at first it looks like it will be way to "brothy" but never fear, if you are patient, it will reduce!).
Stir drained pasta into ham and vegetable mixture. Add 1/2 cup parmesan cheese and toss. Sprinkle parsley and remaining parmesan cheese over the top of the pasta. Serve immediately.
Recommended Products
As an Amazon Associate and member of other affiliate programs, I earn from qualifying purchases.
Recipe Source: adapted from Lydia's Blog
Disclaimer: I am a participant in the Amazon Services LLC Associates Program, an affiliate advertising program designed to provide a means for me to earn fees by linking to Amazon.com and affiliated sites. As an Amazon Associate I earn from qualifying purchases.