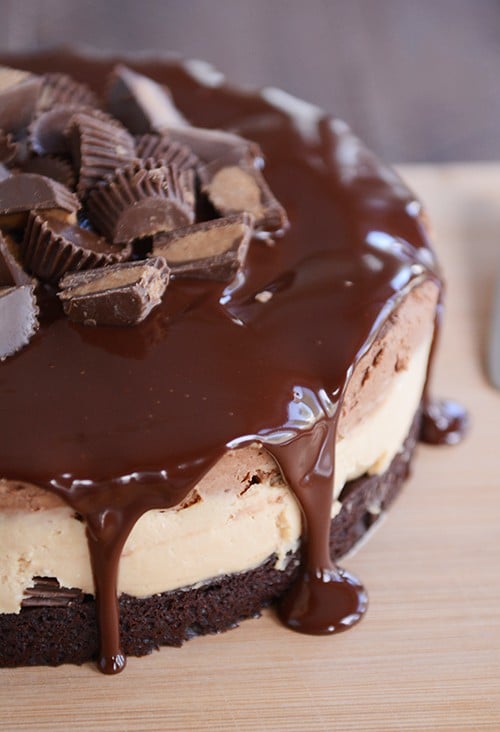 We're not messing around today.
Yes, this cake is a little crazy. Yes, it's slightly over-the-top. Yes, it's absolutely one of the yummiest desserts I've ever tasted. Sometimes, a dessert with a little bit of oomph (a nice way to say a little bit of work) is exactly what you need.
And actually, while this brownie cake does involve a few steps to get each of those luscious layers deliciously perfect, each step of the recipe is simple as can be.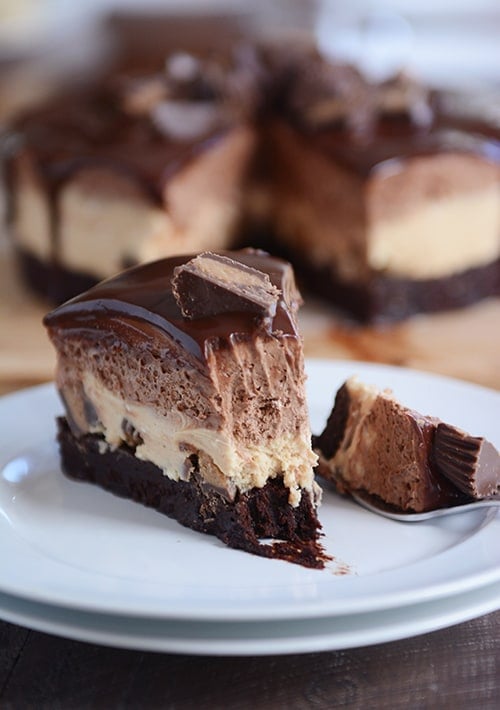 Considering the whole peanut butter, chocolate, brownie thing is waaaaay high up on Brian's list of favorite flavors, this is a no-brainer of a Father's Day dessert for him, although I can see myself finding a million excuses to make this cake.
It's hard to describe the happiness those light and fluffy layers of peanut butter and chocolate mousse piled on top of the rich, fudgy brownie bring to my life. Of course on top and in between all that gloriousness is dreamy chocolate ganache and enough mini Reese's peanut butter cups to feed a small army.
Speaking of an army, this cake will serve about that. Don't make the mistake of thinking your guests will need a huge honkin' slice to be satisfied. Even the slice I show in the picture above could probably have been cut a little thinner (ahem, although I had no problem devouring it completely).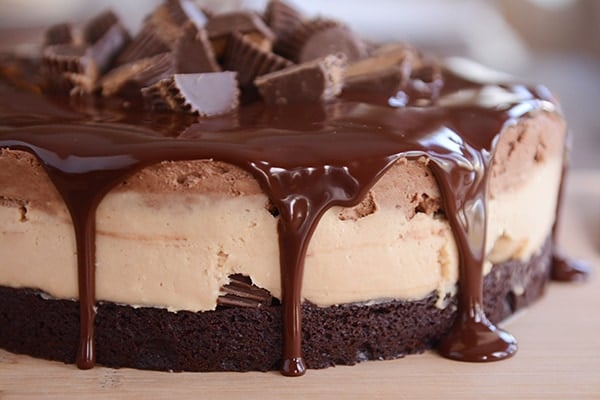 Be sure to read through the recipe and get a grip on the steps involved (the cake can easily be made ahead of time but it requires a few chilling periods and probably a little self-control to make sure the mousse actually makes it onto the cake).
And I certainly don't need to state this out loud (but of course I will), if you're looking to stockpile some rock star points in the kitchen, this cake will most certainly do the trick.
One Year Ago: Banana Bars with Browned Butter Frosting
Two Years Ago: Brown Sugar Rhubarb Muffins with A Little Bit of Streusel On Top
Three Years Ago: Thin and Crispy Oatmeal Cookies
Peanut Butter Chocolate Mousse Brownie Cake
Can we talk about heavy cream for a minute? It's important to use the right kind in this recipe so that the mousse layers whip up to thick and fluffy wonderfulness. Regular whipping cream won't work here - you need heavy whipping cream with 40% milkfat for best results (especially if you don't want to whip the heavy cream into stiff peaks before using in either of the mousse components which saves dirtying up another bowl).
Because this cake is loaded with rich, decadent layers, you can get away with serving thin slices.
UPDATE: Please read through the comments before making this recipe! Many of you have had issues with soupy/grainy mousse layers and I'd rather that not happen to anyone else.
Ingredients
10 tablespoons (1 1/4 sticks or 5 ounces) butter
1 1/4 cups (9 7/8 ounces) sugar
3/4 cup plus 2 tablespoons (2 7/8 ounces) unsweetened cocoa powder (natural or Dutch-process)
1/2 teaspoon salt
1/2 teaspoon pure vanilla extract
2 large eggs
1/2 cup (2 3/8 ounces) all-purpose flour
12 ounce bag mini Reese's peanut butter cups, unwrapped and cut in half
2 ounces cream cheese, softened
1/3 cup (1.5 ounces) powdered sugar
3/4 cup peanut butter
1/2 teaspoon vanilla extract
2 cups cold heavy whipping cream
9 ounces semisweet chocolate, cut into chunks (or use good-melting chocolate chips)
2 ounces cream cheese, softened
3 tablespoons powdered sugar
1/2 teaspoon vanilla extract
2 cups cold heavy whipping cream
1/2 cup semisweet chocolate chips
1/2 cup heavy cream
Directions
Preheat the oven to 325 degrees F. Line the bottom of a 9-inch springform pan with parchment paper and lightly grease the bottom and sides with nonstick cooking spray.
For the brownies, in a medium microwave-safe bowl (or in a pan on the stovetop), melt the butter, sugar and cocoa powder at 1-minute intervals, stirring in between, until the butter is completely melted and the mixture is well-combined.
Let the mixture cool to warm room temperature. Stir in the salt and vanilla. Add the eggs and mix until the batter is thick and smooth. Stir in the flour until combined. Spread the batter evenly in the prepared pan and bake for 30-40 minutes until the brownie is set around the edges and only moist crumbs come out when a toothpick is inserted in the center (not wet batter). Remove the pan from the oven and let the brownies cool completely (in the pan).
Top the cooled brownie layer with about 20-22 of the mini Reese's peanut butter cups that have been cut in half (so about 40 halves total on top of the brownie layer).
For the peanut butter mousse, in a large bowl with an electric handheld mixer (or in an electric stand mixer fitted with the whisk attachment), whip the cream cheese and powdered sugar together until smooth and lump-free. Add the peanut butter and vanilla and mix until lightly and creamy, 1-2 minutes. Add 1 cup of the heavy cream and mix, starting on low speed so it doesn't splatter everywhere, mix until well-combined. Add the remaining cup of cream and mix until the mixture is very thick, 4-5 minutes (UPDATE: according to many of your comments and depending on the type of mixer you are using, this may be too long! Stop mixing after it gets thick, even if it's only after a minute or so). Dollop large spoonfuls of the peanut butter mousse over the mini peanut butter cups and brownie layer. Spread into an even layer. Refrigerate while making the chocolate mousse.
For the chocolate mousse, melt the chocolate in a microwave-safe bowl at 1-minute intervals, 50% power, until melted and smooth. Set aside to cool completely.
In a large bowl (I use the same one as the peanut butter mousse after I've quickly wiped it clean) with an electric handheld mixer (or in the bowl of an electric stand mixer fitted with the whisk attachment), whip together the cream cheese and sugar until smooth and lump-free. Add the vanilla extract and 1 cup of the heavy cream and mix, starting on slow speed so it doesn't splatter, until smooth, 1 minute or so. Add the rest of the heavy cream and mix until thick and fluffy, 4-5 minutes.
When the chocolate is completely cool (this is critical! If it's warm at all, it will make the mixture soupy - it should still be melted but cool to the touch), fold it into the whipped cream mixture using a large spoon or rubber spatula to gently stir the mixture up and over until it is well-combined. Whisking too quickly might deflate the whipped cream mixture.
Spread the chocolate mousse evenly over the peanut butter mousse. Cover the pan with plastic wrap or foil and refrigerate the cake for at least 2 hours (or up to overnight).
Run a long thin knife under hot water and wipe clean. Run the knife around the edge of the brownies to loosen from the sides of the pan. Undo the springform pan and lift off the sides. You can serve the cake on the base of the springform pan or use a wide spatula in between the parchment and pan bottom to lift off the cake and place on a serving platter.
For the ganache, combine the chocolate and cream in a microwave-safe bowl (you can do this in a pan on the stovetop) and microwave at 1-minute intervals, stirring in between, until the mixture is glossy and smooth (it should only take a minute or so in the microwave). Let the mixture cool slightly so it isn't super hot but is still pourable - slightly warm room temperature is fine. Pour the ganache over the top of the cake; it doesn't need to cover the entire top and it's ok if it drizzles down the side. It should look a bit rustic.
Pile any extra peanut butter cups in the middle of the ganache. Refrigerate for an hour or so (or serve right away, the ganache will be a little soft and messy, but that's ok). Use a long thin knife to cut into thin slices (running it under hot water and wiping clean can help with neat slices) for serving.
https://www.melskitchencafe.com/peanut-butter-chocolate-mousse-brownie-cake/
Printed from Mel\'s Kitchen Cafe (www.melskitchencafe.com)
Recipe Source: inspired by this recipe at Life, Love and Sugar (used an easy homemade brownie recipe, made my own peanut butter and mousse layers and used ganache instead of frosting)