Double Chocolate Mousse Torte
This fudgy double chocolate mousse torte topped with sweetened cream and raspberries is decadent, delicious, and surprisingly easy to make!
Where do fancy-shmancy desserts fit into your life?
Do you make them? Eat them? Order them at restaurants? Only dream of them? None of the above?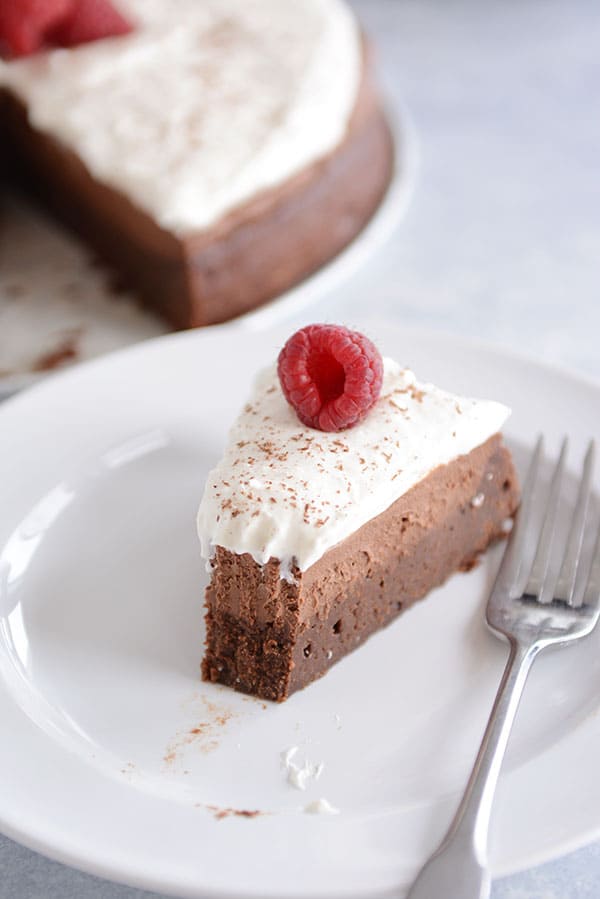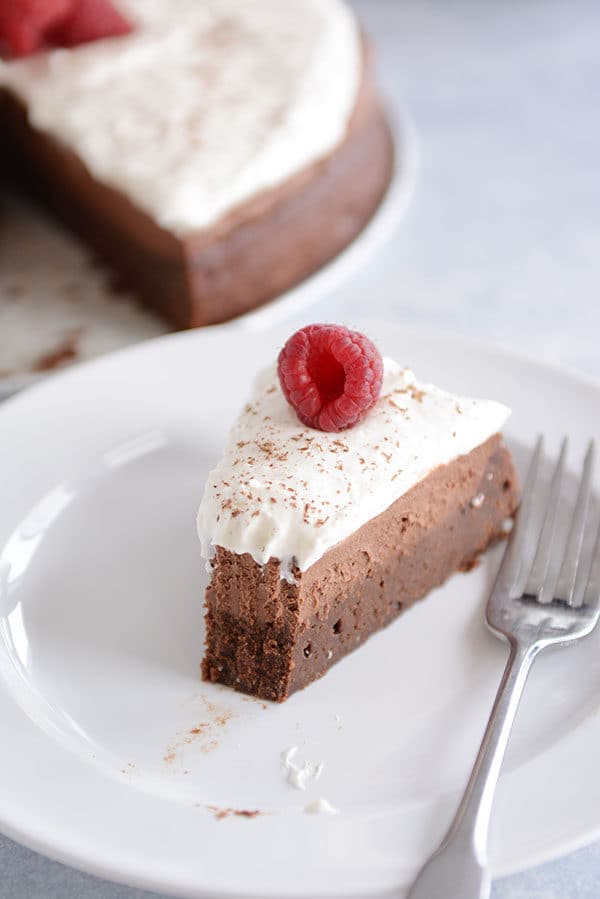 This double chocolate mousse torte is no doubt as fancy-shmancy as they come (well, at least in my simple world). It is incredibly delicious and is easily one of my favorite desserts of all time.
Talk about being a perfect, special Valentine's Day treat.
I wasn't actually planning on posting about it today.
I mean, I posted about it a loooong time ago (back in 2010), and since I already gave you a recipe repost this week in the name of White Velvet Sugar Cookies, I thought I'd give you a break.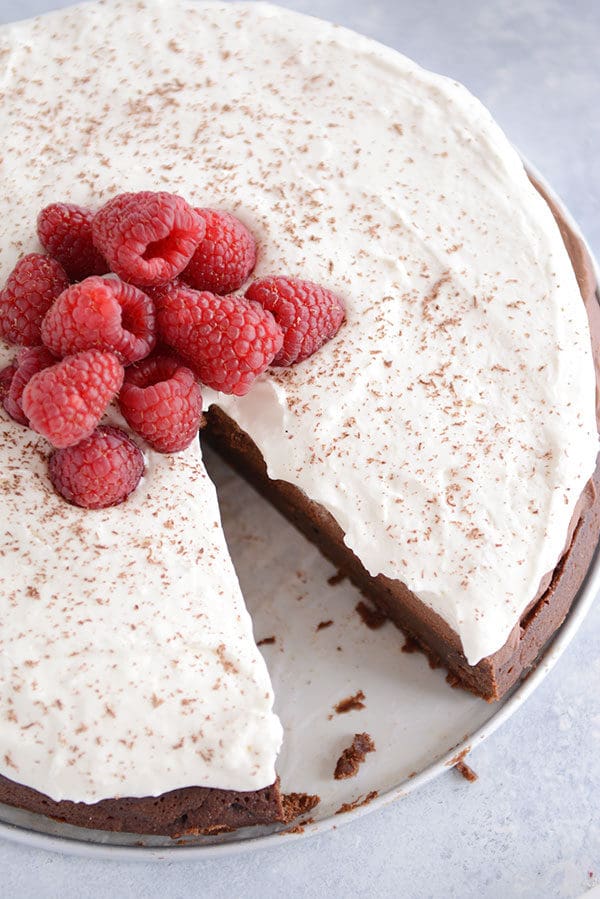 But, in the end, I couldn't resist (granted, self-control has never been my strong suit).
Today's my birthday. The big 3-9 to be exact.
And this very cake – this amazing and decadent and perfect double chocolate mousse torte – is currently sitting in my refrigerator right down the hallway there…and I swear I can smell it.
It's tempting me with every breath I take.
So I figured, hey, if I'm going to break every self-control rule in the name of indulging in all things double chocolate mousse on my birthday, then you should have the same chance.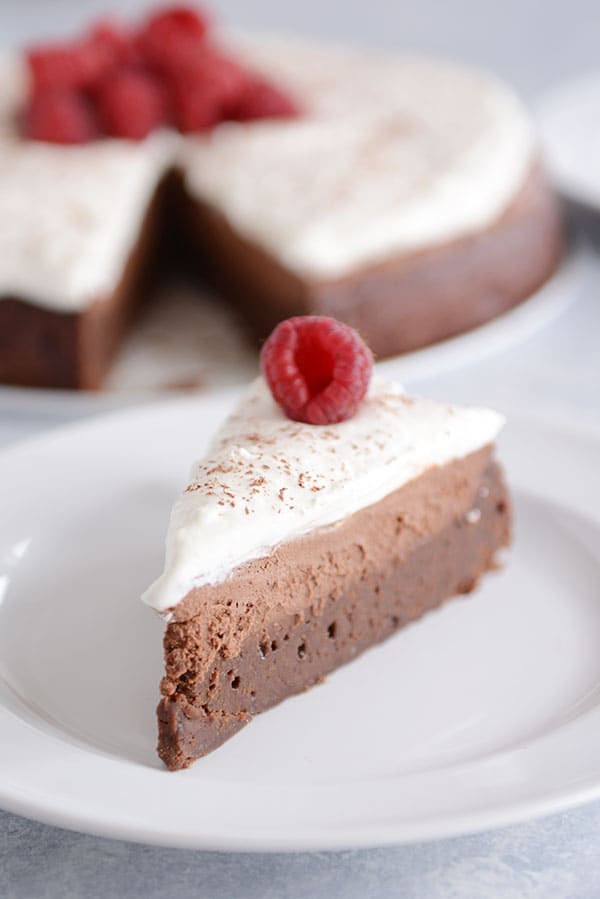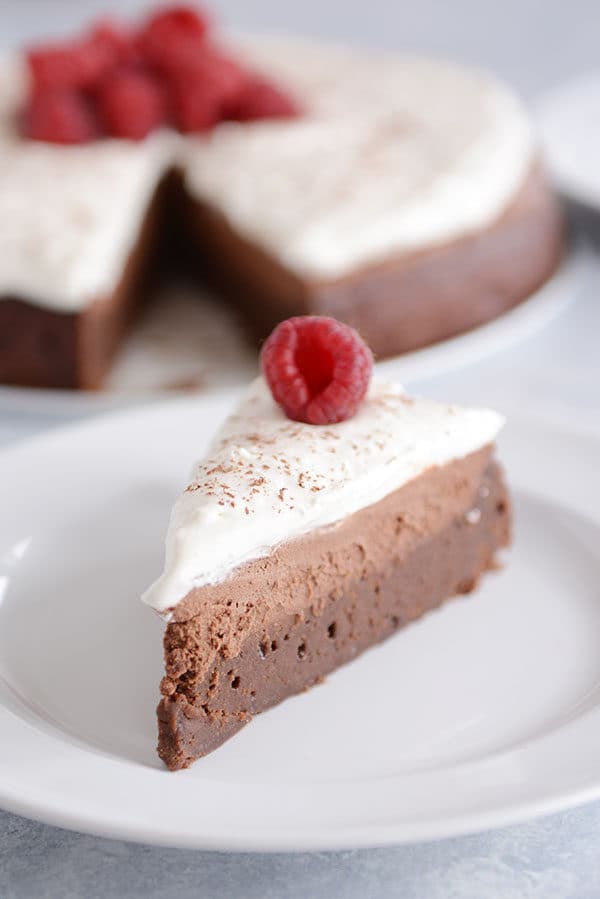 Of course, you'll have to whip this baby up yourself (I can't guarantee there'll be any left in my house by the time you read this), but at least I'm coming clean about one of my favorite recipes and giving you the chance to make it ASAP.
This double chocolate mousse torte truly is one of my most-loved recipes ever. If you've experienced the deliciousness, you'll understand why I desperately wanted to tell you about it today.
It's stood with me through the test of time. While some recipes get posted and shared…and forgotten (sad, but true), this one has not.
I've requested it for more birthdays than not over the last seven years, and I make it all the time when we entertain company or want a special Sunday dessert.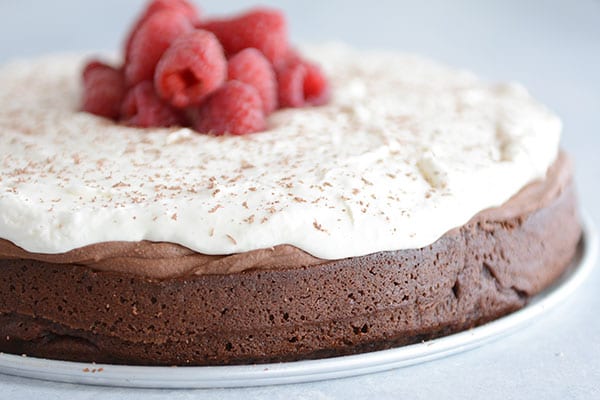 A complete show-stopper, this fancy-shmancy dessert might seem intimidating.
But if there's one thing I want you to come away with today, it is that this is actually a very, very easy dessert to make (the hardest part is washing the few bowls it takes to come together…or maybe waiting for it to chill in the refrigerator; yep, that's way harder than doing the dishes).
A fudgy, chocolate one-bowl cake batter bakes up in a springform pan creating that wonderfully decadent base cake layer.
And it only gets better (if you can believe it) from there.
While the idea of making chocolate mousse might seem terrifying, stick with me here, because it is shockingly simple.
When I posted the original recipe in 2010, it involved making a chocolate mousse recipe that, while delicious, called for using raw eggs (and several additional steps to whip the egg whites and other things).
Because I knew that some people have an aversion to eating raw eggs, I also included an alternate egg-free mousse recipe. Gosh, I was nicer back then than I am today.
Over the years, as I've made this torte dozens and dozens of times, I've almost exclusively used that "alternate" recipe – a quick chocolate mousse that calls for whisking melted chocolate and cocoa powder together and then lightening up the whole mixture with a "little" sweetened whipped cream.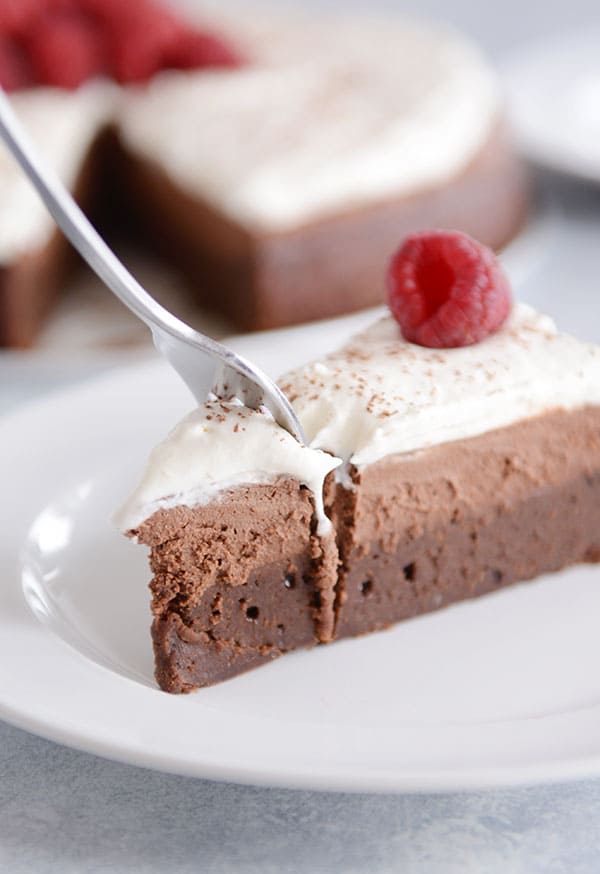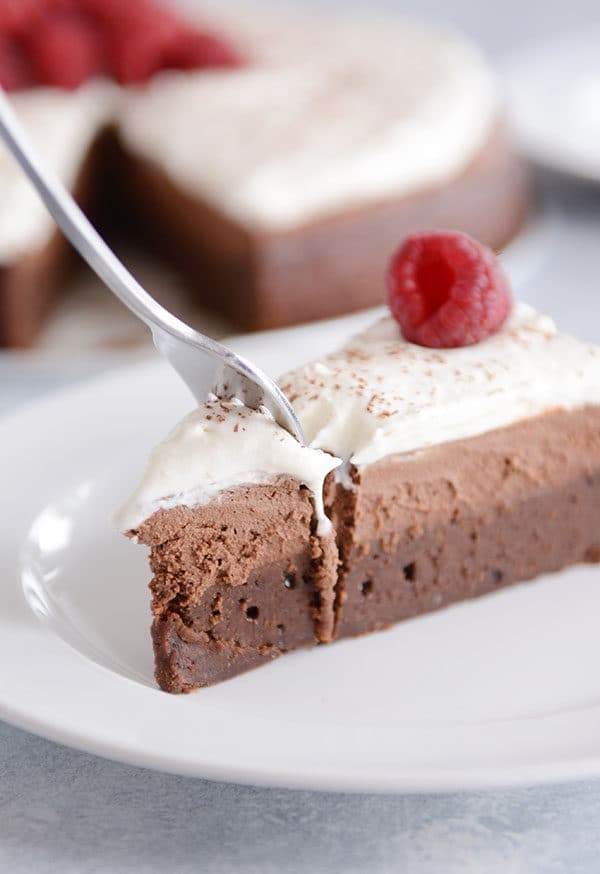 The recipe below is basically the same recipe I posted all those years ago, but I've replaced that original eggy (for lack of a better term) chocolate mousse with the recipe/method I've been using since then.
But don't panic! If you've come to rely and love the original recipe, I've included the details in the notes of the recipe, so you can continue to make it the same way.
I know a few of you don't like it when I take recipes out of the archives and repost with updated ingredients/directions.
When I do this, I always try to make a note of any changes for those that love the original. But usually, the changes are a good thing…and the whole reason I'm reposting the recipe again.
So don't be mad. Be glad, ok? My goal is for everyone to be glad here. Especially today. No mad people on my birthday, pretty please?
If you get mad, I'll be inclined to self-medicate with an extra piece of double chocolate mousse torte, and my metabolism ain't what it used to be, so take some pity on this old girl, will ya?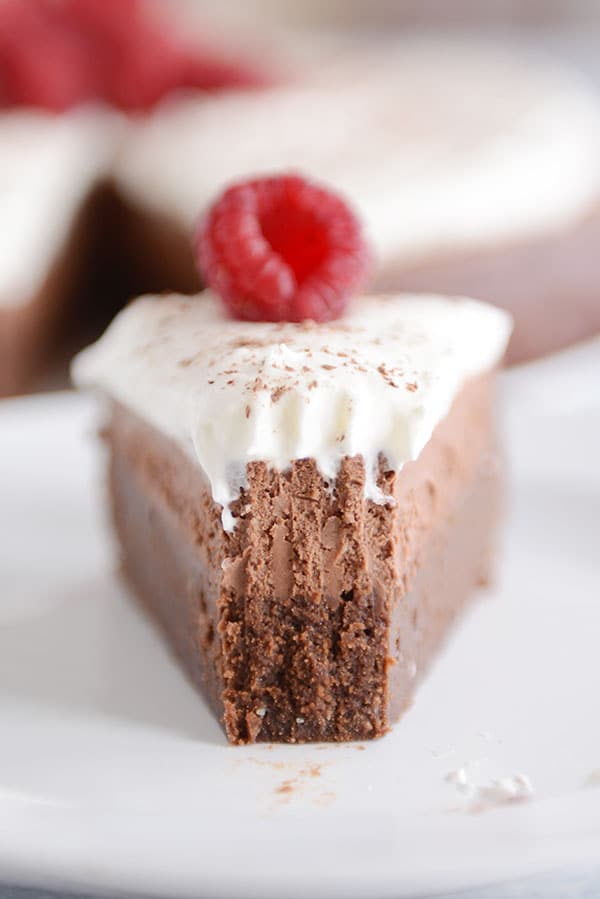 Just a quick note about pans: this recipe calls for a springform pan.
Can you make it in a traditional cake pan? (A question I get a lot on this recipe and others that call for a springform pan.)
Sure, but just keep in mind that it will be harder to get the slices neat and purty…and if using a 9-inch cake pan, you'll need one with at least 3-inch sides so the mousse and whipped cream stay put.
I have made this in both a 9-inch and 10-inch springform pan. The 9-inch obviously yields thicker layers, but either will work.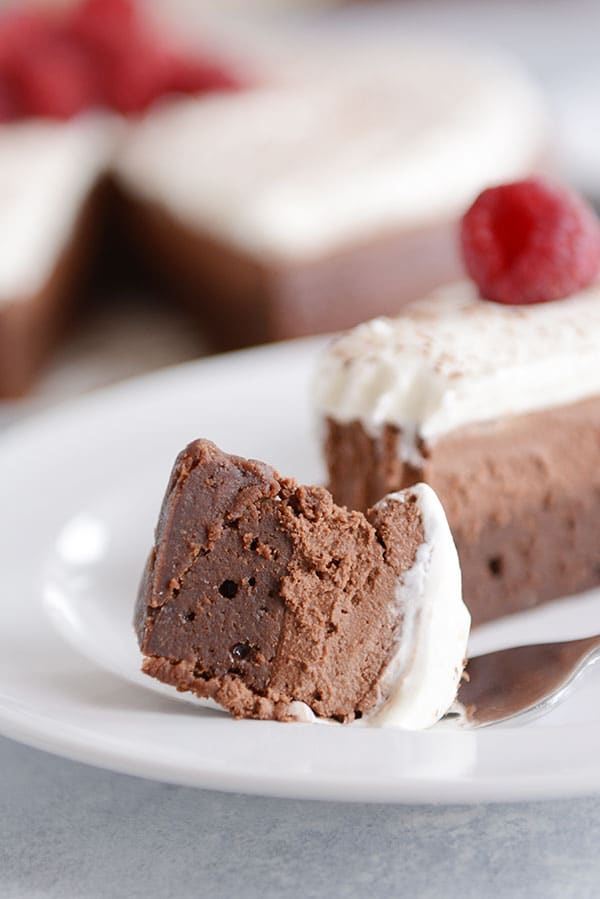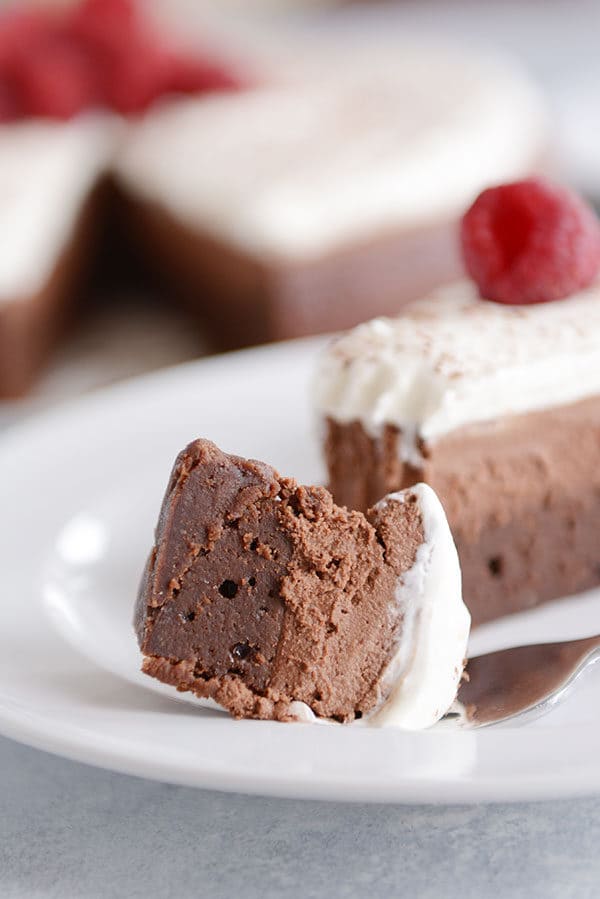 If you are completely undone (like I'm completely undone) by over-the-top, highly chocolate desserts that look like a million bucks and taste even better?
Well, this double chocolate mousse torte is for you.
The fact that it's stayed a favorite after all these years means it is a keeper. Plus, it can be made ahead of time, which is always a huge bonus, if you ask me.
So no matter where you fall on the fancy-shmancy dessert spectrum, you should definitely start planning when you can make this easier-than-it-looks double chocolate mousse torte.
And when you do, think of me sitting here another year older…and still greatly loving me some double chocolate mousse torte (that's living proof right there that age brings wisdom; we'll forget about how age brings a whole lot of other "factors" to deal with).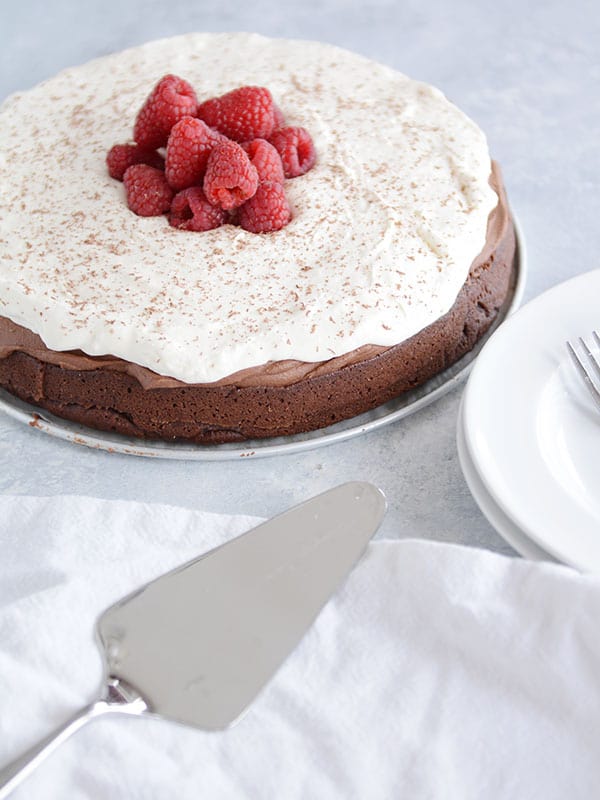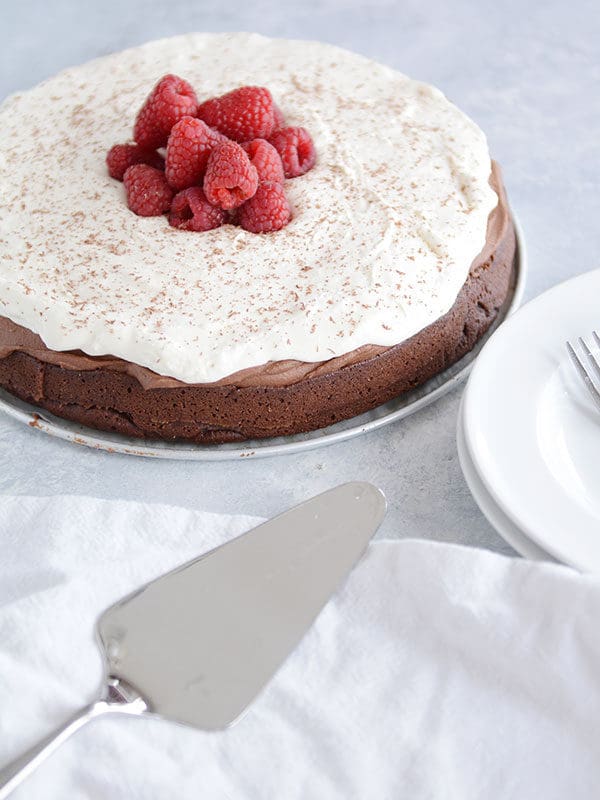 Alternate Mousse Recipe (if you are looking for the original mousse recipe posted in 2010):
1/2 cup butter, cut into pieces
4 large eggs, separated at room temperature
1/4 cup whipping cream
1 tablespoon vanilla extract
8 ounces bittersweet (not unsweetened) or semisweet chocolate, chopped finely (it is important the chocolate for this mousse layer is chopped finely or it won't melt completely when added to the warm egg yolks)
1/2 cup sugar
Melt butter in medium metal bowl set over saucepan of simmering water (do not allow bottom of bowl to touch water). Whisk yolks, 1/4 cup cream and vanilla in small bowl to blend. Gradually whisk yolk mixture into bowl with melted butter. Whisk constantly over simmering water until thermometer registers 150°F, about 6 minutes (mixture may appear broken – mine did not but it was very thick like custard or pudding). Remove from over water; add chocolate and stir to melt. Set aside. Beat egg whites and 1/2 cup sugar and a pinch of cornstarch in large bowl to medium-stiff peaks. Whisk 1/4 of beaten egg white mixture into warm chocolate mixture to lighten. Fold in remaining egg white mixture.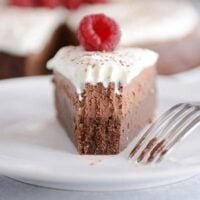 Double Chocolate Mousse Torte
Ingredients
Cake:
8

ounces

bittersweet or semisweet chocolate

,

chopped (see note)

1

cup

(

227

g

)

salted butter

1

cup

(

212

g

)

granulated sugar

5

large eggs

1

tablespoon

vanilla extract

¼

teaspoon

salt

¼

cup

(

36

g

)

all-purpose flour
Mousse:
2

tablespoons

unsweetened natural or Dutch-process cocoa powder

5

tablespoons

hot water

8

ounces

(

227

g

)

bittersweet or semisweet chocolate

,

chopped fine

1

tablespoon

salted butter

1 ½

cups

cold heavy cream

1 to 4

tablespoons

granulated sugar

,

depending on desired sweetness

½

teaspoon

vanilla extract

pinch

of table salt
Whipped Cream Topping:
¾

cup

cold heavy cream

2

tablespoons

powdered sugar

Grated chocolate

,

for garnish (optional)

2

cups

fresh raspberries

,

or other fresh fruit
Instructions
For the cake, preheat the oven to 325°F.

Lightly grease a 9- or 10-inch springform pan; dust with sugar (optional).

Combine the chocolate and butter in a saucepan or in a microwave-safe bowl. Melt over low heat (on the stovetop) or on 50% power in the microwave at 1-minute increments, stirring in between.

Cool the mixture to lukewarm. Whisk in the sugar to combine.

Add the eggs one at a time, blending well after each addition. Mix in the vanilla and salt. Add the flour and mix until just combined.

Pour the batter into the springform pan. Bake until the cake just rises in center (a tester inserted into center will not come out clean) and springs back lightly to the touch, 30-35 minutes.

Cool completely in the pan (the center of the cake may fall slightly). Cover and chill while making mousse.

For the mousse, whisk together the cocoa powder and hot water in a small bowl; set aside.

Melt the chocolate and butter together in a microwave-safe bowl on 50% power, stirring often, until smooth (don't overheat!). Whisk the cocoa/water mixture into the melted chocolate until smooth (if there are little lumps, you can press the mixture through a fine mesh strainer into a clean bowl). Let it cool to room temperature (just slightly lukewarm is fine, too, as long as it isn't warm or hot).

In a medium bowl with an electric mixer, whip the cream, granulated sugar, vanilla, and salt at medium speed until the mixture begins to thicken, about 30 seconds. Increase the speed to high and whip until soft peaks form when beaters are lifted (I often use my Blendtec blender to whip cream – only takes a few seconds).

Using a rubber spatula, fold 1/3 of the whipped cream into chocolate mixture to lighten. Fold in the remaining whipped cream until no white streaks remain.

Spoon the mousse over the cooled cake. Cover and refrigerate for at least 6 hours or up to 1 day.

Run a sharp knife around the edge of the pan to loosen the torte if it hasn't pulled away from the sides of the pan while cooling.

Release the springform pan sides. Transfer the torte to a platter, if desired (often, I just leave it on the base of the springform pan).

For the whipped cream topping, using an electric mixer, beat the cream and powdered sugar in a medium bowl until soft peaks form. Spread the whipped cream over the torte. Dust with grated chocolate, if desired.

Top with raspberries. Chill for up to an hour or serve immediately.
Notes
Original Recipe: this recipe, originally posted in 2010, had a mousse recipe that used raw egg whites and yolks. I've found over the years that I far prefer the alternate mousse recipe that had been listed in the original blog post. I've updated the recipe using that favorite egg-free mousse recipe, but for those of you that prefer the other, I've kept it in the notes below the recipe.  Chocolate: not all chocolate chips melt the same – if you have good-quality bar chocolate (I love the pounds plus bars at Trader Joe's or the Ghirardelli blocks at some grocery stores), use it. If not, I've found that Ghirardelli and Guittard chocolate chips melt the best and I've used both in this recipe before (semisweet and bittersweet). Pan: also, a lot of people have asked over the years if this can be made in a "normal" cake pan and not a springform pan. I suppose it could, but keep in mind the slices won't be quite as neat when cutting and serving, AND you'll want to make sure the sides of the pan are at least 3-inches high so the dessert can be properly layered.
Serving:
1
Slice
,
Calories:
514
kcal
,
Carbohydrates:
36
g
,
Protein:
5
g
,
Fat:
39
g
,
Saturated Fat:
24
g
,
Cholesterol:
140
mg
,
Sodium:
192
mg
,
Fiber:
4
g
,
Sugar:
27
g
Recommended Products
Follow @MelsKitchenCafe on Instagram and show me the recipes you are making from my blog using the hashtag #melskitchencafe. I love seeing all the goodness you are whipping up in your kitchens!
Recipe Source: adpated slightly from Epicurious and chocolate mousse adapted from Cook's Illustrated
Originally posted March 2010; updated with new pictures, recipes notes, and commentary.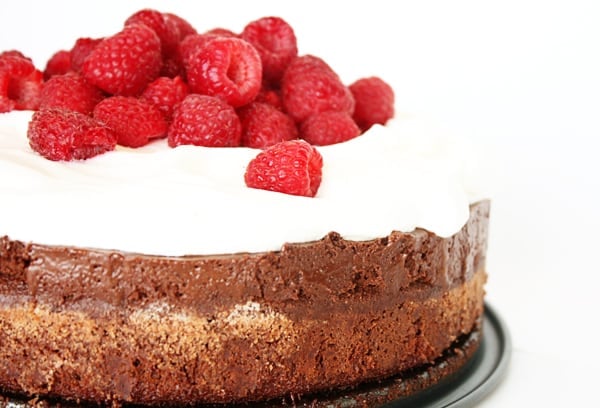 Disclaimer: I am a participant in the Amazon Services LLC Associates Program, an affiliate advertising program designed to provide a means for me to earn fees by linking to Amazon.com and affiliated sites. As an Amazon Associate I earn from qualifying purchases.