Cinnamon and Sugar Dusted Coconut Vanilla Breakfast Muffins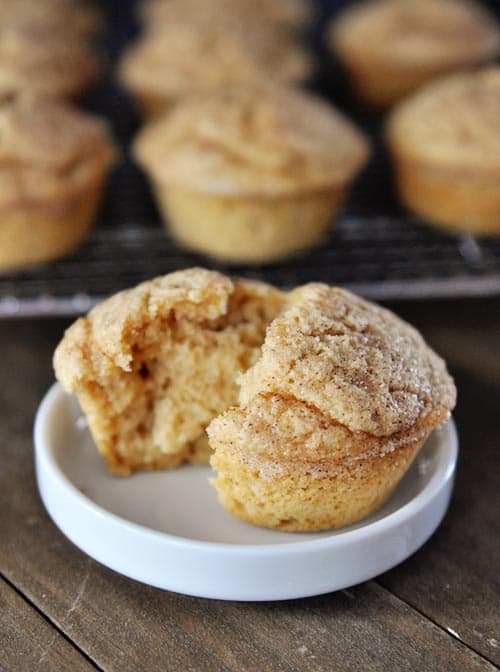 Lightly sweet with mellow hints of coconut and vanilla, these whole-grain muffins are delightful and a happy solution to having a cup of leftover canned coconut milk in the refrigerator just begging to be used.
Normally, I throw smidgeons of milk like that into our breakfast smoothies but I had bigger plans in mind for the coconut milk this time.
Muffins, of course.
I started with a simple muffin recipe, cut the sugar in half, swapped out more than half of the white flour for whole wheat, used coconut oil instead of butter and added a little dusting of cinnamon and sugar on top.
As with all muffins, the key to success is only giving the batter a few quick stirs to combine. Overmixing = sudden death to tender, fluffy muffins! And sudden death isn't a good thing, in case you wondered.
The muffins are light and tender and quite fabulous for being on the healthier side of things.
We devoured these for breakfast and I've already made another batch to keep in the freezer for quick snacks and to use up in school lunchboxes.
So while the title suggests only eating them for breakfast, in all reality, these muffins are perfect anytime of the day. I love muffin success stories, don't you?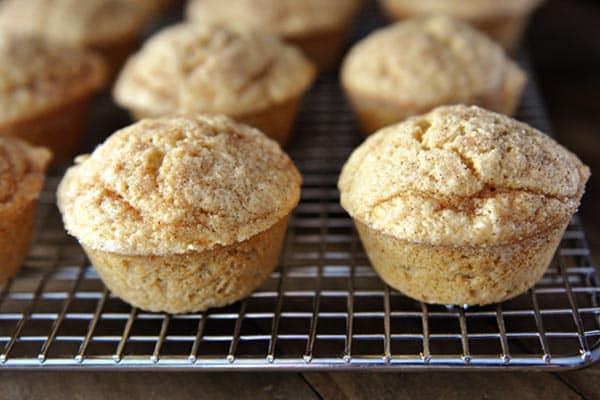 One Year Ago: Butterscotch Brownie Bars with Chocolate Satin Frosting
Two Years Ago: Oatmeal Chocolate Moon Pies
Three Years Ago: Fruit Pizza
Cinnamon and Sugar Dusted Coconut Vanilla Breakfast Muffins
Yield: 12 muffins

Prep Time: 15 minutes

Cook Time: 20 minutes

Total Time: 35 minutes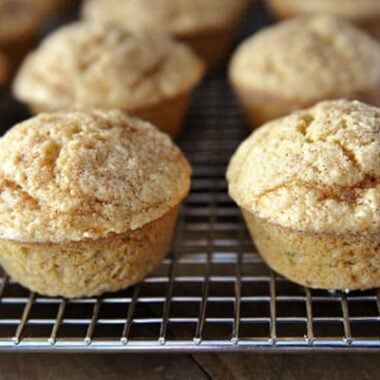 Ingredients
2 large eggs
1 cup canned coconut milk (light or regular)
2 teaspoons vanilla extract
6 tablespoons coconut oil, melted
1 1/4 cups white whole wheat flour
1 cup unbleached all-purpose flour
2 teaspoons baking powder
3/4 teaspoon salt
1/2 cup plus 2 tablespoons sugar
Cinnamon and sugar for dusting
Instructions
Preheat the oven to 350 degrees and lightly grease a 12-cup muffin tin with nonstick cooking spray (or you can line them with paper liners).
In a medium bowl, whisk together the eggs, milk, vanilla and coconut oil.
In a large bowl, whisk together the whole wheat flour, all-purpose flour, baking powder, salt and sugar. Make a well in the center of the dry ingredients and pour in the wet ingredients.
Using a wooden spoon or rubber spatula, stir the batter together until just combined. Don't overmix or the muffins will be tough and dry. It only takes a few stirs to incorporate the batter well enough. The batter will be lumpy and that is ok.
Divide the batter evenly among the prepared muffin tin. Sprinkle lightly with cinnamon and sugar.
Bake for 16-20 minutes until a toothpick inserted into the center of a muffin comes out dry or with a few moist crumbs. Don't overbake.
Serve warm or at room temperature.
Notes
Cinnamon + Sugar: I have a small shaker of cinnamon and sugar in my spice cupboard so I didn't measure out how much of the dusting mixture I actually used but it was a very light sprinkle on top of each muffin.

Milk: also, you could experiment with other types of milk. I happened to have some leftover canned coconut milk in the refrigerator to use but dairy milk, almond milk or refrigerated coconut milk might work as well (you'll lose some of the mellow notes of coconut by subbing in another type of milk).
Recommended Products
As an Amazon Associate and member of other affiliate programs, I earn from qualifying purchases.

Recipe Source: from Mel's Kitchen Cafe, inspired by this recipe from Baking Bites