Classic Marinara Sauce
The options are endless for this classic marinara sauce. It is a great go-to marinara sauce that is light, simple and, well, dippable.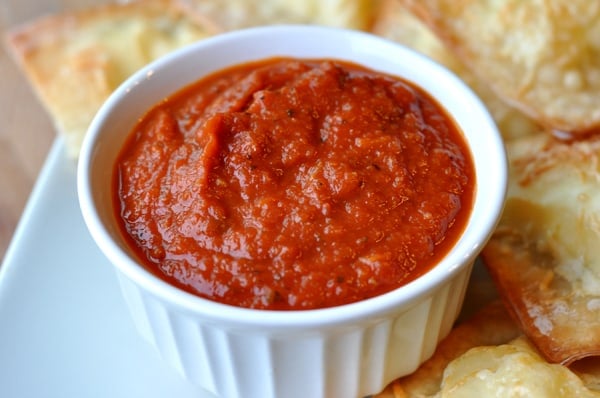 Although I have a favorite spaghetti sauce recipe in my arsenal already, sometimes I need a red sauce that is lighter, meatless and perfect for, say, dipping fried cheese sticks, wontons, crispy parmesan chicken fingers, breadsticks, and so on and so forth.
Simple to prepare, the secret of this marinara sauce is the simmering action that develops the flavors of the sauce, thanks to the aromatics and veggies that start the whole shindig rolling.
Blended to a wonderfully smooth consistency, this sauce is slightly sweet and tart and silky and downright delicious.
I have used this sauce for everything from smothering lasagna rolls and manicotti to dipping any of the aforementioned items.
The options are endless and this is definitely my go-to marinara sauce when I want to keep things light, simple and, well, dippable.
One Year Ago: Blue Cheese and Cheddar Scalloped Potatoes
Two Years Ago: Cookie Dough Truffles
Yield: 7 cups of sauce

Prep Time: 10 minutes

Cook Time: 1 hour 10 minutes

Total Time: 1 hour 20 minutes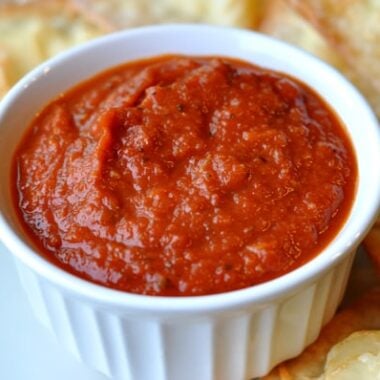 Ingredients
2 tablespoons extra-virgin olive oil
1 small onion, chopped
2 cloves garlic, chopped
1 stalk celery, chopped
1 carrot, chopped
1/2 teaspoon salt
1/2 teaspoon freshly ground black pepper
2 (28-ounce each) cans crushed tomatoes
1/2 tablespoon dried basil
1/2 tablespoon dried oregano
2 dried bay leaves
1 tablespoon brown sugar
2 tablespoons butter (optional but delicious)
Instructions
In a large pot, heat the oil over medium heat until hot and rippling. Add the onion and garlic and saute, stirring very frequently, until the onion is soft and translucent, about 3-4 minutes. Add the celery and carrots and season with salt and pepper. Cook, stirring frequently, until all the vegetables are slightly tender, about 5 minutes. Add the crushed tomatoes, basil, oregano and bay leaves and simmer, covered, on low heat for 1 hour, stirring occasionally to make sure the sauce isn't sticking to the bottom of the pot, until slightly thickened and the vegetables are completely tender. Stir in the brown sugar. Taste the sauce. Add salt and pepper as needed. Add the butter and stir to combine if you want to round out the flavors and add a dimension of silkiness.
Remove the bay leaves. In a blender or food processor, blend the sauce (in several batches, if necessary) until it is smooth. The sauce can be frozen once it is cooled completely in freezer-safe ziploc bags for up to 6 months.
Recommended Products
As an Amazon Associate and member of other affiliate programs, I earn from qualifying purchases.

Recipe Source: inspired by Giada De Laurentiis' recipe
Disclaimer: I am a participant in the Amazon Services LLC Associates Program, an affiliate advertising program designed to provide a means for me to earn fees by linking to Amazon.com and affiliated sites. As an Amazon Associate I earn from qualifying purchases.