These crispy chicken wraps are simple, fast to put together, require no heating up the oven in the summer temps, and are delicious.
Direct from one of my favorite food magazines on the planet, these Crispy Chicken Wraps from Cook's Country are simple, extremely fast to put together, require NO heating up the oven in the summer temps, and are incredibly delicious.
Once again, my kids and husband (and myself) ate them up and the verdict was I should make these again…and often. A perfect summer, weeknight, FAST meal!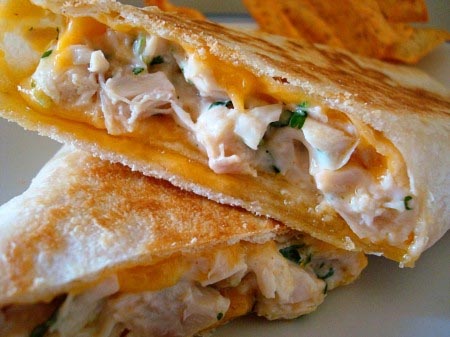 Served with a light green salad and some fresh fruit and veggies (or perhaps this delicious fruit concoction) and this is a perfectly perfect meal.
Yield: 4 servings

Prep Time: 15 minutes

Cook Time: 5 minutes

Total Time: 20 minutes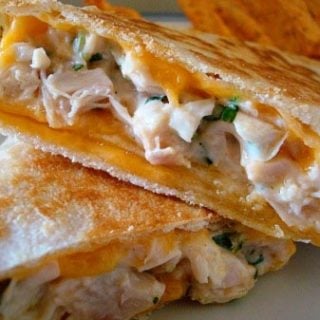 Ingredients
1/3 cup mayonnaise, light or regular
1/4 cup chopped fresh cilantro
3 scallions, sliced very thin
2 celery ribs, chopped fine (I omitted these due to my husband's non-celery preference)
2 tablespoons sour cream, light or regular
2 teaspoons hot sauce (this does not make them spicy but adds great flavor)
1 rotisserie chicken, skin discarded, meat shredded into bite-sized pieces (about 3 cups)
2 cups shredded cheddar cheese (the sharper the better, in my book)
4 (12-inch) flour tortillas
Instructions
Whisk the mayonnaise, cilantro, scallions, celery, sour cream and hot sauce in a large bowl. Add chicken and toss to combine. Sprinkle cheese over tortillas, leaving 1/2-inch border around edges, then arrange chicken mixture down the center of each tortilla. Roll stuffed tortillas, leaving edges open. Spray the tortillas all over with cooking spray.
Heat a large non-stick skillet (or griddle) over medium heat for 1 minute. Arrange 2 wraps, seam-side down, in pan and cook until golden brown and crisp, about 2-3 minutes per side. Transfer to a plate and repeat with remaining wraps. Serve.
Recommended Products
As an Amazon Associate and member of other affiliate programs, I earn from qualifying purchases.

Recipe Source: adapted from Cook's Country