Dinosaur Birthday Cake
This simple dinosaur birthday cake is made with a from-scratch devil's food cake batter. It turns out rich, delicious and very, very moist.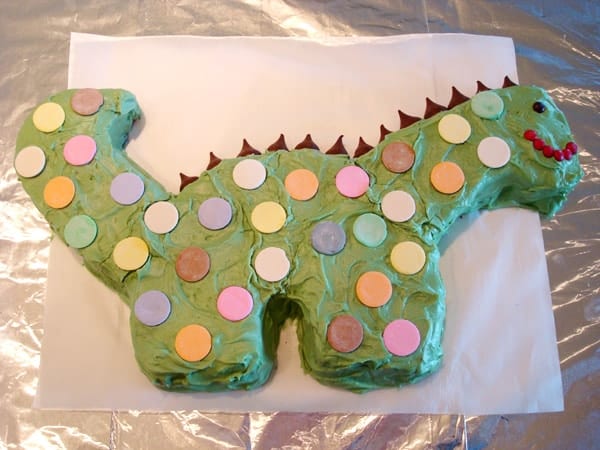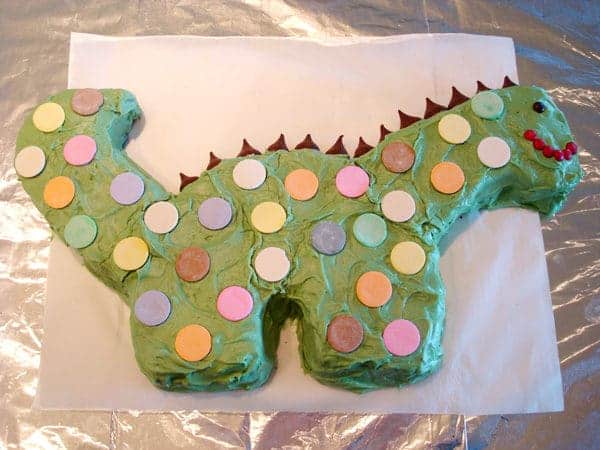 So I'm not Ace of Cakes, as you can see, but my son requested a dinosaur cake for his third birthday (yesterday) and after finding a pattern online, all I had to do was come up with a cake recipe.
First, though, I have a confession to make – I actually like cake mix cakes (gasp!) because they are so moist and well, I was raised on the things, what can I say? But I've been trying my hand at homemade cake recipes and sadly have been disappointed because they seem to be dry and lacking in flavor.
For my son's birthday, I was planning on using Holly's latest cake recipe but when the birthday boy requested chocolate, well, I really wanted to find a chocolate cake recipe that met my expectations. I found one. Oh my, did I find it! I should have known my King Arthur Flour Baker's Companion would come through and it did.
Welcome Devil's Food Cake and the end of using chocolate cake mixes forever! This cake was rich, delicious and very, very moist. One of the major plus sides is it uses all-purpose flour, which works for me because I never buy cake flour. I loved it, and best of all, so did my son. Although I will confess that he would have eaten anything disguised as a green dinosaur so we really shouldn't trust his judgment.
Yield: Two 9-inch round cakes

Prep Time: 15 minutes

Cook Time: 35 minutes 30 seconds

Total Time: 50 minutes 30 seconds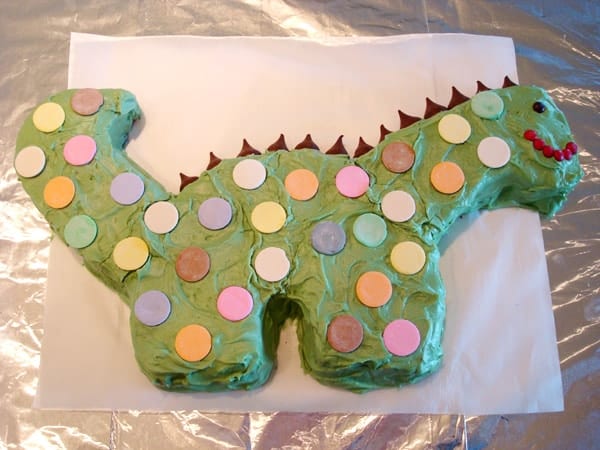 Ingredients
12 tablespoons (1 1/2 sticks) butter
1 3/4 cups (12 1/4 ounces) granulated sugar
1/2 teaspoon salt
1 1/2 teaspoons baking soda
2 teaspoons pure vanilla extract
2 cups (8 1/2 ounces) all-purpose flour
3/4 cup (2 1/4 ounces) cocoa powder
4 large eggs
1 1/2 cups milk
Instructions
Preheat the oven to 350 degrees.
In a large mixing bowl, cream together the butter, sugar, salt, baking soda, and vanilla until light and fluffy, at least 5 minutes (don't skimp this step!). In a separate bowl, whisk together the flour and cocoa. If lumps remain, sift the mixture.
Add the eggs to the butter mixture one at a time, beating well after each addition. Slowly blend one third of the flour mixture into the creamed mixture, then half the milk, another third of the flour, the remaining milk, and the remaining flour. Be sure to scrape the sides and bottom of the bowl occasionally throughout this process.
Grease and flour two 9-inch round cake pans, two or three 8-inch round pans, or a 9 X 13-inch sheet cake pan (I used two 9-inch rounds and also put a circle of parchment paper on the bottom to ease in flipping). Divide the batter evenly between the pans. Bake the cakes for 30 to 35 minutes (test after 28 minutes – don't overbake!). Remove the cakes from the oven, cool them for 5 to 10 minutes, then remove from the pan.
Notes
Weigh the Ingredients: I always, always weigh my ingredients if I have the option – which I did with this cake. If I would have gone off measurement alone (I conducted a little experiment), I would have added nearly 3/4 cup too much flour!

Recipe Source: from King Arthur Flour Baker's Companion
Disclaimer: I am a participant in the Amazon Services LLC Associates Program, an affiliate advertising program designed to provide a means for me to earn fees by linking to Amazon.com and affiliated sites. As an Amazon Associate I earn from qualifying purchases.