This chocolate chip cake is so moist and tender! Incredibly easy to make, the sprinkle of cinnamon and sugar with the chocolate chips puts it over the top!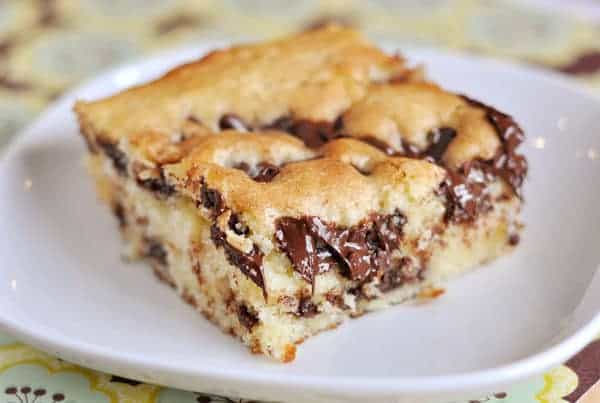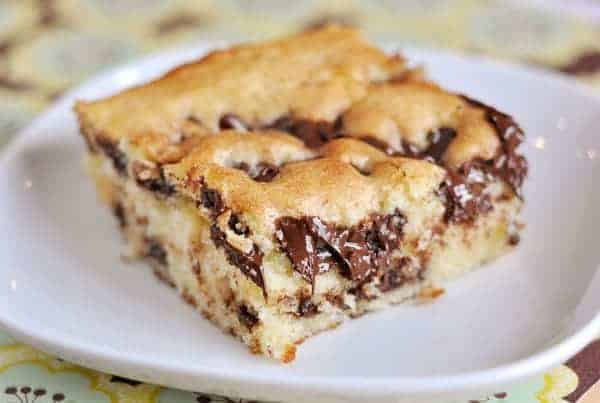 I don't know that I've ever had a sheet cake this soft, this unique, this delicious.
If you haven't made this chocolate chip cake, don't wait any longer!
It is the perfect solution when you need a quick dessert fix for company or a Sunday night treat or for a potluck offering.
Not only is it ridiculously easy to make (one bowl!), it puts all the high-maintenance, 12-bowls-required cakes to shame with how moist and tender it is.
You can see from the quick video below how quickly it comes together!
A super simple vanilla cake batter is made (from scratch!), sprinkled with cinnamon and sugar, dotted with chocolate chips – and then those layers are repeated once more.
Originally I questioned the wisdom of pairing cake batter with cinnamon/sugar AND chocolate chips.
But it works – and works very well. The cinnamon sugar gives the cake a yummy texture against the soft crumb and melty chocolate chips.
I should know by now not to doubt my Aunt Marilyn. When she says a recipe is awesome, it is awesome.
Perfect all by its lonesome or with a heaping scoop of vanilla ice cream – this cake is wonderful!
If you love cakes like this, here are a few other favorite cake recipes of mine!
Yield: 9X13-inch pan

Prep Time: 10 minutes

Cook Time: 35 minutes

Total Time: 45 minutes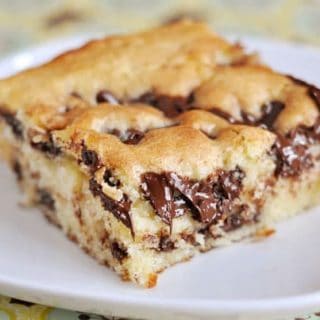 Ingredients
Cake Batter:
2 cups flour
1 1/2 cups sugar
2 teaspoons baking powder
1/2 teaspoon salt
1 1/3 cups sour cream
2/3 cup butter, softened
1 teaspoon vanilla
3 eggs
1/2 teaspoon baking soda
Middle & Top:
Cinnamon sugar (I keep my cinnamon and sugar in a glass shaker so I didn't measure exactly how much I used – a guesstimate would be 2 tablespoons for each layer)
1 bag chocolate chips, divided
Instructions
Preheat oven to 350 degrees (325 if using a glass pan). Grease a 9 X 13 pan with cooking spray. In a large bowl combine all of the cake batter ingredients. Mix for 1 minute at low speed; mix 3 minutes at medium speed. Pour 1/2 of batter into greased pan. Generously sprinkle cinnamon and sugar over batter making sure to get the corners and then sprinkle with 1/2 bag of chocolate chips. Pour remaining cake batter on top and spread across bottom layer. Repeat with cinnamon and sugar and chocolate chips. Bake for 30-35 minutes or until a toothpick comes out with only a few crumbs (don't overbake or cake will be dry!).
This cake is served best the same day it is made…and I enjoy it slightly warm but if you have leftovers, it does wonders to warm each piece up slightly in the microwave (about 10 to 15 seconds) before serving again.
Recommended Products
As an Amazon Associate and member of other affiliate programs, I earn from qualifying purchases.

Recipe Source: from A. Marilyn and Monique G.