Meatballs with Cream Sauce
Looking for a different way to serve meatballs? Meatballs and cream sauce are the answer! Delicious meatballs and a creamy sauce over noodles. Perfect!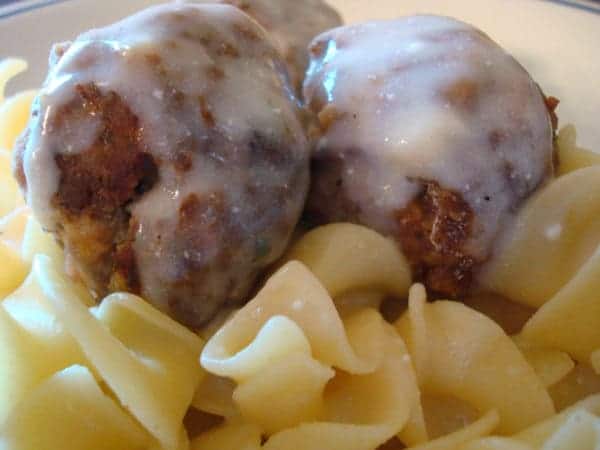 This weeknight meal was absolutely delicious!
The recipe comes from a good friend and neighbor who is an excellent cook and she posted this recipe to a neighborhood recipe blog a while back.
I am so glad I tried it – not only was I a fan, but my husband and kids loved it. I think my four-year old son must have eaten at least six meatballs on his own before I told him he had to have some more peas before requesting another meatball!
It is a great way to change up meatballs and serve with a creamy, light sauce over noodles. By the way, it made fantastic leftovers.

Sliced cucumbers and other fresh veggies with Homemade Ranch Dressing
Sliced cheese
Cut up apples with Toffee Apple Dip (for a sweet and semi healthy dessert!)
Meatballs with Cream Sauce
Yield: 6 servings

Prep Time: 15 minutes

Cook Time: 20 minutes

Total Time: 35 minutes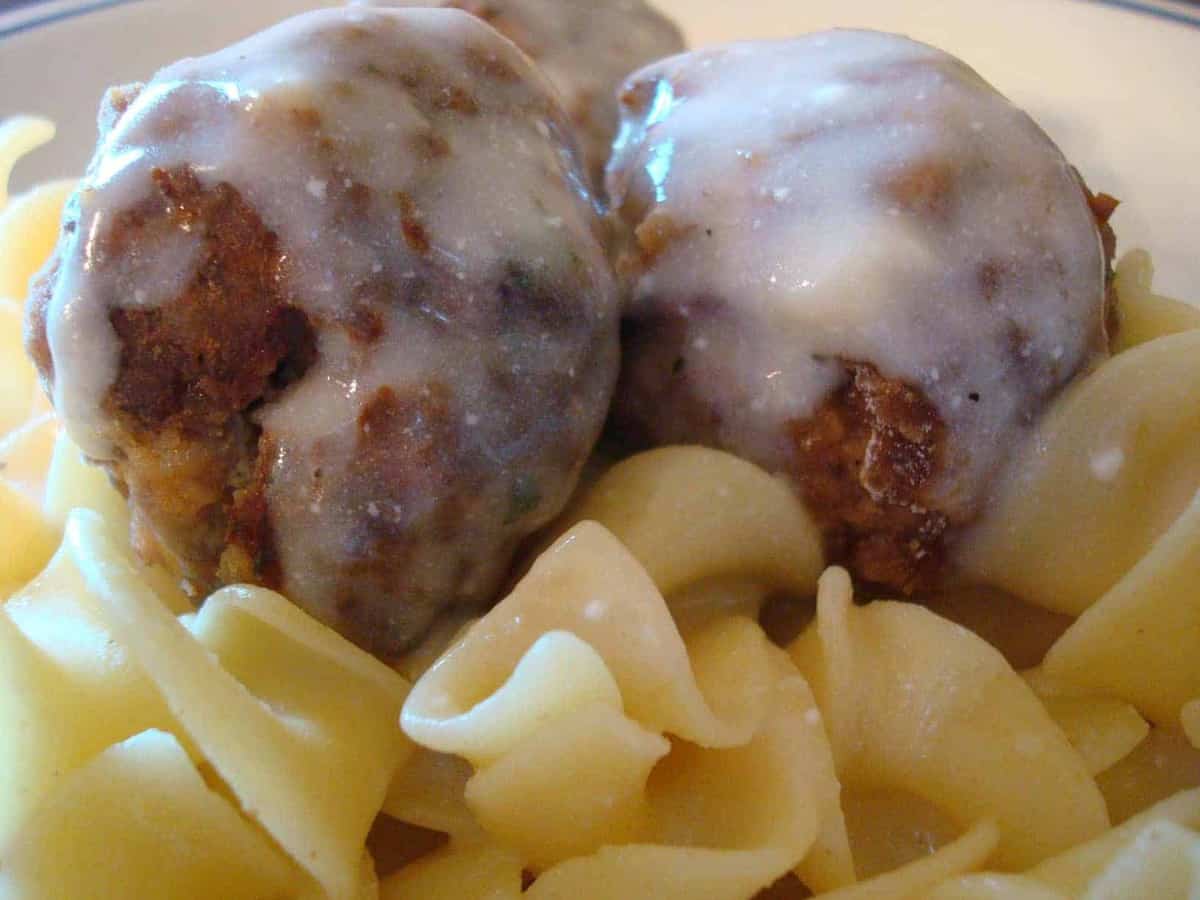 Ingredients
Meatballs:
1 egg, lightly beaten
1/4 cup milk
2 T. ketchup
1 t. Worcestershire sauce
3/4 cup quick oats
1/4 cup finely chopped onion
1/4 cup minced fresh parsley
1 t. salt
1/4 t. pepper
1 1/2 lb. lean ground beef or lean ground turkey
3 T. flour
Cream Sauce:
2 T. butter
3 1/2 T. flour
1/4 t. dried thyme
1/4 t. salt
1/8 t. pepper
14 oz. can chicken broth (If you want your sauce thicker, cut down the chicken broth to 1 cup)
2/3 cup milk
2 T. minced fresh parsley
Instructions
In a bowl, combine all of the meatball ingredients EXCEPT the beef and flour. Add beef and mix well. Shape into balls. Roll in flour, shaking off excess. Place 1 inch apart on cookie sheet and bake, uncovered, at 400 for 10 minutes. Turn meatballs, bake 8-10 minutes longer or until no longer pink.
Meanwhile, for the sauce, melt butter in a saucepan over medium heat. Stir in flour, thyme, salt and pepper until smooth. Gradually add broth and milk; bring to a boil. Cook and stir for 2 minutes, until slightly thickened. If using the full can of chicken broth, the sauce doesn't thicken overly much, but it is delicious that way. If you want it slightly thicker, cut down the chicken broth to 1 cup.
Drain meatballs on paper towels; transfer to a serving dish. Top with sauce and parsley. Serve over rice or egg noodles (I used egg noodles and loved the result!).
Recommended Products
As an Amazon Associate and member of other affiliate programs, I earn from qualifying purchases.

Recipe Source: adapted from Lesli D.'s recipe posting
Disclaimer: I am a participant in the Amazon Services LLC Associates Program, an affiliate advertising program designed to provide a means for me to earn fees by linking to Amazon.com and affiliated sites. As an Amazon Associate I earn from qualifying purchases.