Homemade Divine Caramel Sauce
Sweet and a little salty, buttery and deliciously caramel, this homemade caramel sauce is heavenly on just about everything from ice cream to apples!
Homemade caramel sauce is one of those things that everyone needs to conquer.
First of all, YOU JUST NEVER KNOW WHEN YOU'RE GOING TO NEED A HEALTHY DOSE OF CARAMEL SAUCE.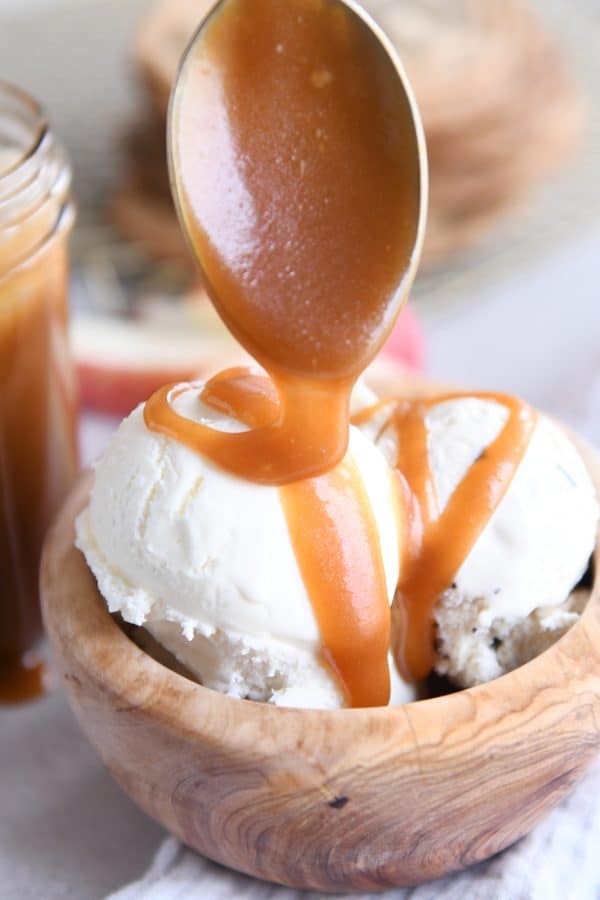 And second of all, it's one of those rock star recipes. As in, you'll feel like a rock star when you make it. There's nothing quite like it.
No easy caramel sauce recipe will ever come close to the real deal. It can be argued there is a time and a place for both (and there is), but today, we're diving into the land of buttery, silky, cooked sugar caramel sauce. And it's not hard, I promise.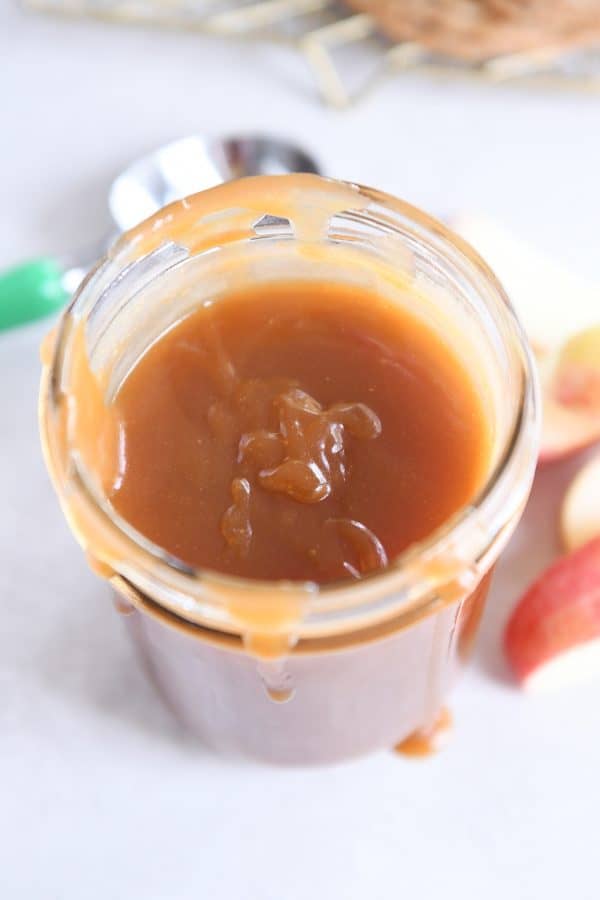 This ridiculously amazing homemade caramel sauce is perfect for everything from ice cream to cheesecake to apples.
And, you know, just digging in with a spoon.
It is irresistible.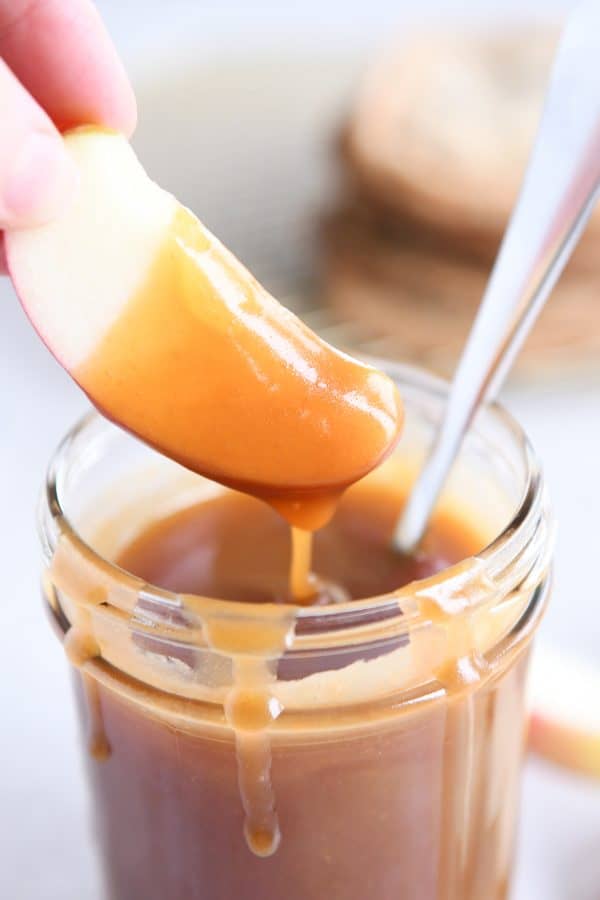 Caramel Sauce Guaranteed
It's pretty much a guarantee that I will always have a jar of this caramel sauce in the refrigerator. It keeps forever.
Which is actually a non-issue, because we eat it up long before forever gets here.
I haven't tried freezing it. I pour the warm caramel sauce into jars, add a lid, and store in the fridge that way.

Making Homemade Caramel Sauce
A lot of homemade caramel sauce recipes start with just sugar…but melting and caramelizing sugar on its own can be tricky, and it can burn easily.
This caramel sauce starts with a simple mixture of sugar and water. And we're going to cook that until it darkens a little bit.
Cover with a lid and cook for a couple of minutes.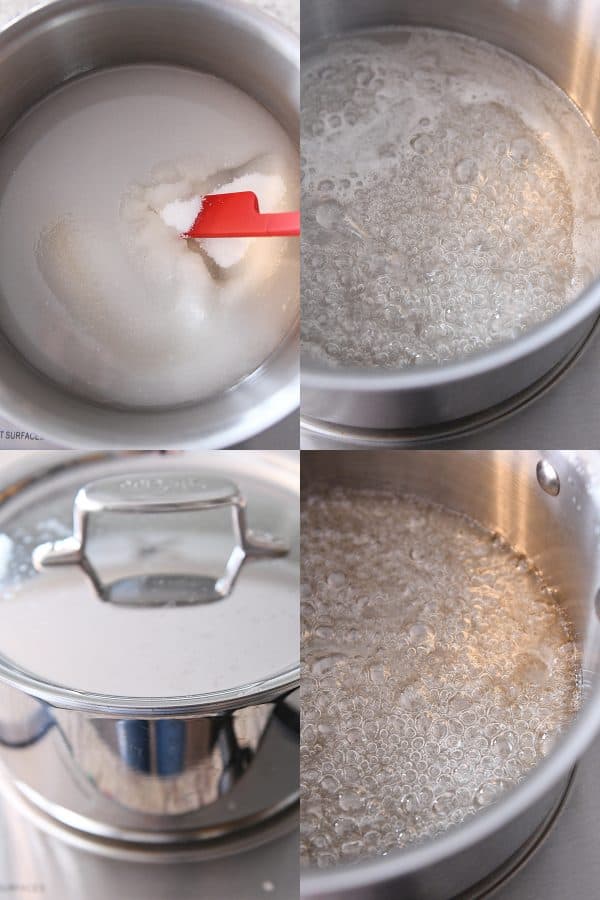 After the lid comes off, continue cooking until the color starts darken.
While it cooks, if you notice any hardened sugar crystals on the sides of the pan, wash them down with a wet pastry brush.
That really is the only risk to this recipe – if those sugar crystals make their way back down into the caramel sauce, it can turn the whole batch grainy and crystallized.
It's not really anything to worry about as long as you brush down the sides of the pan as needed.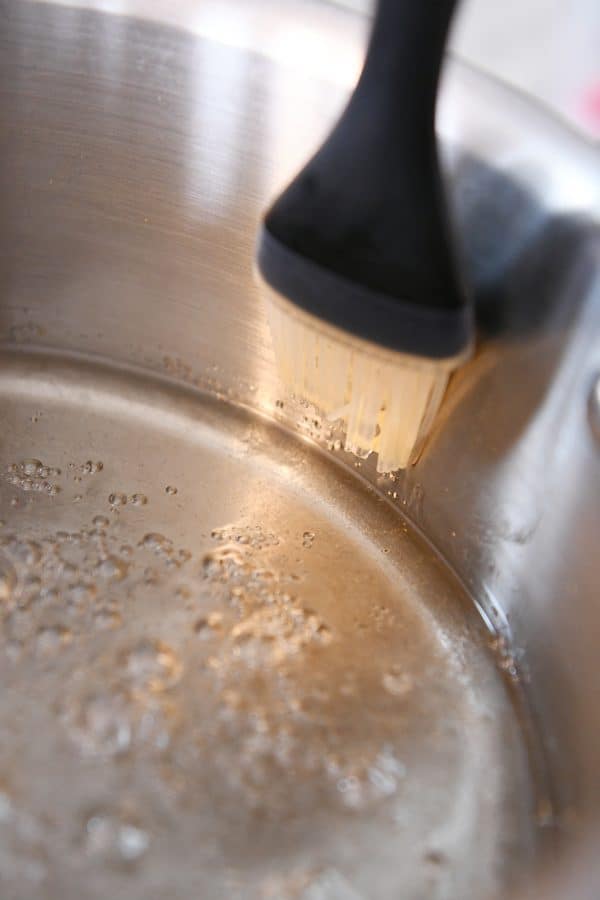 Keep the heat moderated at a medium level; you'll notice the color start to change from a light golden brown to a deeper honey color.
Continue cooking until the color is a deep amber.
Fair warning: it can go from deep amber to too dark (and burned) pretty quickly, so keep an eye on it. It's better to pull it off too early than to cook it too long.
Add the butter and stir until melted. Then add the cream.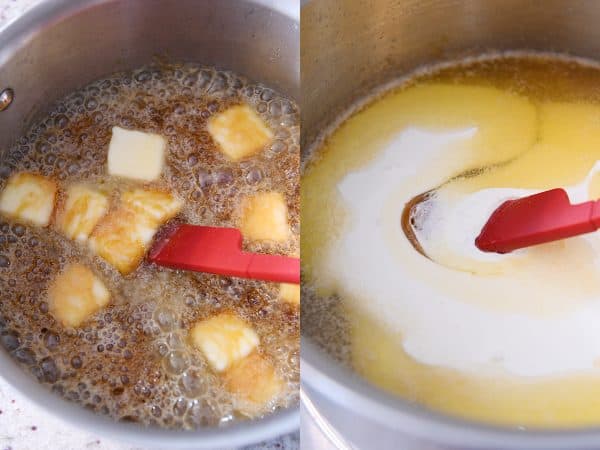 Last additions: vanilla and salt.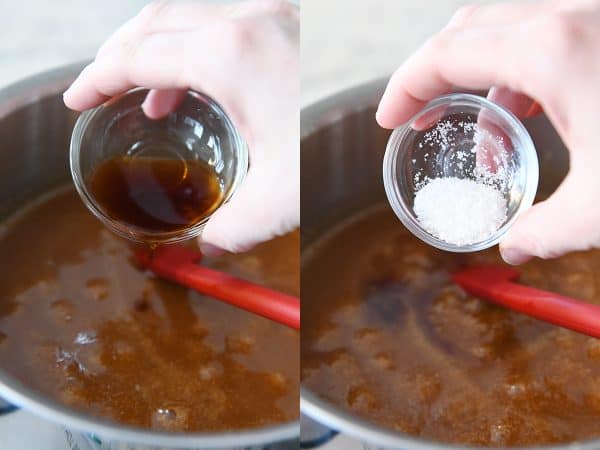 The sauce will bubbly to a frenzy after the vanilla is added. Stir until combined.
Let the sauce cool in the pan, stirring every once in a while, until it is warm room temperature.
Pour into a jar or container and pop in the refrigerator. If you're planning on using/serving the sauce within the next 4-6 hours, it can hang out on the counter.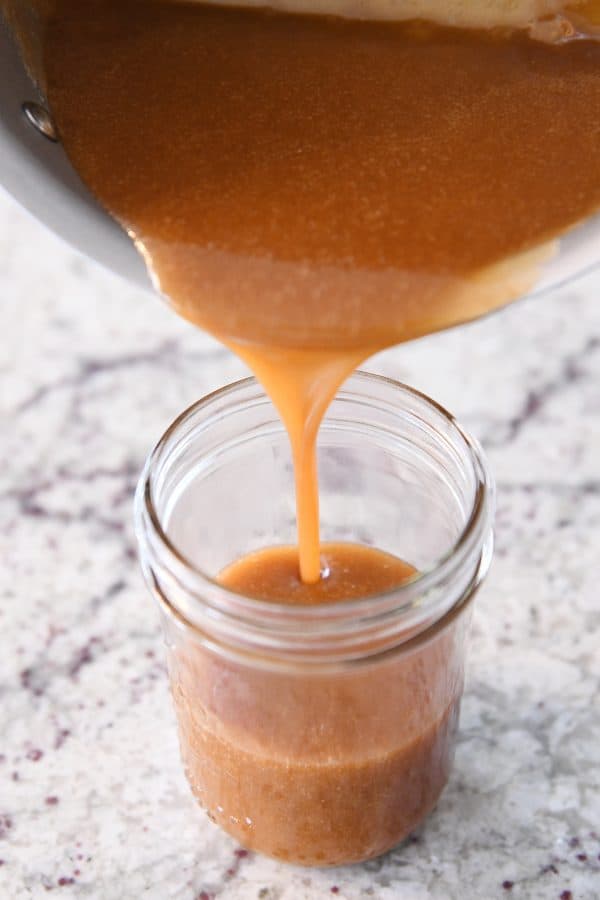 This homemade caramel sauce is divine. It's our go-to for build-your-own ice cream sundae nights. Or to toss into a milkshake.
It's wonderful drizzled on these caramel apple cheesecake bars or any variety of dessert or treat.
I mean, really, there's no wrong way to enjoy this stuff.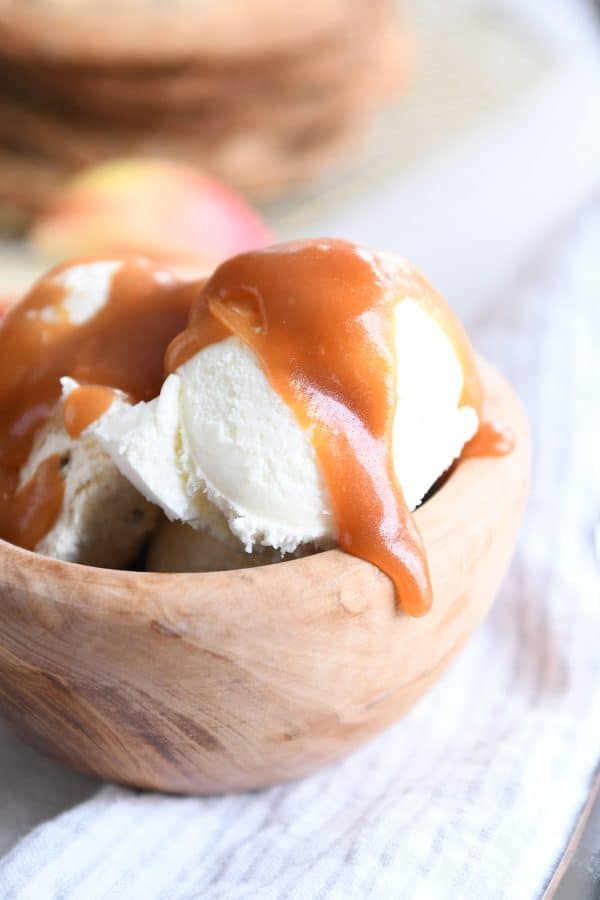 If homemade caramel sauce has intimidated you in the past, I encourage you to try it!
Following the steps in this recipe, it's not hard at all…and it comes together really fast. Much faster than your holiday batch of caramels, for sure.
One year, I made batch after batch of this homemade caramel sauce, poured it into smaller jars, and gave it to friends and neighbors in place of the traditional Christmas cookie plate.
It was wildly accepted, and to this day, I still get asked if there's any chance I'll be making caramel sauce in December again. 🙂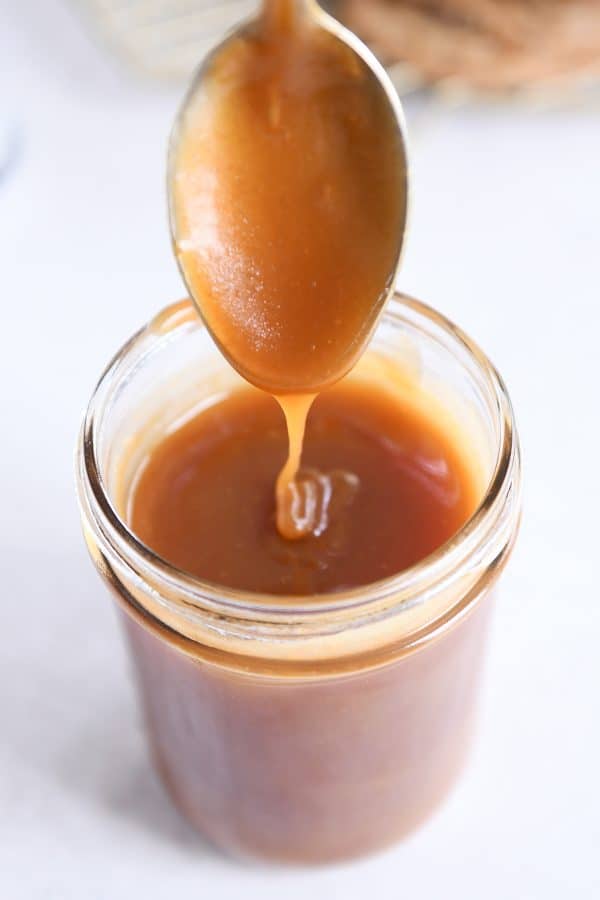 One Year Ago: Kitchen Tip: Menu Planning 101
Two Years Ago: Peanut Butter Crunch Snack Balls
Three Years Ago: Chiang Mai Noodles
Recipe Source: from Joy of Cooking
Recipe originally published Jan 2011; updated May 2020 with new photos, recipe notes, etc.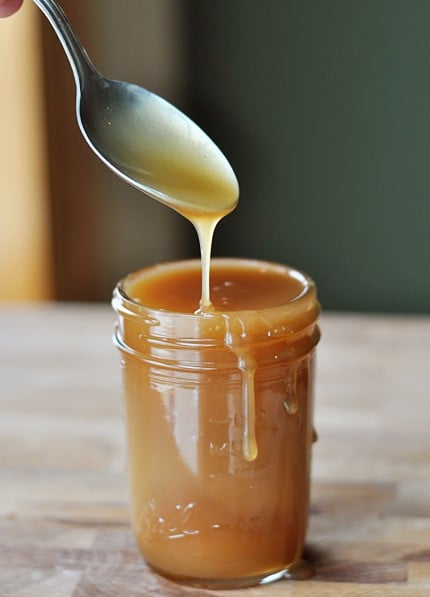 Another quick look at a step-by-step tutorial for the caramel sauce: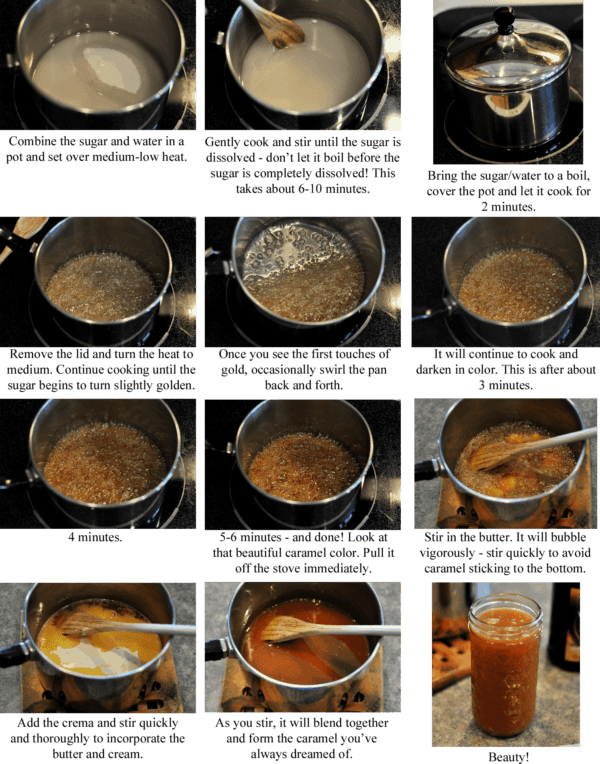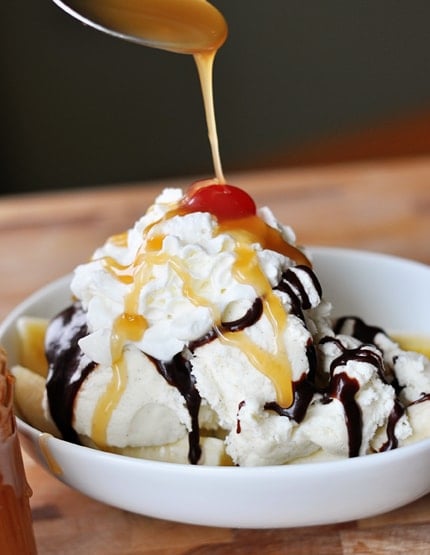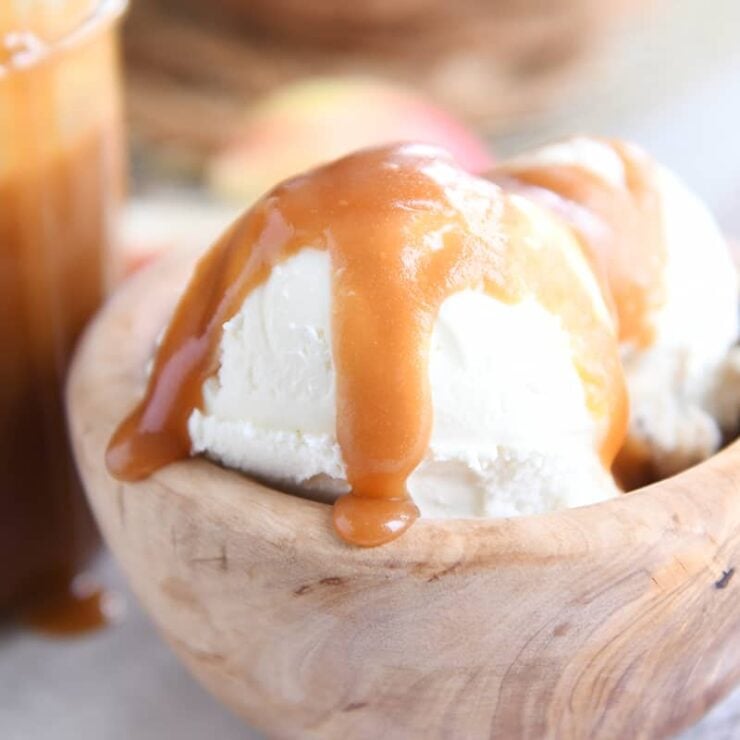 Homemade Caramel Sauce
Ingredients
¼

cup

water

1

cup

(

212

g

)

granulated sugar

½

cup

(

113

g

)

salted butter

,

cut into 8 pieces

½

cup

heavy cream

1

teaspoon

vanilla

Pinch

of salt
Instructions
In a small, heavy saucepan, slowly combine the sugar and water, taking care not to let any of the mixture splash up onto the sides of the pan.

Cook the mixture over low heat until the sugar is mostly dissolved, stirring slowly (so sugar crystals don't splash up the sides of the pan).

Increase the heat to medium and bring the syrup to a boil. Cover the saucepan and let the syrup boil for 2 minutes.

Uncover, reduce the heat to medium, and continue to boil, without stirring, until the edges start to turn golden brown. If there are hardened sugar crystals on the sides of the pan above the sugar mixture, wash them down with a wet pastry brush.

Continue cooking until the syrup turns a deep amber brown (see the pictures in the post), about 5-7 minutes. It will take more or less time depending on the heat of the stove, so watch closely.

Remove from the heat and add the butter. Gently stir until the butter is fully melted. Stir in the cream. If the sauce becomes lumpy and isn't whisking together, set the pan over low heat and stir until smooth. Stir in the vanilla and salt. It will bubble when the vanilla is added.

Let the sauce cool until warm before transferring to a jar or other container to store in the refrigerator. Reheat on low on the stove or in the microwave as needed.
Notes
Double: this recipe can easily be doubled.
Recommended Products
Follow @MelsKitchenCafe on Instagram and show me the recipes you are making from my blog using the hashtag #melskitchencafe. I love seeing all the goodness you are whipping up in your kitchens!
Disclaimer: I am a participant in the Amazon Services LLC Associates Program, an affiliate advertising program designed to provide a means for me to earn fees by linking to Amazon.com and affiliated sites. As an Amazon Associate I earn from qualifying purchases.