Hot Fudge Sauce
This homemade hot fudge sauce is insanely easy and delicious. Ice cream, bananas, and graham crackers will never be the same!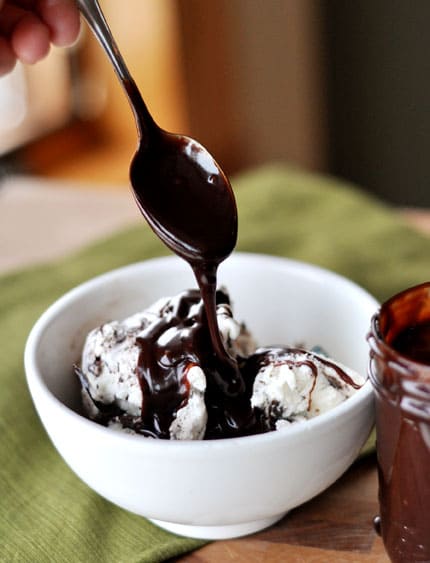 Dear Hot Fudge Sauce,
Where have you been all my life? You just may be the most perfect food on earth. I made you nearly two years ago for the first time and have since slathered every imaginable food in sight with your delicious, velvety, decadent self and have been the better for it. Ice cream, bananas, and graham crackers have never tasted so divine.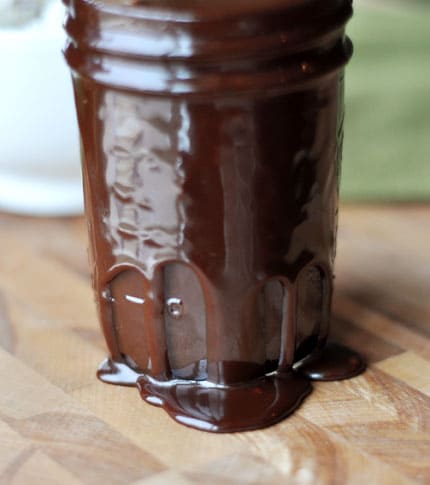 Thank you for changing my life (and going straight to my hips).
Your deepest, most devoted fan,
Mel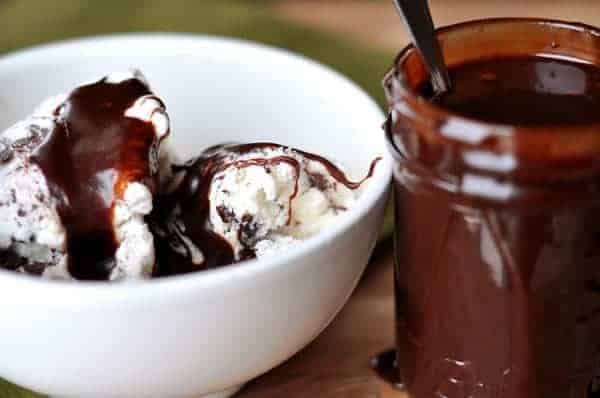 We used this recipe for Christmas gifts this year, making about three double batches and storing it in half-pint jars with a cute tag on how to reheat the sauce. It went over quite well with our friends and of course, I made sure to save a jar (or ten) for us as well.
Yield: about 2 cups

Prep Time: 10 minutes

Cook Time: 8 minutes

Total Time: 18 minutes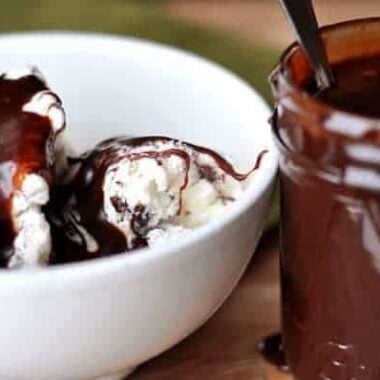 Ingredients
10 ounces semisweet chocolate, chopped
1/3 cup sifted cocoa powder, Dutch process or regular (the flavor will be more decadent, deep with the Dutch process)
1/2 cup granulated sugar
3/4 cup light corn syrup
1/3 cup heavy cream
pinch table salt
1/3 cup water
1 teaspoon vanilla extract
3 tablespoons butter, cut into pieces
Instructions
In a small microwave-safe bowl, melt the chocolate on 50% power at one minute increments, stirring in between, until melted and smooth. Take care not to overheat and scorch the chocolate. Alternately, you can melt the chocolate in a double boiler or in a small heat-proof bowl set over a pan of simmering water. Once the chocolate is melted, remove from microwave or heat and whisk in the sifted cocoa until smooth. Set aside.
In a heavy-bottomed medium saucepan, combine the sugar, corn syrup, cream, salt and 1/3 cup water. Warm the mixture over medium-low heat until the sugar is dissolved. Increase the heat to medium or medium-high; simmer mixture, stirring frequently, about 4 minutes.
Turn off the heat and whisk in the vanilla and butter. Cool the mixture slightly, about 2 minutes; whisk in the melted chocolate. Serve warm.
The hot fudge sauce can be refrigerated in an airtight container for up to 3 weeks. For serving, reheat the sauce on low (in the microwave or over simmering water), stirring several times until the sauce is smooth and shiny.
Notes
Cocoa: it is important to sift the cocoa before whisking it in with the melted chocolate so it doesn't make the chocolate mixture lumpy.

Chocolate: I have used chopped chocolate or Ghirardelli semisweet chocolate chips – both with great results.
Recommended Products
As an Amazon Associate and member of other affiliate programs, I earn from qualifying purchases.

Recipe Source: adapted from Cook's Illustrated Cookbook
Here is a link to the old hot fudge recipe (the printable version), in case you still prefer that recipe:
Hot Fudge Sauce (Old Recipe)
Disclaimer: I am a participant in the Amazon Services LLC Associates Program, an affiliate advertising program designed to provide a means for me to earn fees by linking to Amazon.com and affiliated sites. As an Amazon Associate I earn from qualifying purchases.