White Velvet Sugar Cookies
These white velvet sugar cookies are the softest, most delicious sugar cookies thanks to the secret ingredient that makes them extra unique!
Oh, white velvet sugar cookies. You kill me! Or in other words: I can't stop eating you.
Completely buried in my archives (I posted about these amazing white velvet sugar cookies waaaaay back in 2009 when life was different and my pictures were terrible – see bottom of this post for proof), these unique and delicious sugar cookies deserve a little shout out.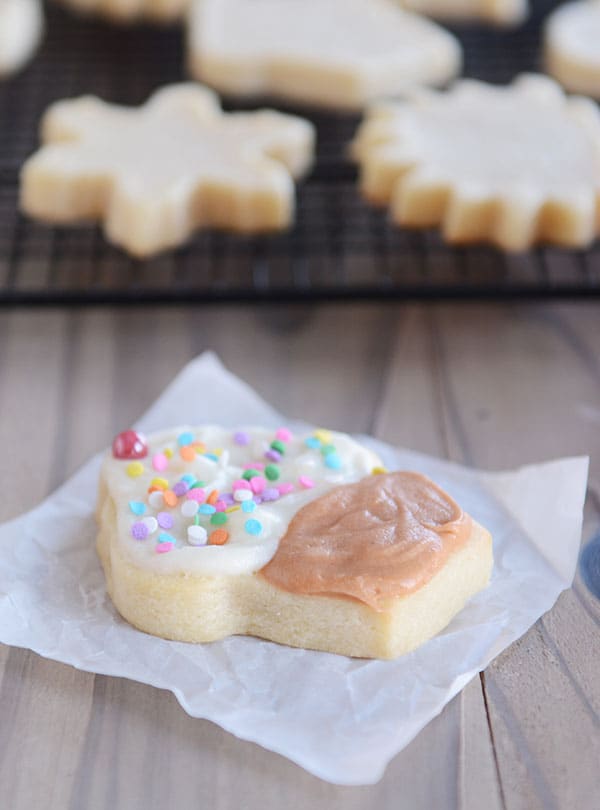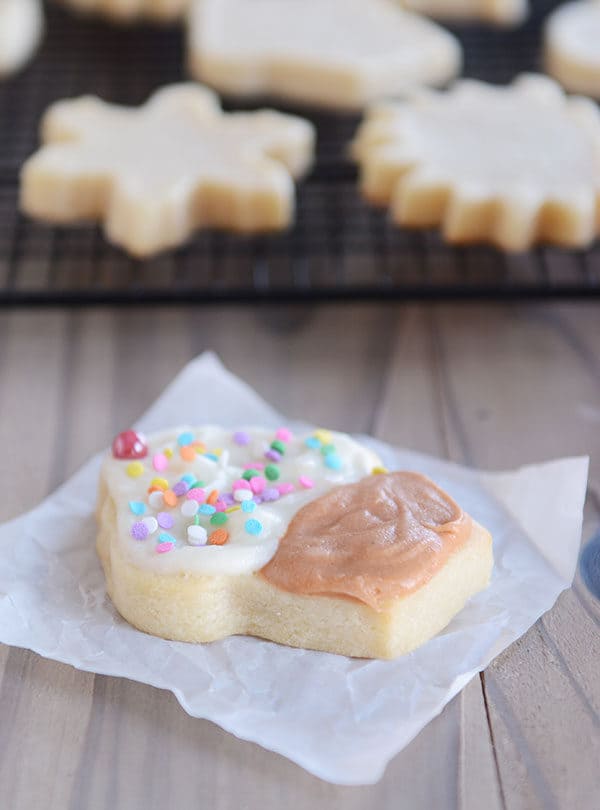 Have you made them?
My best friend from high school, Amanda, shared this recipe way back in the dinosaur ages when most of my friends actually had family blogs and actually updated them and I actually didn't have to ever check Facebook to see if my long-distance friends were pregnant or moving or running a marathon.
Those were the days.
If I remember right, I made these divine cookies for a baby blessing luncheon just days after she put the recipe on her family blog. My family went wild for them (<–understatement of the year), and I've been making them since.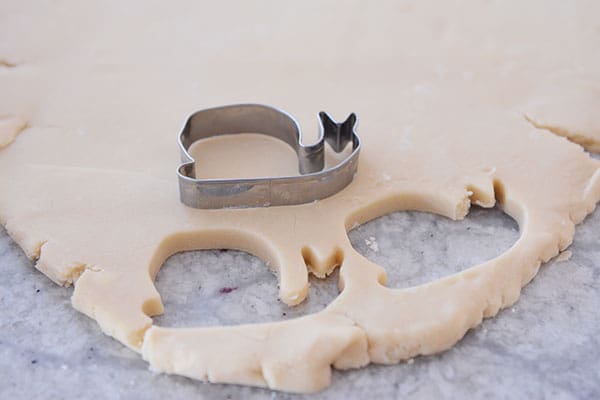 So light and delicious, these buttery, tender sugar cookies hold their shape really well as they bake.
If you've been through sugar cookie baking angst (as they spread all over the pan into unrecognizable blobs), you know what a huge plus that is.
That snail up there? It's still going to look like a real, life snail after it's baked (and if you think that cookie cutter is actually a whale, we've had this discussion already; you can read the 800+ opinions here).
No need to stress about the cookies staying in tip top shape in this recipe – save that anxiety for how you'll summon the self-control not to eat 20.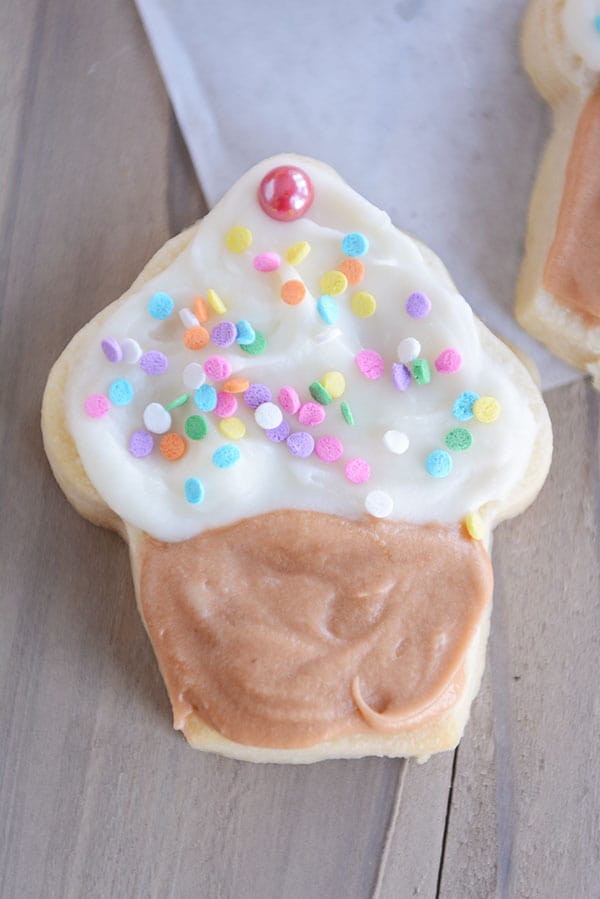 Before those of you who've also developed a strong loyalty to my much-loved "favorite" sugar cookie recipe start to panic and question and possibly riot, let me assure you that these white velvet sugar cookies exist in a sugar cookie habitat all their own.
They don't replace my go-to sugar cookie recipe.
But they might for some of you.
They are different and unique and delicious enough to stand on their own. I alternate between both recipes as my main go-to sugar cookies depending on my mood.
Consider them BFF's in the sugar cookie world. Similar…with enough differences to get along without any fighting and drama. I love them both.
If you also love sugar cookies and want to change it up a little, you have to try this white velvet sugar cookie recipe.
Thanks to the cream cheese and egg yolks in the batter, these sugar cookies, once baked, are luxuriously soft and unbelievably tender with a creamy flavor that is unparalleled in a sugar cookie.
Every single time I make these, I get requests for the recipe; there really is something special about these cookies.
Since sugar cookie making is at an all-time high (thank you, Valentine's Day), I'm asking you, begging you, pleading you, highly encouraging you to give them a chance.
The dough comes together quickly and simply.
A quick chill session in the fridge, and you're ready to rock and roll with those cookie cutters.
Personally, I have about 3,048 cookie cutters. They are a family of hodgepodge shapes made up from several different sets – some random (ahem, snail and hedgehog, thank you IKEA) and some more classic.
I picked up that cupcake cookie cutter in the pictures at Orson Gygi in Salt Lake a year or so ago if I remember right; it's similar to this cookie cutter (and I believe craft stores like Hobby Lobby carry ones like it, too).
I never, ever get tired of sugar cookies. They are one of my favorite cookies in the whole wide world and my self-control is non-existent when they are around.
Correction: when a good sugar cookie is around. My hips ain't got time to waste on dry, crumbly, dastardly sugar cookies.
You can see from the pictures in this post that I like to roll the sugar cookie dough fairly thick. And then underbake just slightly, especially with these cookies that have such a unique flavor.
Doing so gives them a texture that is melt-in-your-mouth delicious.
I am so grateful right now that I have a freeze full of these baked (but yet unfrosted) cookies.
I shall be wrapping this post up very shortly in order to go pull a couple cookies out for a mid-morning snack. They are so good.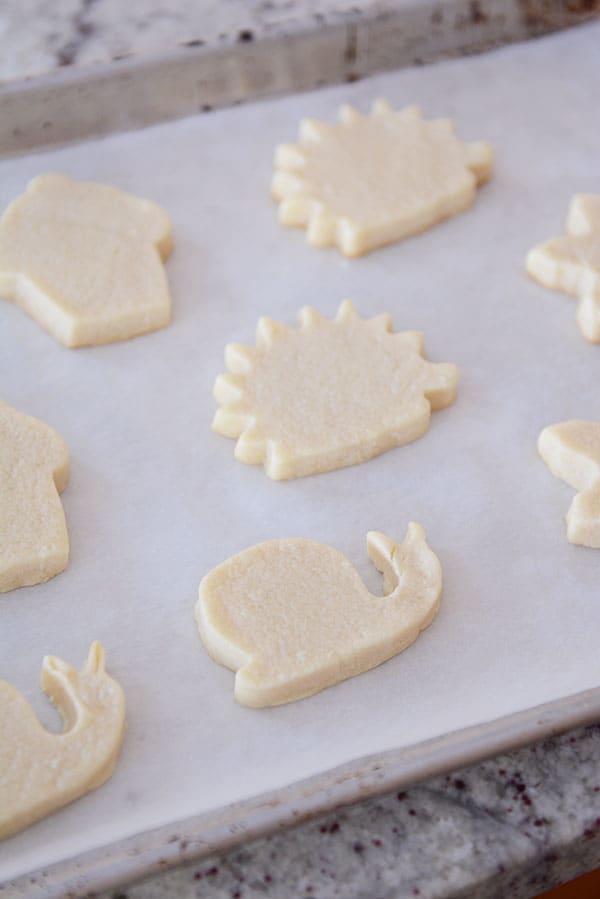 Even though I have no shame admitting I love sugar cookies plain as can be, I have a couple delicious frosting recipes I regularly use since I've found most humans appreciate their sugar cookie frosted.

Let's talk frosting:
For a completely luxurious and decadent topping, I use the whipped cream cheese frosting in this post. It is ethereally creamy and so, so yummy, especially if you are after a super soft frosting.
For a more classic sugar cookie frosting, the fluffy vanilla buttercream frosting I posted Monday is perfect for these white velvet sugar cookies. Toss a few sprinkles on there, and you are good to go.
I rarely get fancy with sugar cookies. I know this may offend some, but royal icing and my beloved sugar cookies do not make a happy team. I'm definitely in the camp of soft and creamy frosting.
Crunchy frosting just feels wrong, even if the cookie is intricately decorated with picturesque details rivaling the murals at the Sistine chapel.
But to each his own! These amazing white velvet sugar cookies are versatile in their ability to adjust to any frosting you throw at them. I could clearly learn a thing or two from cookies this flexible and adaptable.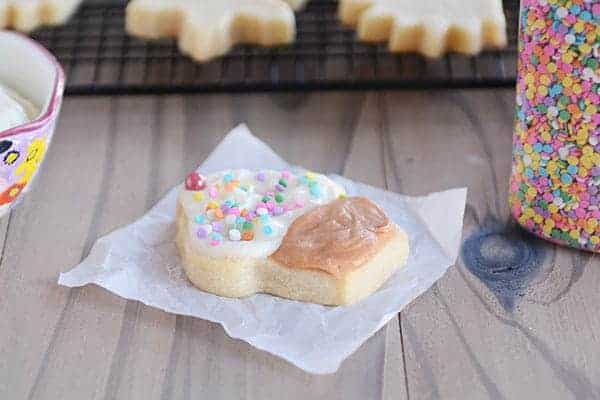 I can't wait to hear what you think of these deliciously unique sugar cookies! They are definitely something special.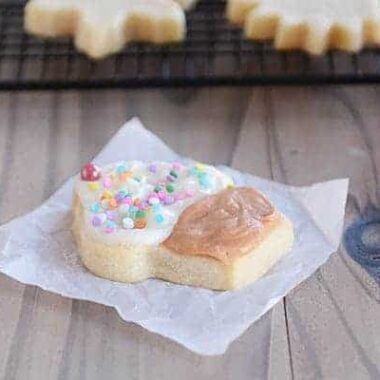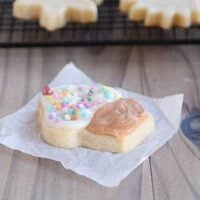 White Velvet Sugar Cookies
Ingredients
2

cups

(

454

g

)

salted butter

,

softened to room temperature

1 (8-ounce)

package

(

227

g

)

cream cheese

,

softened to room temperature

2

cups

(

424

g

)

granulated sugar

2

large egg yolks

1

teaspoon

vanilla extract

4 ¾

cups

(

675

g

)

all-purpose flour

¼

teaspoon

salt
Instructions
In a large mixing bowl with a handheld electric mixer or in the bowl of a stand mixer fitted with the paddle attachment, cream together the butter and cream cheese until light and fluffy, 2-3 minutes, scraping down the sides of the bowl as needed.

Add the sugar, egg yolks and vanilla. Mix well, another 1-2 minutes.

Add the flour and salt. Mix until combined (don't overmix).

Spread the dough into a thick rectangle on a sheet of plastic wrap; cover. Refrigerate and chill the dough for two hours (or up to 12 hours).

Preheat the oven to 350 degrees F. Line baking sheets with parchment paper or silpat liners.

Roll the dough out on a lightly floured counter (or dough rolling mat) to about 1/4-inch thick. If the dough is too firm straight out of the refrigerator, let it rest at room temperature for 10-15 minutes before rolling (and get in there with some elbow grease to roll it out!).

Use cookie cutters to cut into shapes and place 2-inches apart on the prepared baking sheets.

Bake for 10-12 minutes until set but not browned on the edges or bottom (otherwise they won't be soft and tender when they cool).

Remove the cookies to a cooling rack to cool completely. Frost as desired.
Notes
Frosting: the whipped cream cheese frosting (divine) that used to be part of this recipe can be found on this post of another favorite sugar cookie recipe. 
Don't Overbake:
these cookies are so soft and so tender – but they won't be if they are overbaked, so watch closely!
Chilling the Dough: for all you daredevils out there, you can try eliminating the chilling step and rolling them out right away (I know, I know, I hate waiting, too), but the dough has always been a bit too sticky when I've tried to rush it.
Serving:
1
Cookie
,
Calories:
219
kcal
,
Carbohydrates:
24
g
,
Protein:
2
g
,
Fat:
13
g
,
Saturated Fat:
8
g
,
Cholesterol:
45
mg
,
Sodium:
127
mg
,
Fiber:
1
g
,
Sugar:
11
g
Follow @MelsKitchenCafe on Instagram and show me the recipes you are making from my blog using the hashtag #melskitchencafe. I love seeing all the goodness you are whipping up in your kitchens!
Recipe Source: cookies adapted slightly from my friend, Amanda Originally posted in March 2009; updated with new pictures + commentary + recipe notes.
Disclaimer: I am a participant in the Amazon Services LLC Associates Program, an affiliate advertising program designed to provide a means for me to earn fees by linking to Amazon.com and affiliated sites. As an Amazon Associate I earn from qualifying purchases.