Fire-Roasted Tomato and Black Bean Soup with Fresh Corn Salsa
Delicious as it is pretty, this fire-roasted tomato and black bean soup with fresh corn salsa is sure to please!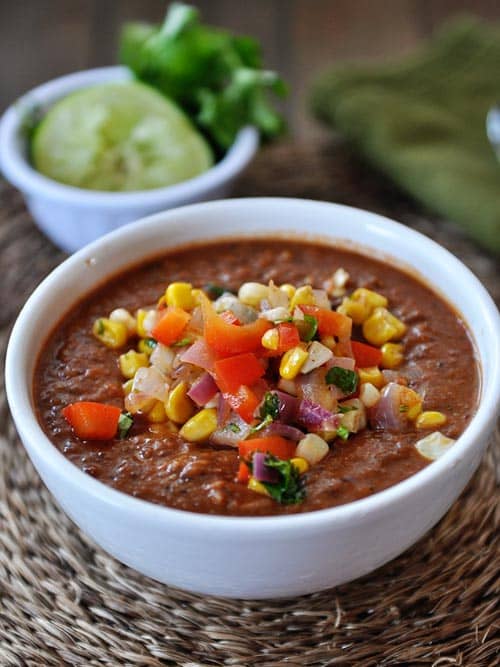 I can promise you one thing today: this soup is as delicious as it is pretty. Sure it's colorful and bright, but those colors wouldn't mean a thing if it tasted like dirt.
And it doesn't taste like dirt. Pinky swear.
While soup season is coming to a close, if you go by weather patterns, I actually enjoy soup year-round. But it has to be the right kind of soup to want to eat it in, you know, sweltering July.
This healthy, delicious soup is versatile enough to be served in the middle of winter or on a warmer spring or summer evening thanks to the bright flavors of the corn salsa (don't worry, you can use frozen corn kernels, too), especially if you let the soup cool a bit and serve it slightly warm or at room temperature.
The crunchy, fresh bites of corn and cilantro and peppers are the perfect compliment to the thick, pureed tomato and black bean soup. Seriously, each bite is like a tasty explosion of texture and flavor.

Tortilla chips (for crushing over the soup or just for dipping)
Fresh, seasonal fruit or this simple fruit salad
Broiled or toasted cheese quesadillas slices
Baked Chicken Taquitos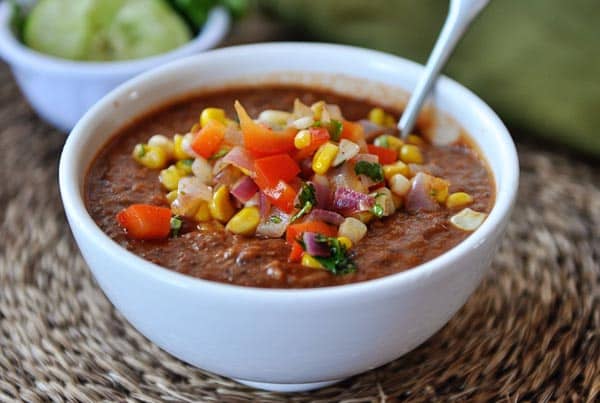 One Year Ago: Layered Peanut Butter and Milk Chocolate Puddings
Two Years Ago: Strawberries and Cream Scones
Three Years Ago: Sweet Potato Fries
Fire-Roasted Tomato and Black Bean Soup with Fresh Salsa
Yield: 4-6 servings

Prep Time: 20 minutes

Cook Time: 45 minutes

Total Time: 1 hour 5 minutes
Ingredients
Soup:
1 tablespoon oil (canola, vegetable, olive, coconut)
1 red onion, coarsely chopped
3 cloves garlic, finely minced or pressed
1 teaspoon dried oregano
1 teaspoon ground cumin
1 teaspoon chili powder
2 cans (14-ounces each) fire-roasted diced tomatoes, undrained
2 cans (15-ounces each) black beans, rinsed and drained
2 1/2 cups low-sodium chicken broth
1/2 teaspoon salt
1/2 teaspoon pepper
Squeeze of fresh lime juice, a couple teaspoons
Salsa:
1/2 cup finely chopped red onion
1 clove garlic, finely minced or pressed
1 cup fresh or frozen corn kernels (thawed if frozen)
1/2 cup chopped red pepper
1/4 cup chopped cilantro
Squeeze of fresh lime juice
Salt and pepper
Instructions
In a 4-quart pot, heat the oil over medium heat until rippling. Add the onion and saute 4-5 minutes until it turns translucent. Add the garlic, oregano, cumin and chili powder and cook, stirring constantly, for another minute or so.
Stir in the tomatoes, black beans, chicken broth, salt and pepper. Bring the soup to a simmer and cook for 30-45 minutes. Carefully puree the soup with a handheld immersion blender or by ladling it into a blender (may need to do it in batches depending on the size of your blender). Puree to your desired consistency. Stir in the lime juice and any additional salt and pepper to taste, if needed.
For the salsa, stir together the ingredients, adding salt and pepper to taste. The salsa can be covered and refrigerated for a day or so.
Ladle the warm soup into bowls and top with a generous spoonful of salsa.
Notes
Gluten-Free: I have this soup categorized as gluten-free so take care to read labels on chicken broth to make sure the broth you are buying truly is gluten-free.

Corn: if you are using fresh corn kernels in the salsa, make sure the corn has been steamed/cooked before using as fresh, uncooked corn kernels won't be very tasty.
Recommended Products
As an Amazon Associate and member of other affiliate programs, I earn from qualifying purchases.

Recipe Source: adapted from a recipe a long-time reader, Linsdey R., sent me (thanks, Lindsey!)