Fudgy Chocolate Chip Yogurt Cake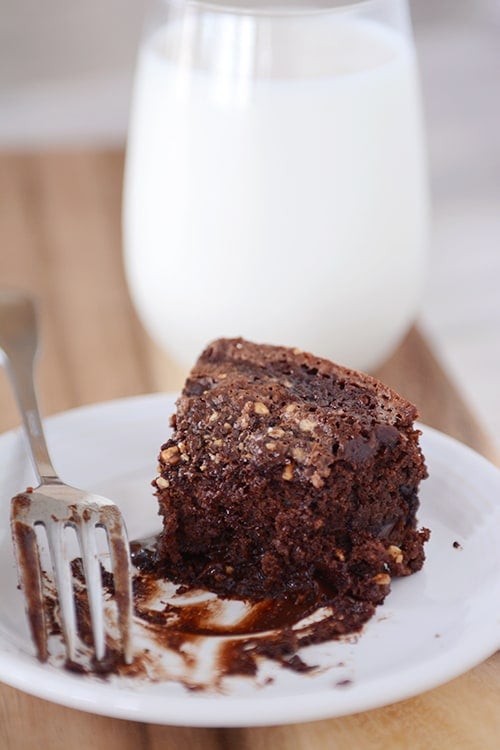 You know how sometimes it's super annoying when you add something like blueberries or chocolate chips to a cake or baked good and they sink to the bottom while baking? Yeah, I hate that.
Except for right now. With this cake. The hate is gone because the glorious chocolate chips complete their whole mission in life by sinking to the bottom of this cake to combine with the light, yogurt cake batter forming a thin, decadent, hot fudge layer that will probably complete your whole life, too.
I'd like to go on and on about how this cake has no added butter or oil but if I did, someone would inevitably think I'm saying this is a health food cake. And that, it is not. In lieu of the butter or oil, you get yogurt which keeps the cake rich and moist (oh yeah, and five eggs, too).
I've had this recipe for years. Years and years. Even longer than I've had kids and that seems like a forever eternity (in a good way, most days).
An old friend, Jessica, gave it to me all the way back when and my family and I have enjoyed it time and time again. It's a fabulous solution to "what dessert should I make" when
a) you don't want to stack and frost cake layers,
b) you have 53 recipes staring you in the face and there's no way you'll make an educated decision by the time you need dessert in a couple hours, and
c) it's so easy, the kids can whip it up for you (or in my case, for me).
It's probably one of my favorite simple cakes. That silky, melty, chocolatey goodness on the bottom does me in every single time.
The slight crunch of the almonds/toffee with the moist, tender cake and little hot fudge ending is made better only by the fact that it is such a simple cake to throw together.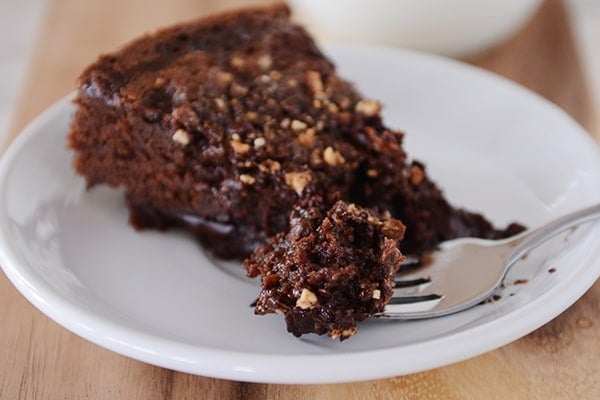 One Year Ago: Overnight Raised Waffles
Two Years Ago: Soft Chocolate Sugar Cookies
Three Years Ago: Peanut Blossom Cookies
Fudgy Chocolate Chip Yogurt Cake
Yield: 8 servings

Prep Time: 15 minutes

Cook Time: 40 minutes

Total Time: 55 minutes
Ingredients
1 1/4 cups granulated sugar
1/2 teaspoon vanilla
2/3 cup yogurt (see note)
5 large eggs
2/3 cup all-purpose flour
1/3 cup unsweetened cocoa powder
1 teaspoon baking powder
1/4 teaspoon salt
1 1/2 cups semisweet or bittersweet chocolate chips
1/2 cup finely chopped, toasted almonds or toffee bits
Instructions
Preheat the oven to 350 degrees F. Lightly grease a 9- or 10-inch round or square cake pan (or a similar sized springform pan if you want cleaner edges) and set aside.
In a large bowl, whisk together the sugar, vanilla, yogurt and eggs.
In a smaller bowl, whisk together the flour, cocoa powder, baking powder, and salt. Add the dry ingredients to the egg mixture and stir just until combined and a few streaks of flour remain. Stir in the chocolate chips; don't overmix.
Spread the batter evenly in the prepared pan and sprinkle the nuts, if using, on top. Bake for 35-40 minutes, until a knife or toothpick inserted in the center comes out with a few moist crumbs - you'll need slightly less baking time the larger the pan you use. Err on the side of underbaking just slightly so the bottom stays melty and gooey.
Serve warm for the hot fudge effect (the chocolate chips will sink to the middle and bottom of the cake and melt deliciously). The cake is also delicious served with a scoop of vanilla ice cream or lightly sweetened whipped cream.
Notes
The original recipe I used for years called for buttermilk but I eventually replaced it with yogurt. You can use a variety of different types of yogurt here but my favorite is either homemade (extra thick and lightly sweetened) or a Greek-style vanilla yogurt. If using plain yogurt, keep in mind the cake will be slightly less sweet unless you add another tablespoon or two of sugar.

The nuts or toffee bits add a delicious crunch to the cake but can be omitted just fine also. The cake tastes amazing served warm for that fudgy deliciousness, but let's be serious, it's also wonderful at room temperature or even chilled.

Recipe Source: adapted from a recipe given to me a decade ago by my friend, Jessica