My Favorite Chocolate Molten Lava Cakes
Chocolate molten lava cakes have never been easier! The simple batter for these cakes can be made ahead of time to be baked whenever the craving hits.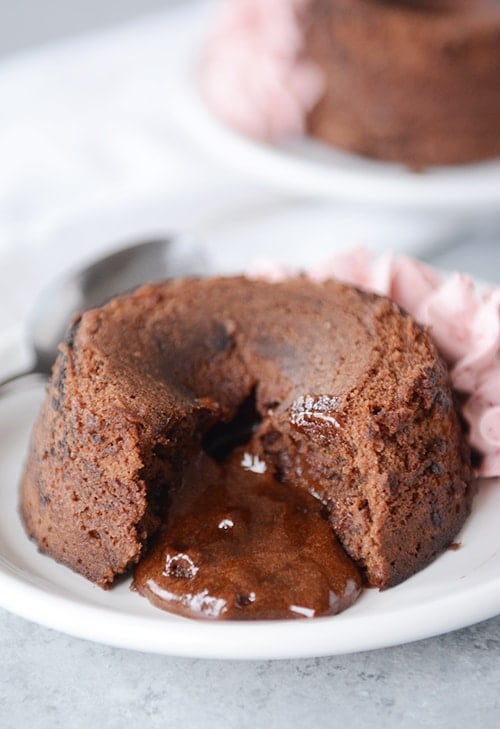 If I really had to narrow life down to one dessert to eat for the rest of forever, it would have to be something akin to these chocolate molten lava cakes.
The combination of light as air chocolate cake and decadent hot fudge pouring out from within is what dreams are made of (at least mine).
It's why I'm powerless in the face of hot fudge pudding cakes and brownie puddings.
These particular molten lava cakes are famous in my extended family. Thanks to my cousin, Camille, passing on the recipe. My Aunt Marilyn makes them so often, she has the recipe memorized and has the preparation down to a science.
I'm pretty certain these lovely little cakes are the most requested dessert in her house besides the amazing chocolate zucchini cake she's known for.
It didn't take my own family long to fall in love with these delicious cakes either. Now, no surprise, they have quickly become the most requested dessert at our house as well. They've shown up for two birthdays already and countless Sunday dinners.
I always used to be intimidated by gourmet looking lava cakes like these. Imagine my irritation when I found out how easy they really are.
This recipe, in particular, is simple enough you can make the batter a day or so in advance. Then, just bake the cakes on a whim.
Which means on any given day, you could be less than 15 minutes away from a ridiculously yummy chocolate molten lava cake. That's dangerous knowledge right there.
Let's talk about ramekins for a second. I've found they can be baked in a variety of dishes.
I have a very eclectic hodgepodge of ramekin-type dishes. Different sizes, different shapes, different materials. Here are the dishes I've personally used that have worked great for these lovely little cakes:
-The recipe recommendation is for a 6-ounce ramekin or dish like these ones; that's what I try to stick with mostly. However, since I only have six of that size, I've had to get inventive when making these for a larger group.
-I also have 8-ounce ramekins. The brand I have isn't available anymore but they are similar to these. When I'm making these cakes for a crowd, I pull the 8-ounce cups out and use them – even though the cakes are slightly less tall, they work great (although I do take the cakes out of the oven about a minute earlier than the 6-ounce ramekins).
-Probably the best kept secret is that these simple, super inexpensive glass pyrex custard cups work great for these cakes. That's what my aunt uses mostly, and I always end up baking a few of the cakes in them as well. Don't be afraid to experiment with dishes you already have on hand (as long as they are ovenproof!).
-One time, I even portioned the batter into well-greased muffin cups (a standard 12-cup pan, although if I remember right, I only filled up 10 of the cups) and it worked great; the portions are a bit smaller but ideal for kids. Although I'll confess, turning them out wasn't quite as pretty as the individual ramekins. I ended up kind of scooping them out of the tin onto plates and no one seemed to care a bit.
Any day is a good day for chocolate molten lava cakes. Am I right or am I right?
One Year Ago: Whipped Chocolate Buttercream Frosting
Two Years Ago: Sweet Baked Ham
Three Years Ago: Garlic and Herb Butter Spread
My Favorite Chocolate Molten Lava Cakes
Ingredients
1 cup (6 ounces) chopped semisweet or bittersweet chocolate (see note)
10 tablespoons butter
Pinch of salt (about 1/8 teaspoon - use more if using unsalted butter)
1/2 teaspoon vanilla extract
3 large eggs (about 5.75 ounces)
3 large egg yolks (about 1.65 ounces)
1 1/2 cups (6 ounces) powdered sugar
1/2 cup (2.5 ounces) all-purpose flour
Instructions
Preheat oven to 425 degrees F.
Grease the bottom and sides of six 6-ounce custard cups or ramekins very well (see note above).
In a medium bowl (or in a saucepan on the stove), melt the chocolate and butter together until smooth (don't overheat!). Off the heat, stir in the salt and vanilla. Let the mixture cool to room temperature (it can be slightly warm but not hot).
In a large bowl with a handheld electric mixer or in the bowl of an electric stand mixer fitted with the paddle attachment, beat the eggs and egg yolks together until thick and light in color, 2-3 minutes (don't skimp this step!).
Add the powdered sugar and mix until combined. Add the cooled, melted chocolate mixture and the flour and mix with a spoon or spatula just until combined and no streaks remain (don't overmix). Divide the batter evenly among the ramekins and place the ramekins on a large baking sheet with a couple inches between each dish (for air to circulate).
Bake for 12-13 minutes until the sides are set and the cakes feel soft when touched in the center. The timing is really important here and a lot will depend on if your oven bakes hot or cool. You want the cakes to bake long enough to form a crust around the molten filling without baking all the way through.
Remove from the oven and let sit for 1-2 minutes. Run a small knife or metal spatula around the edges to loosen. Place a plate upside down on the ramekin, and holding onto both the plate and the ramekin, carefully flip so that the cake falls out onto the plate (tap very lightly on the bottom of the ramekin if the cake doesn't come out right away).
Dust the cakes with powdered sugar or serve with whipped cream and strawberries or ice cream and hot fudge sauce (or a combination of all!).
Notes
Not all chocolate is created equal and you want a great tasting, easy melting chocolate here, which means if at all possible, stay away from chocolate chips. The best melting chocolate chips, in my opinion, are Ghirardelli and they are usually my exception to the rule for using chocolate chips to melt in recipes such as this (Nestle, store brand, and Hershey's don't melt as well). Chocolate bars (found in the baking aisle - like Baker's brand or TJ's pound plus bars) work great.
Let's talk about greasing those ramekins. The idea is you want the chocolate cakes to fall out with no shaking, minimal pounding and no stress. Using a cooking spray with flour in it (like Baker's Joy) works great but may leave a bit of a white or yellow-ish residue on the outer edges of the cake (I don't think it's a big deal, personally). Often times, I make a paste of softened butter and cocoa powder and spread it generously into the bottom, edges and sides of the ramekins. You can tell from the pictures that it makes a bit of a darker edge on the cakes, but again, it doesn't bother me and the cakes come out easy peasy.
MAKE AHEAD INSTRUCTIONS: The cake batter can be made and spread into the ramekins 1-2 days in advance. Cover the ramekins with plastic wrap and refrigerate. Bake the cakes as directed (remove the plastic wrap, obvs), adding an extra 30-60 seconds to the baking time to account for the cold batter.
Recipe Source: adapted slightly from a recipe that's famous in my extended family from my cousin Camille, given to me (and served to me countless times) by my Aunt Marilyn
Disclaimer: this post contains a few Amazon affiliate links