Garlic and Herb Butter Spread
This garlic and herb butter spread is equal parts cream cheese and butter with a great dose of flavor. It's perfect slathered on fresh bread.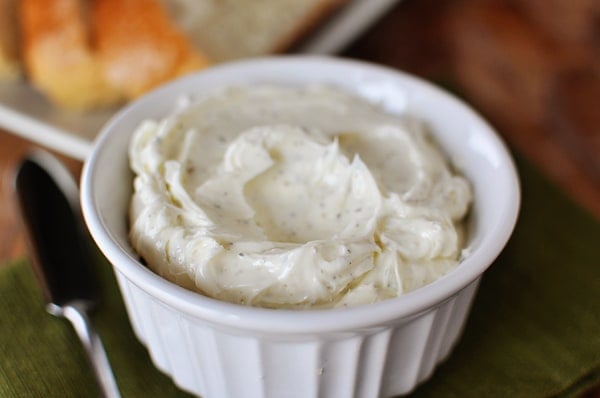 True to my promise, here is the delectable whipped butter spread I was telling you about Monday.
Equal parts cream cheese and butter with a healthy dose of all things flavor, the spread doesn't taste overly cream cheesy – in fact, it stays loyal to the whipped butter taste and the cream cheese simply helps give it a dimension of light fluffiness that boosts its addictive appeal.
Don't fret over the long list of spices and dried herbs – they are all very common and the spread comes together in about 5 seconds flat. Ok, maybe 10. I broke out the list of ingredients this way in order to avoid using a prepackaged Italian seasoning mix since I like to be able to use what I have on hand instead of relying on a package from the store.
After making this and eating it with the Rosemary Bread, I'm pretty sure I need to plan a party ASAP where the food consists simply of several different types of artisan breads and a selection of savory (and maybe sweet?) buttery spreads to compliment the bread. Wouldn't that be dreamy?
Taste test after taste test of luxurious, tender bread smothered in different types of creamy, buttery concoctions. I'm so doing it. And you are all invited!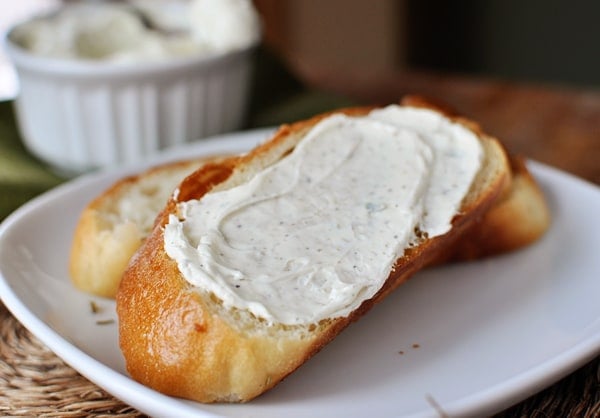 Garlic and Herb Butter Spread
Yield: 2 cups

Prep Time: 10 minutes

Total Time: 10 minutes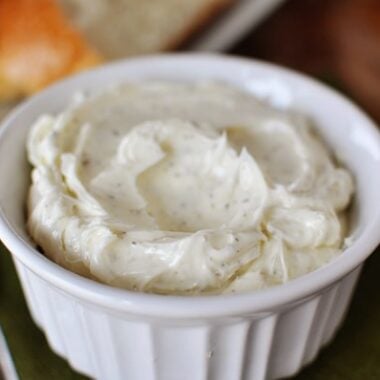 Ingredients
8 ounces cream cheese, softened
1 cup butter (2 sticks), softened
1/4 teaspoon garlic powder
1/4 teaspoon onion powder
1/4 teaspoon sugar
1/2 teaspoon oregano
1/4 teaspoon pepper
1/8 teaspoon thyme
1/8 teaspoon basil
1/4 teaspoon dried parsley
1/8 teaspoon celery salt
1/4 teaspoon salt
Instructions
In a medium bowl, whip the cream cheese and butter with a handheld mixer (or electric stand mixer) until light and fluffy and smooth.
Add in the spices and herbs and mix until well combined.
Serve at cool room temperature with slices of artisan bread
Recommended Products
As an Amazon Associate and member of other affiliate programs, I earn from qualifying purchases.

Recipe Source: adapted from a recipe given to me by my sister-in-law, Mary G.
Disclaimer: I am a participant in the Amazon Services LLC Associates Program, an affiliate advertising program designed to provide a means for me to earn fees by linking to Amazon.com and affiliated sites. As an Amazon Associate I earn from qualifying purchases.