Glazed Mini Meatloaves
These glazed mini meatloaves are sure to please! The loaves are incredibly tender and juicy; the glaze on top is perfectly sweet and tart.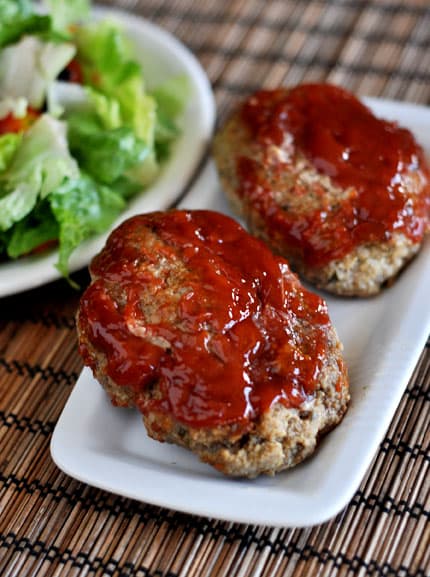 At busy times in my life, I have always been on the search for quicker weeknight meals.
This recipe definitely fits the bill.
My family happens to love meatloaf but I struggle making the large pans of meatloaf turn out without being tough and greasy.
When I happened upon this recipe, I knew I had to try it.
I like the concept of mini meatloaves and my kids thought it was "way cool" that they got their own little meatloaf.
The meatloaf itself was incredibly tender and juicy – not tough and greasy like so many times before when I've made it. The glaze topping was perfect parts sweet and tart.
For me, the key to the juiciness of the meatloaf was using both ground chuck and ground pork (if you can get true "meatloaf mix" from your butcher, go for it!), which I've never done before.
This was a hit with my family and is definitely going in the tried-and-true pile.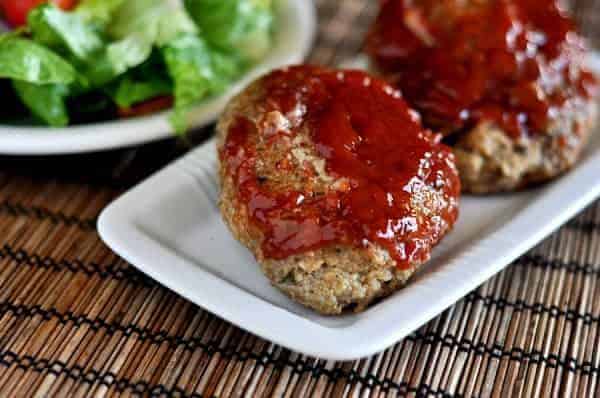 FAQs for Glazed Mini Meatloaves
Can you freeze these?
These freeze great after they've baked. I warm them in the oven on about 300 degrees wrapped in foil so they don't dry out.
Can I change the size of the loaves?
Of course- you can maek them any size you want, just be aware of the bake time and watch accordingly.
Can I use ground turkey instead?
You can subsitute it for ground beef, although I do think you lose a little bit of flavor (probably due to the fat). It may not be quite as moist, but you would definitely save on fat.

Herb Roasted Potatoes or these Salt Crusted Potatoes
A steamed veggie or this Vegetable Saute with Simple Cream Sauce
A really, good artisan bread like this Herb Focaccia Bread
Yield:
4-5 mini meatloafs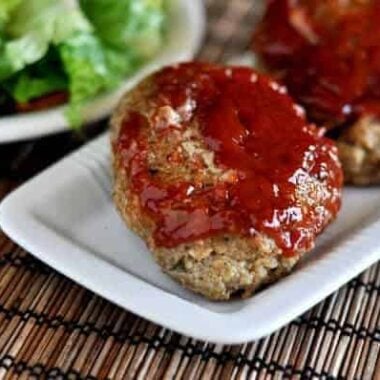 Ingredients
Meatloaves:
17-20 saltine crackers, crushed fine (about 2/3 cup)
1/4 cup whole milk
1/3 cup minced fresh parsley
3 tablespoons Worcestershire sauce
1 large egg
1 1/2 tablespoons Dijon mustard
1 teaspoon onion powder
1 teaspoon garlic powder
1 teaspoon salt
1/2 teaspoon pepper
1 1/2 pounds ground meat (I use a combination of lean ground chuck, lean ground pork, or lean ground turkey)
2 teaspoons oil (I used canola oil)
Glaze:
1/2 cup ketchup
1/4 cup packed light brown sugar
4 teaspoons cider vinegar
Instructions
Adjust an oven rack to the middle position and heat the oven to 425 degrees. Stir cracker crumbs, milk, parsley, Worcestershire sauce, egg, mustard, onion powder, garlic powder, 1 teaspoon salt, and 1/2 teaspoon pepper together in a large bowl. Add ground meat and combine until uniform. Shape mixture into oval loaves (I doubled the recipe and got 10 mini loaves, so when I make the recipe without doubling it, I plan to shape into at least 5 loaves – they were definitely big enough to be perfectly filling!).
Heat oil in 12-inch nonstick skillet over medium heat until the oil is rippling. Add meatloaves (without letting them touch sides) and brown well on one side, 3-5 minutes. Carefully flip loaves over and tidy up edges using a spatula (I didn't need to do this – my meatloaves managed to hold their shape really well). Brown on this side for another 2-3 minutes.
Meanwhile, mix glaze ingredients together until smooth. Transfer mini meatloaves to a foil-lined baking pan and spoon the glaze over the top of each meatloaf. Bake for 18-20 minutes, until the center of the loaf registers 160 degrees on an instant-read thermometer (or do like I do and cut one of the little babies open and if it looks done – pull 'em out of the oven!).
Recommended Products
As an Amazon Associate and member of other affiliate programs, I earn from qualifying purchases.
Recipe Source: adapted from The Best 30-Minute Recipe
Disclaimer: I am a participant in the Amazon Services LLC Associates Program, an affiliate advertising program designed to provide a means for me to earn fees by linking to Amazon.com and affiliated sites. As an Amazon Associate I earn from qualifying purchases.