Skillet Teriyaki Meatballs
Looking for a spin on a classic meatball recipe? These tender, saucy, teriyaki meatballs are the perfect solution and are super quick to prepare!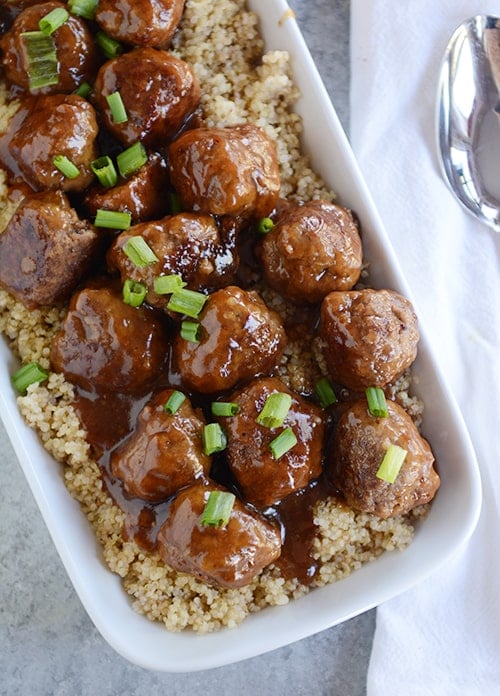 These delectable teriyaki meatballs have been buried in the archives of my site for six years and it's high time they got another minute in the spotlight.
There's no question these meatballs are a huge favorite around here.
As in, they're in a dead heat with this alfredo sauce for which meal gets requested the most for the kids' birthday dinners.
Over the years, I've made some changes here and there to the sauce (for flavor and consistency); I've detailed my changes in the notes of the recipe, so make sure to read through those if you are looking for the "original" – and don't panic, today's version is not all that different from teriyaki meatballs six years ago.
Just a little refined. And hello, new pictures.
Meatballs have never looked so good.
I've learned I can't invite polite company over for this super simple teriyaki meatball meal (or meatball meals of any kind, really), because my kids are heathens as they race to skewer meatball after meatball to load up their plates.
I've even been known to lay down a strict rule that no one at the table can eat more meatballs than their current age. Gotta set limits somehow, someway.
I do have a grocery budget after all.
We serve these teriyaki meatballs over rice, quinoa, and sometimes just by their lonesome (with a few other side dishes).
Here are a few other meatball recipes we love:
Skillet Turkey Meatballs with Lemon Rice
Skillet Swedish Meatballs
Sweet and Sour Meatballs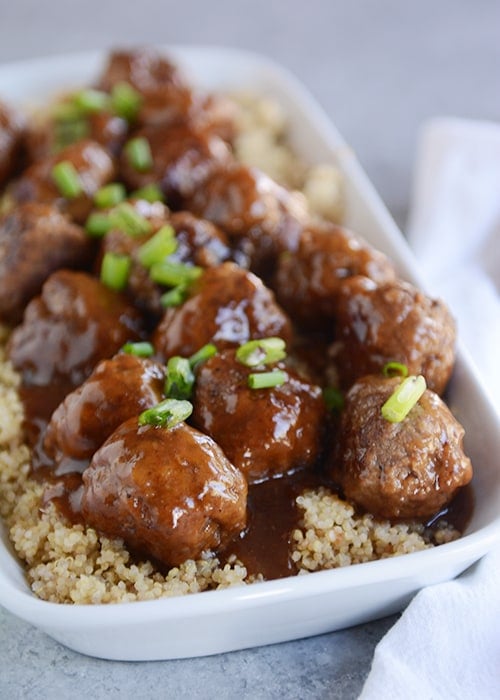 Hot, cooked rice, quinoa or couscous
Simple Skillet Green Beans
Skillet Teriyaki Meatballs
Yield: about 16 meatballs

Prep Time: 20 minutes

Cook Time: 20 minutes

Total Time: 40 minutes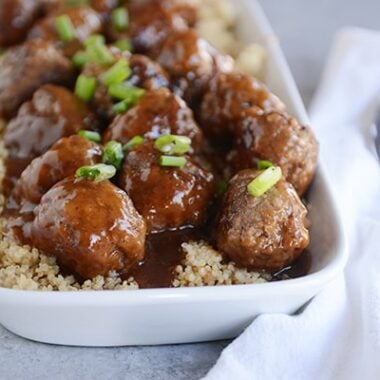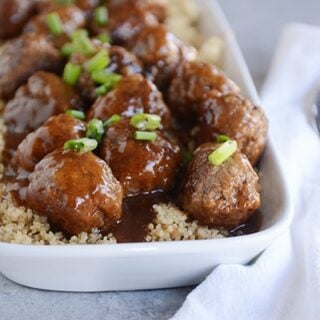 Ingredients
Sauce:
1/2 cup low-sodium soy sauce
2 1/4 cups water
1 teaspoon ground ginger or 1 tablespoon grated fresh ginger
1/2 teaspoon garlic powder
1/3 cup packed light or dark brown sugar
2 tablespoons honey
1 tablespoon rice vinegar (can use white vinegar as a sub)
2 tablespoons cornstarch
Meatballs:
2 pounds lean ground beef or ground turkey
2 large eggs
2/3 cup bread crumbs (I usually use panko)
1 teaspoon salt
1/4 teaspoon pepper
1 1/2 teaspoon Worcestershire sauce
1/4 teaspoon garlic powder
2 to 3 tablespoons milk (use the lesser amount if using ground turkey)
1 tablespoon olive oil
Sliced green onions, for garnish
Instructions
For the sauce, in a medium bowl or in a liquid measuring cup, whisk together all the sauce ingredients until smooth (can use a blender for this, if desired). Set aside.
For the meatballs, in a large bowl, combine all the meatball ingredients, except the 1 tablespoon oil and the green onions, and mix until well-combined (I usually ditch any utensil and just get my hands in there to do the mixing). Form the mixture into meatballs about an inch or two in size.
In a 12-inch nonstick skillet, heat a tablespoon of olive oil over medium heat until the oil is rippling and hot. Add the meatballs in a single layer to the hot skillet and brown on all sides, turning with a pair of tongs. The meatballs don't need to be completely cooked through, just equally browned on all sides.
Pour the sauce ingredients over the meatballs and gently turn the meatballs to coat them in the sauce. Bring the mixture to a simmer and cook about 10-15 minutes, stirring every once in a while to carefully turn the meatballs and coat them in the sauce, until the meatballs are cooked through. If the sauce becomes overly thick, add a tablespoon of water at a time to thin.
Serve the meatballs and sauce over hot, cooked rice, quinoa or couscous, if desired. Garnish with green on
Notes
Minor Changes: I've updated this recipe from six years ago with a few minor changes (and added more details in a few places). It's still the same great teriyaki meatball you may have been loving for the last several years.

Soy Sauce: I've found over the years that using regular soy sauce makes it a bit too salty for our tastes so we've switched to low-sodium.

Ginger: we prefer the flavor of fresh ginger, if I have it on hand.

Sauce Changes: I've also cut the sugar down just slightly - if you are looking for the original amount it was 1/2 cup and added a tablespoon of rice vinegar to cut the richness of the sauce. And finally, I've started adding less cornstarch to the sauce as we don't like it quite as thick.
Recommended Products
As an Amazon Associate and member of other affiliate programs, I earn from qualifying purchases.

Recipe Source: updated an old recipe from my site archives (teriyaki sauce inspiration from here)
Disclaimer: I am a participant in the Amazon Services LLC Associates Program, an affiliate advertising program designed to provide a means for me to earn fees by linking to Amazon.com and affiliated sites. As an Amazon Associate I earn from qualifying purchases.