Baked Orange-Glazed Meatballs
This baked orange-glazed meatballs, baked in mini muffin tins are the next great orange-glazed thing! You've got to try them!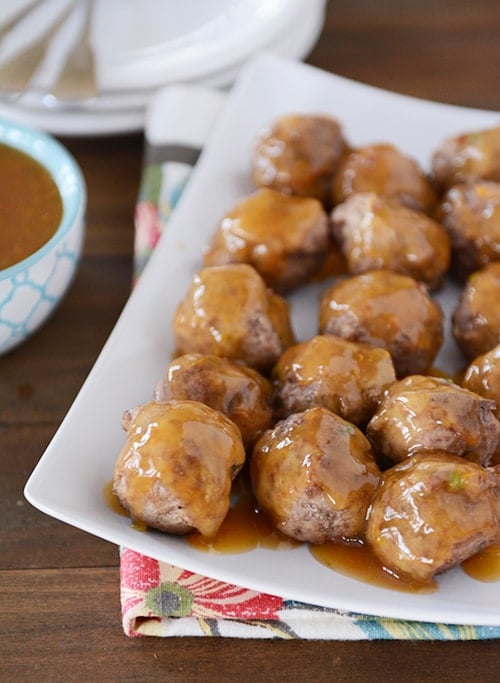 Since orange chicken is right up there as one of Brian's favorite meals in the history of ever, I suppose it was only a matter of time until something else orange-glazed arrived at the dinner table (and in the interest of full disclosure, he loves, loves, loves the stuff at Panda Express, even if I do not, and since we've lived many years without it until just recently, he's been reunited and it feels so good).
The next great orange-glazed thing just happens to be meatballs.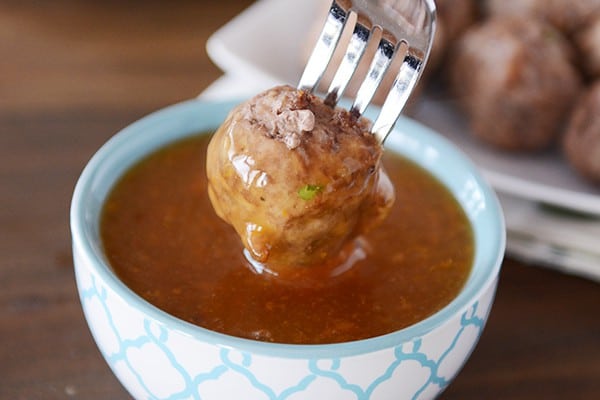 They are quick and simple and terribly delicious. Plus, I learned a trick that makes me want to make meatballs every single day of my life. Bake them in a mini muffin tin.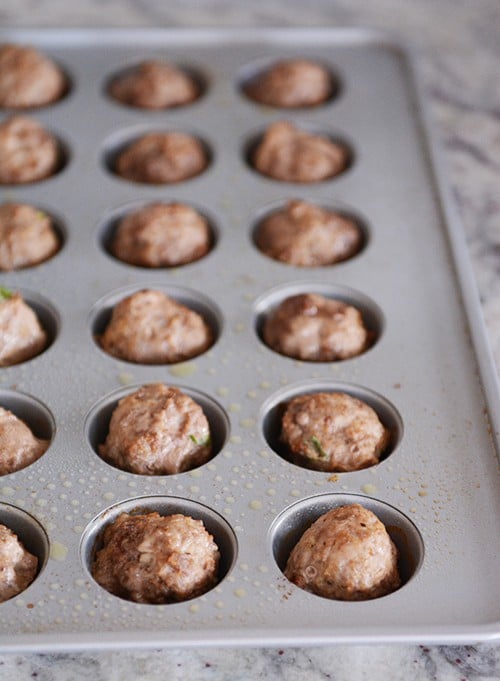 Brilliant, right? Not only do they hold their shape, but they are a bit smaller than I'd probably normally make them and are just plain adorable. You know, if meatballs cared about being adorable.
Of course you don't have to use a mini muffin tin (see the notes in the recipe) but if you have that type of pan, you should try it because it could bring you a lot of happiness like it did to me. Simple pleasures.
The meatballs are tender. The orange sauce is flavorful. The combination is delicious.

Baked Brown Rice or Perfect Stovetop Brown Rice
Steamed or Roasted Broccoli (to roast, drizzle broccoli with olive oil and sprinkle with salt and pepper; bake on a sheet pan at 425 degrees F for 15-20 minutes)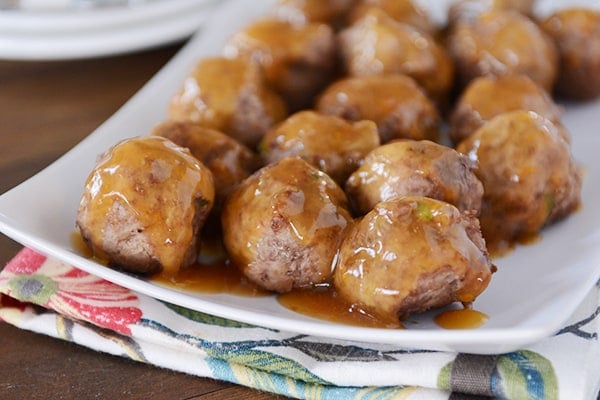 Baked Orange Glazed Meatballs
Yield: 20-24 small meatballs

Prep Time: 25 minutes

Cook Time: 20 minutes

Total Time: 45 minutes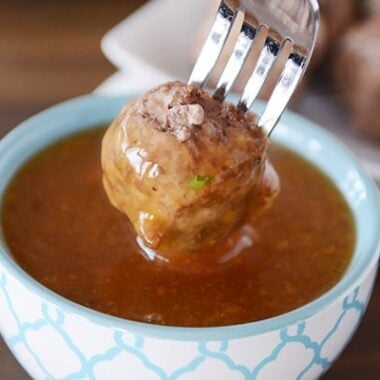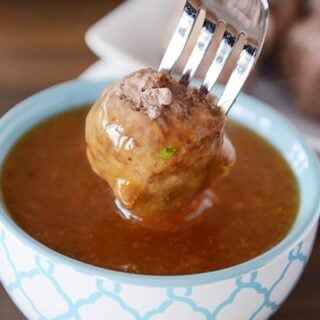 Ingredients
Meatballs:
1 1/2 pounds ground turkey (see note)
1/4 cup breadcrumbs (panko, homemade, or storebought)
2 tablespoons milk
2 cloves garlic (about 2 teaspoons), finely minced or pressed through a garlic press
1-2 teaspoons minced fresh ginger (see note)
2 tablespoons low-sodium soy sauce
1/4 teaspoon salt
1/2 teaspoon black pepper
2 green onions, white and green parts finely chopped
Orange Glaze:
1/2 cup water
1/2 cup orange juice
1 teaspoon sesame oil
2 tablespoons rice vinegar
1 tablespoon low-sodium soy sauce
1/2 tablespoon fresh orange zest
1/4 cup brown sugar
1/2 teaspoon grated fresh ginger
1 clove garlic (about 1/2 - 1 teaspoon) finely minced or pressed through a garlic press
1 1/4 tablespoons cornstarch
Instructions
Preheat the oven to 475 degrees and lightly grease a mini muffin tin (see note above if you don't have that kind of pan).
For the meatballs, combine all the meatball ingredients together in a large bowl and mix until combined (you might need to just get your hands in there and go to town).
Shape the meatball mixture into small balls, a couple tablespoons each, and place into the prepared mini muffin tin. The meatballs will shrink down a bit while baking.
Bake for 15 minutes or until cooked through.
Immediately (but carefully) spoon the meatballs out of the tin and onto a layer of paper towels to drain any excess grease (you may not need to do this if the meat was extra lean).
For the glaze, whisk together all the ingredients in a small saucepan and bring to a simmer over medium heat, stirring often. Cook until thickened. Add salt and pepper to taste.
Serve the meatballs with the glaze (either poured over the meatballs or served separately for each person to drizzle on as they like).
Notes
Meat: ground chicken or lean ground beef can be subbed for the ground turkey.

Ginger: I always buy chunks of ginger and cut them into 1-inch pieces, toss them in a freezer ziploc bag (unpeeled) and then when a recipe calls for fresh ginger, I grab a piece straight from the freezer and grate it on the small holes of my box grater or on the microplane.

Cooking the Meatballs: if you don't have a mini muffin tin, scoop the meatballs onto a parchment-lined or greased baking sheet and bake that way.

Add Some Heat: finally, if you like a little heat with your sweetness, try adding a little chile-garlic sauce or red pepper flakes to the sauce.
Recommended Products
As an Amazon Associate and member of other affiliate programs, I earn from qualifying purchases.

Recipe Source: inspired and adapted from this recipe at Just a Taste (altered a few ingredients in the meatball recipe and created a simple, homemade orange glaze instead of using orange marmalade)
Disclaimer: I am a participant in the Amazon Services LLC Associates Program, an affiliate advertising program designed to provide a means for me to earn fees by linking to Amazon.com and affiliated sites. As an Amazon Associate I earn from qualifying purchases.