These golden skillet potatoes are simple, quick and a really delicious side dish to add to your dinner repertoire.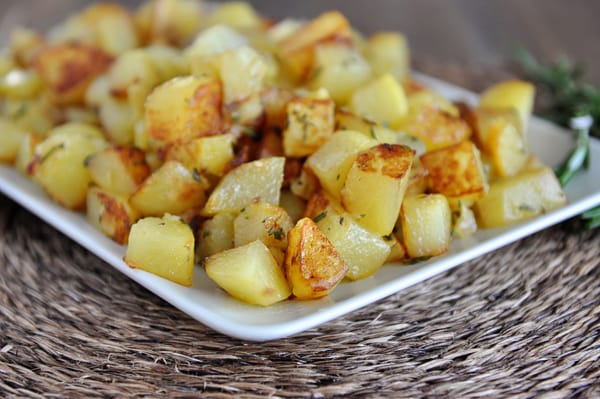 Food allergies. What does that mean to you? My own little family has been blessed significantly in that we don't have any food allergies to speak of among the 7 of us (yet…) and trust me, I am grateful every day for that; however, I have friend upon friend upon friend who deal with food allergies every minute of every day. We're talking egg allergies, nut allergies, dairy allergies. Wheat allergies, shellfish allergies, soy allergies and many more.
Some of these families even deal with multiple allergies and many of them are trying to navigate the public school system and society in general with these allergies (screaming in their pillow along the way, I'm sure).
I bow down to each of you. I really do.
If you didn't know (and I didn't until my friend Megan alerted me), this week is Food Allergy Awareness Week. Hello! That's a pretty important week to take note of, don't you think?
In order to help raise awareness about food allergies, I thought I'd share some of my favorite allergy-friendly food blogs, all of which have amazing recipes whether you are an "allergy family" or not. Here are a few I enjoy and highly recommend:
Gluten Free on a Shoestring (the flourless chocolate cake is to-die for, plus Nicole has some really awesome gluten-free cookbooks and a bread book coming out in the fall)
Funny Tummy Cafe (gluten, egg, soy and dairy allergies)
Eggless Cooking (I've used several cookie/brownie recipes from here when baking for my egg-free friends)
Lexie's Kitchen (gluten, dairy and egg-free)
Irresistibly Gluten Free (another gluten-free website with a cookbook that is a wonderful resource for gluten-free eaters)
I know there are many other recipe blogs/online resources for allergy awareness that I'm not aware of so please share any other useful blogs/sites in the comments.
I also stumbled across this Top 25 list that looks like a great resource, too. Additionally many mainstream food blogs have categories dedicated to foods without certain ingredients (here on Mel's Kitchen, I have categories dedicated to egg-free or gluten-free recipes and am hereby committing to do a better job at tagging recipes to help with food allergies!).
Even if you are like me and don't have to worry about food allergies in your own home, there is good reason to educate ourselves on food allergies in general.
It takes all of us to keep children and adults with food allergies safe. Ask questions to those you know who have food allergies. Know what foods are safe and if you know families that have food allergies, start keeping a list of meals that are food-allergy approved in their home. You never know when they might need a "safe" dinner brought to them!
As always, feel free to share any links/resources/advice in the comments about food allergies. I guarantee that most of you are more knowledgeable than I on this subject!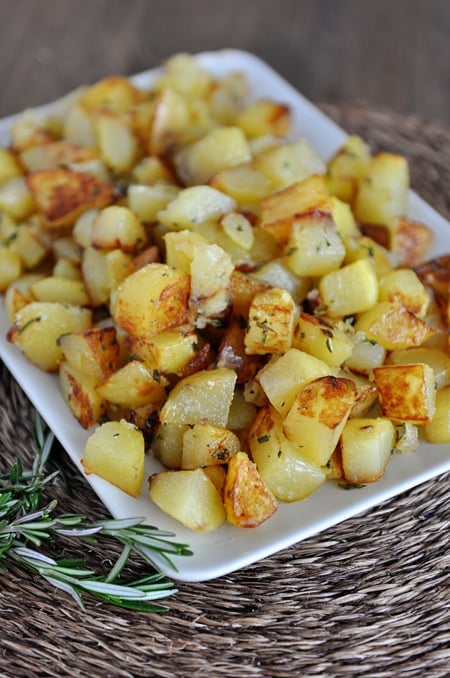 Today's recipe, I'm happy to report, is egg-free, nut-free, gluten-free and very, very tasty. In fact, this has become our new go-to side dish for all of our recently grilled meals.
I was in awe at how my boys devoured these. Not that I could blame them.
The tender potatoes are lightly golden and crisp on the edges but velvety and creamy inside with the delicious hint of rosemary and garlic. Super yum. And really exciting to add another side dish that is simple, quick and really delicious to our dinner repertoire. Seriously, make these.
They will get you out of any side dish dinner rut you are in. Guaranteed.
Ingredients
2 pounds Yukon gold or red potatoes (peeled if using Yukon gold potatoes), cut into 1-inch pieces
2 tablespoons plus 1 teaspoon olive oil
Salt and pepper
2 garlic cloves, finely minced
2 teaspoons minced fresh rosemary
Instructions
In a large microwave-safe bowl, toss the potatoes with 1 tablespoon oil and 1/4 teaspoon salt. Microwave uncovered for 10 minutes, stirring every 1-2 minutes, until the potatoes soften but still hold their shape. It is really important to stir every couple of minutes or the potatoes might not cook evenly and you'll end up with some pieces that are super tender and others that are hard. Drain any excess liquid from the potatoes.
Heat 1 tablespoon oil in a large 12-inch nonstick skillet over medium heat until very hot. Don't add the potatoes until the oil is sizzling. Add the potatoes (cut side down if using red potatoes with the skins on) in a single layer and cook them without stirring for 5-6 minutes until they are golden brown on the first side.
Gently stir the potatoes, rearranging them again into a single layer and flipping so the unbrowned side is down. Cook until the potatoes are golden brown on the second side, another 5-6 minutes. Season with salt and pepper to taste.
Combine 1 teaspoon oil, minced garlic and rosemary. Clear the center of the pan and add the mixture, cooking and mashing the garlic into the pan for about 30 seconds. Take care not to let the garlic burn. Stir the potatoes with the garlic/rosemary mixture. Serve.
Recommended Products
As an Amazon Associate and member of other affiliate programs, I earn from qualifying purchases.
Recipe Source: adapted from America's Test Kitchen Quick Family Cookbook