Salt Crusted Potatoes with Fresh Rosemary
These salt crusted potatoes with fresh rosemary bake until the outsides are crispy, then the insides are perfectly creamy and tender.
Aren't these colorful baby potatoes adorable? Looks aside, they are incredibly tasty, too.
The teensy taters are crusted with salt, olive oil and rosemary and bake until the outsides are crispy and wrinkly and the insides are perfectly creamy and tender.
I know, potato side dishes aren't exactly the most exciting thing to see pop up here, especially after the extreme cookie dough overload earlier this week, but I also know that sometimes you need a really, really great side dish to go with a fabulous main dish (like this braised brisket, any one of these pork tenderloin numbers, or this sweet and spicy pot roast) and that's why these potatoes are here for you today.
I loved-these-times-a-trillion especially with the fresh rosemary flavor.
A few of my kids eschewed the salty skins and went straight for the creamy middle. I, and a few others, loved the combination of both the salty crust and the soft insides.
Oh, and by the way, if you haven't seen baby potatoes around, I'm guessing they will be easier to find than you think.
As we've discussed before, I live in the middle of pretty much nowhere (not an insult because I love where I live; just the facts) and I found little two pound bags of these unique and colorful potatoes sitting right underneath the russets.
This may not be true in all instances but usually, if I can find it at my grocery store, I'm pretty confident you can, too.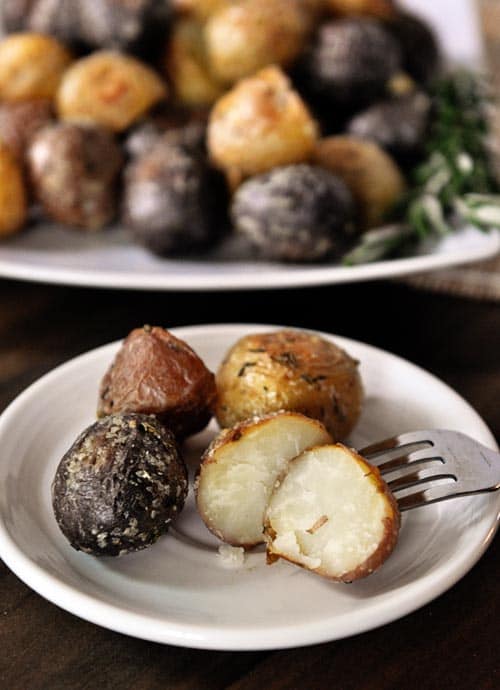 One Year Ago: Red Chicken Chili
Two Years Ago: Spooky Eats: Mummy-Dogs and Mummy Cookies
Three Years Ago: Romaine Salad with Chicken, Cheddar, Apples, Spiced Pecans and Cranberry Vinaigrette
Salt Crusted Potatoes with Fresh Rosemary
Yield: 4-6 servings

Prep Time: 10 minutes

Cook Time: 40 minutes

Total Time: 50 minutes
Ingredients
4-5 pounds baby red, white, yellow or purple potatoes (1 inch to 2 1/2 inches), can use a variety
1 tablespoon coarse kosher salt
2 tablespoons olive oil
2 tablespoons minced fresh rosemary leaves
Instructions
Preheat the oven to 425 degrees F.
Place the potatoes in a large bowl (if you have overly large ones, cut them in half so all the potatoes are about 1-inch to 2 1/2-inches). Toss to coat with olive oil, salt, and rosemary so all the flavors are evenly distributed.
Transfer to a large, rimmed baking sheet and bake for 20 minutes.
Turn the potatoes and continue to bake 18-22 minutes longer until they are fork tender.
Serve hot; some of my family avoid the salty skins and go straight for the creamy middle, but I love the combination of both.
Recommended Products
As an Amazon Associate and member of other affiliate programs, I earn from qualifying purchases.

Recipe Source: adapted slightly from a recipe sent to me by Emily B., a MKC reader (thanks, Emily!)