This summer corn salad is extremely adaptable and completely addictive. Add it to your summer side dish menu. You will not be disappointed!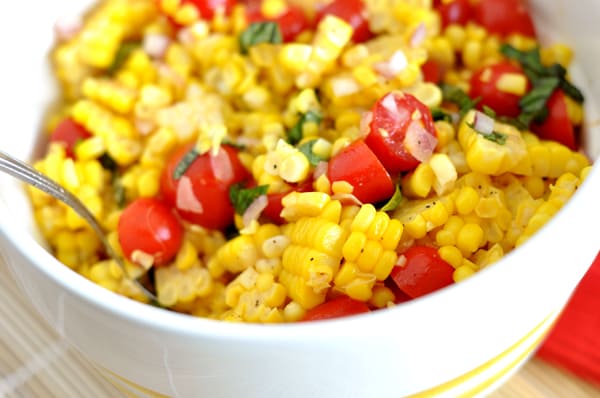 Such a simple, simple salad and yet, I honestly could not stop eating this summer corn salad.
A little taste here, a little taste there.
I was lucky any made it to serve guests later that evening – it's such a gem of a side dish!
I never thought I could have a sweet corn addiction but after sampling it dressed in a light vinaigrette and tossed with fresh basil and cherry tomatoes, I'm pretty sure I need to buy stock in a cornfield somewhere.
I sent out a plea to my friend Kim (who has impeccable taste in food) to help me brainstorm some delicious yet unique summer side dishes.
She immediately sent this recipe to me saying she has been making it to rave reviews for a long time. It is extremely adaptable (see the notes below) and did I mention it is straight-up addictive?
This summer corn salad is definitely my new favorite salad.
I'll be buying ears of corn right and left just to make this (and this sweet corn salad…and wait, this Mexican corn salad!).
This salad is very adaptable – you can increase the corn, add a few cloves of finely minced garlic, flat leaf parsley, and/or julienned baby spinach (in place of the basil).
The corn could also be grilled to turn this simple salad into a grilled version (yum!).
As many have asked, I haven't used frozen corn, but you could definitely experiment (make sure to thaw and pat very dry!), but if you get a chance, don't pass it up to make this summer corn salad with fresh corn!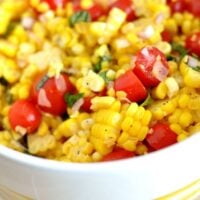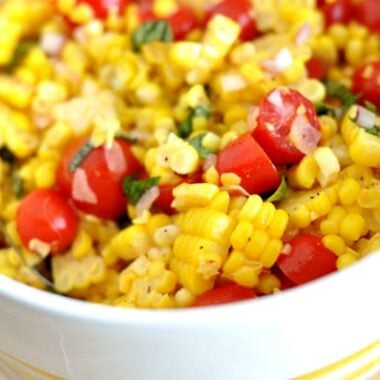 Ingredients
6 ears of corn, shucked
1/2 cup finely diced red onion
1 cup cherry tomatoes, sliced in half
3 tablespoons cider or red wine vinegar
3 tablespoons extra-virgin olive oil
1/2 teaspoon kosher salt
1/2 teaspoon freshly ground black pepper
1/2 cup julienned/chiffonaded fresh basil leaves
Instructions
Bring a large pot of water to a boil. When boiling, add one tablespoon sugar and one tablespoon vinegar. Add the cobs of corn to the pot of water and bring to a rolling boil. Cover the pot, remove from the heat and let the corn sit for 10 minutes. Remove the corn from the pot. When the corn is cool, cut the kernels off the cob, cutting close to the cob.
Toss the kernels in a medium bowl with the red onions, tomatoes, vinegar, olive oil, salt, and pepper. Just before serving, toss in the fresh basil. Add additional salt and pepper to taste, if desired. Serve cold or at room temperature.
Notes
To julienne the fresh basil, stack 4-5 basil leaves on top of each other and roll them up to make a long tube of basil. Slice every 1/8-inch down the length of the basil roll and as the basil unfurls, it will be sliced into thin long strips.

The corn could also be grilled to turn this simple salad into a grilled version.

This salad is very adaptable – you can increase the corn, add a few cloves of finely minced garlic, flat leaf parsley, and/or julienned baby spinach (in place of the basil). Go crazy!

Recipe Source: adapted slightly from The Barefoot Contessa Cookbook via my friend Kim