Heath Bar Cookies
A thin, buttery, chewy cookie, these Heath Bar cookies are deliciously nutty and filled with crunchy toffee bits! You really can't go wrong.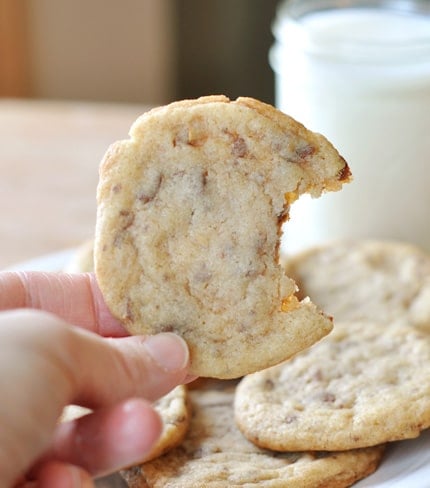 "C is for cookie, that's good enough for me! Oh! Cookie, cookie, cookie starts with C!" Heard this song? Anyone? Anyone?
Well, whether you are familiar or not, the Cookie Song is sung a lot around our house and my children have found an uncanny way to gravel their voice just like Cookie Monster. I must announce, however, that the song was taken to new heights of excitement with these Heath Bar cookies.
My four little rascals were dancing around the kitchen, cookies in hand, shouting the lyrics and praising my name (love that!) for making these beauties.
A thin, buttery, chewy cookie, these Heath Bar cookies are deliciously nutty and filled with toffee bits. I think next time I may even throw in a sprinkling of mini chocolate chips to kick things up a notch.
I loved that these cookies are a bit different in texture than some of my much-loved thick and soft cookies. Delicious in their uniqueness, these will be making repeat appearances, if only to let my children practice their Cookie Monster impersonations over and over and over.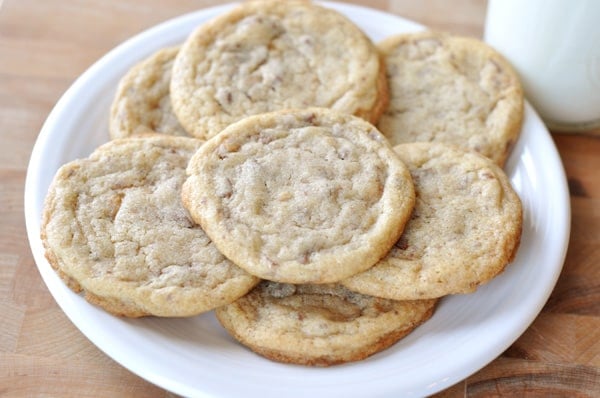 One Year Ago: Classic Italian Lasagna
Two Years Ago: Asian Lettuce Wraps
Three Years Ago: My Favorite Cheesecake
Yield: 4-5 dozen

Prep Time: 13 minutes

Cook Time: 12 minutes

Additional Time: 1 hour

Total Time: 1 hour 25 minutes
Ingredients
2 ½ cups all-purpose flour
½ teaspoon salt
1 teaspoon baking soda
1 cup (2 sticks) butter, softened
1 cup granulated sugar
½ cup brown sugar
2 eggs
1 teaspoon vanilla
1 1/2 cups chopped Heath Bar pieces (eight 1.4 ounce bars) or 1 (8-ounce) package of chocolate-covered or regular toffee bits
Instructions
In a medium bowl, whisk together the flour, salt, and baking soda. Set aside. In a large bowl (or the bowl of an electric stand mixer), with an electric handheld mixer, beat together the butter and sugar. Beat in the eggs and vanilla and mix until the mixture is very light in color and creamy. Add the flour mixture and stir to combine. Once it is about halfway combined, add the heath bits and mix until all the ingredients are mixed together. Chill the cookie dough for 30 minutes to an hour.
Preheat the oven to 350°F. On cookie sheets lined with parchment paper or a Silpat liner, scoop the cookie dough into about 1-inch balls. Place the dough about 2 inches apart on the cookie sheets (these cookies have a bit of spread to them!). Bake for 10-12 minutes, until the edges are just starting to brown. Remove from oven and let the cookies cool for a few minutes on the baking sheet. Transfer the cookies to a wire rack to cool completely.
Notes
Plan Ahead: this recipe requires chilling the cookie dough for at least 30 minutes, so plan ahead!
Recommended Products
As an Amazon Associate and member of other affiliate programs, I earn from qualifying purchases.

Recipe Source: adapted from Simply Recipes
Disclaimer: I am a participant in the Amazon Services LLC Associates Program, an affiliate advertising program designed to provide a means for me to earn fees by linking to Amazon.com and affiliated sites. As an Amazon Associate I earn from qualifying purchases.