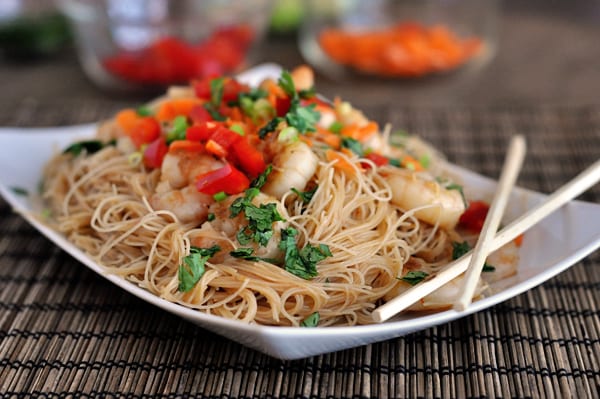 I think if you had to nail me down, the food I crave most for dinner is on the Asian-style spectrum. I love the vegetables and colors and flavors. And Asian noodles dishes? Well, they complete me. It's my go-to choice for when I decide to uncrave the meal I had already planned or when I need a quick weeknight dinner. Word has it that the craze of the new school year has started in many places and I don't know about you, but when that happens for us in a few weeks, I'm going to be looking for quick, easy dinners to save my sanity.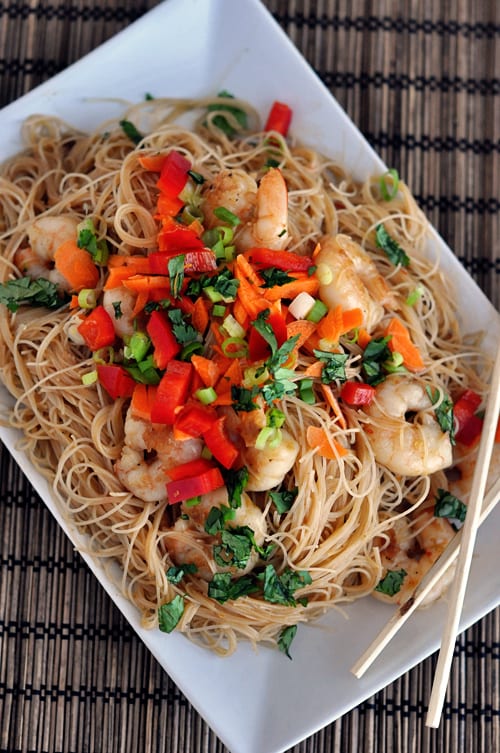 This simple, 30-minute dinner is exactly what I'm talking about. Beautiful in presentation and beautiful because you can customize it any way you like. Swap in different vegetables/garnishes, take out the shrimp and use chicken or pork or heck, make it meatless. It is versatile and destined to be delicious no matter what you do.
I happen to love and adore rice noodles. The texture is quite different from traditional Italian-style pasta strands but they are extremely tasty especially paired with a flavorful sauce like this (we're talking hoisin and soy sauce and a hint of fresh lime, creamy peanut butter and a bit of sweetness and bite).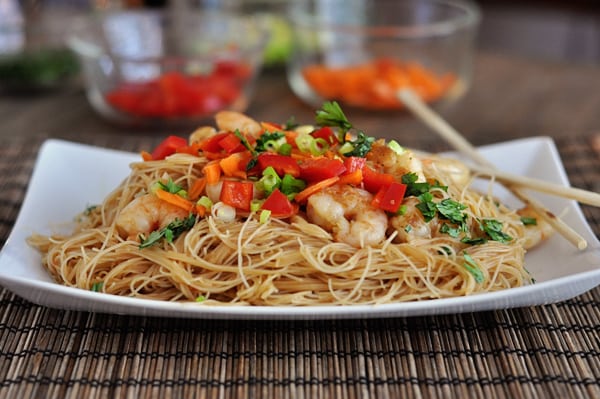 This mess of noodles and vegetables and shrimp is an explosion of flavor and texture from the tender, thin noodles to the crunch of fresh vegetables. Can you see why Asian noodles dishes fill my dreams? I could eat this every night of the week and be totally A-ok. What style of food do you crave most often??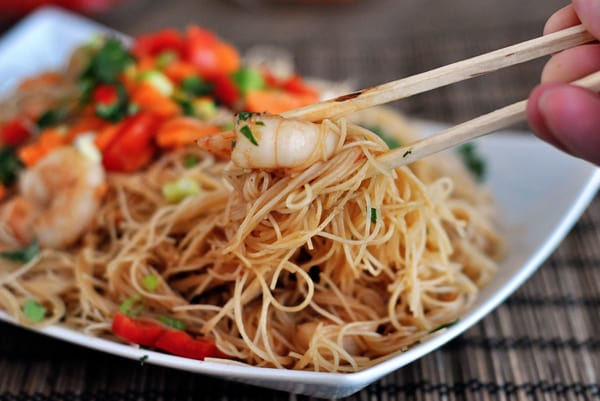 A really, great flatbread (for homemade I suggest this Flatbread, Soft Wrap Bread, or  Naan)
Fresh, seasonal fruit
A simple green salad (or for something fancier this Massaged Kale and Craisin Salad)
One Year Ago: Lemon Yogurt Bread
Two Years Ago: BBQ Macaroni Salad
Three Years Ago: Summer Garden Vegetable Soup
Hoisin Rice Noodles with Shrimp
This dish is wildly adaptable. You could easily sub in chicken or pork for the shrimp and swap out the veggies and garnishes for ones you prefer. You could even use angel hair pasta instead of the rice noodles if you'd like. To really maximize the time, start preparing the rice noodles; while they soak/cook, whisk together the sauce and let the shrimp marinate while the noodles finish up. Get the chopping of the vegetables/garnishes finished and once the noodles and shrimp are ready, this dish will come together in a flash.
Ingredients
1/2 cup low-sodium soy sauce
1/3 cup water
3 tablespoons sesame oil
3 tablespoons honey
3 tablespoons rice vinegar
1 tablespoon fresh lime juice
3 cloves garlic, finely minced
1/2 tablespoon freshly grated ginger
1/4 cup hoisin sauce
3 tablespoons peanut butter or tahini
1 1/2 pounds shrimp, peeled and deveined
12 ounces rice noodles
Grated carrots, chopped green onions, chopped peanuts, chopped cilantro, chopped red pepper for topping
Directions
Prepare the rice noodles according to package directions by soaking in hot water.
For the sauce, whisk together the soy sauce, water, sesame oil, honey, vinegar, lime juice, garlic, ginger, hoisin and peanut butter. Set aside.
Heat a large, nonstick skillet over medium heat. Pat the shrimp dry and season them on both sides with salt and pepper. Cook the shrimp with about 1/3 cup of the sauce until they are bright pink and cooked through, flipping once or twice, about 3-4 minutes. Scoop the shrimp and sauce onto a plate and set aside.
Drain the noodles and add them to the hot skillet with the rest of the sauce. Cook over medium heat, tossing the noodles with the sauce, about 3-4 minutes until the noodles have soaked up a lot of the sauce and become even more tender.
Add the shrimp and heat through.
Serve the noodles and shrimp with the grated carrots, chopped green onions, chopped peanuts, chopped cilantro, and chopped red pepper. I let everyone at the table add their own toppings to the noodles. Serve warm or at room temperature.
https://www.melskitchencafe.com/hoisin-rice-noodles-with-shrimp-or-chicken-or-pork-or/
Printed from Mel\'s Kitchen Cafe (www.melskitchencafe.com)
Recipe Source: adapted from Pinch of Yum