Homemade Marshmallow Easter Eggs
Check out these simple, homemade marshmallow eggs that include a step-by-step tutorial. Who knew making your own marshmallows could be so easy (and cute!)
I'm not 100% positive but these homemade marshmallow Easter eggs (chocolate-covered, no less) may just be one of the coolest things I've ever made. Ever.
I mean, homemade marshmallows. Homemade! Marshmallows!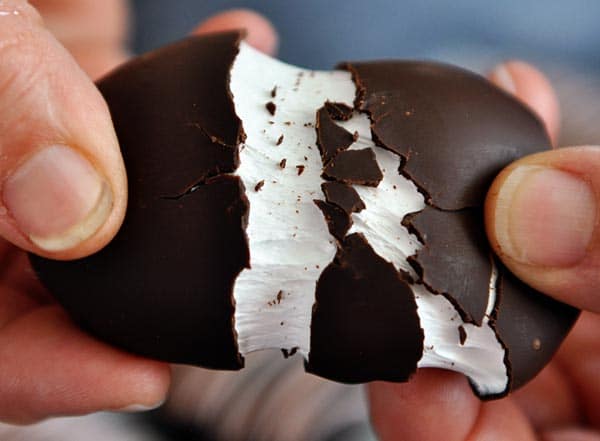 I know some of you are total rock stars and have been doing homemade marshmallows for, like, centuries, but I've just never really seen the point.
Until I decided I wanted to make homemade marshmallows in an Easter egg shape and cover them with chocolate. Now that's something I can totally get behind.
First of all, my Aunt Laurie is totally responsible for these babies. She's famous for her marshmallow eggs in her Idaho town (hello, Rexburg!) and I'm guessing she makes hundreds of these every year.
So in other words, she's a chocolate-covered homemade marshmallow Easter egg expert.
Is there really any other kind of expert to work toward? I think not.
I decided to try my own hand at the famed eggs this year and they are one of the funnest projects the kids and I have done together in the kitchen in a while.
Not to mention the fact that I have seriously been converted to the ridiculous goodness of homemade marshmallows. Heaven help me.
Truth: Homemade marshmallows are a bit sticky and can be messy (that's kind of part of the fun, though, if you can just chill out for about an hour) and you definitely don't want the kiddos in on the boiling sugar syrup action, but there is a lot they can do.
Pressing the egg molds into the flour, scooping out the marshmallow, taste testing. You know. That kind of stuff.
As excited as my kids were for these marshmallow eggs, I was the one over in the corner patting myself on the back for totally killing it in the rock star department.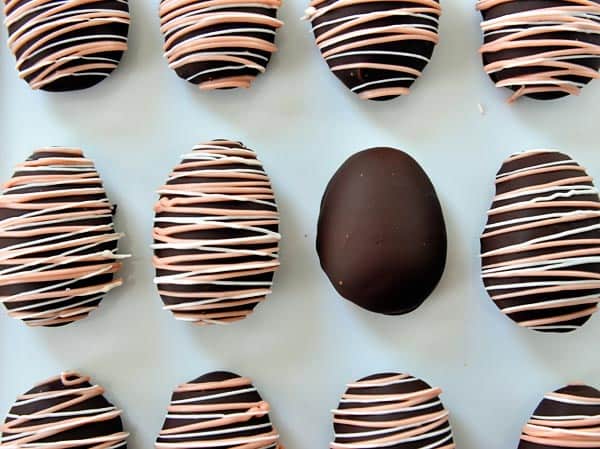 Not only are they cute as cute can be, this homemade marshmallow action is so delicious, it totally blows Peeps (if you like them, sorry) out of the water.
Of course the Ghirardelli bittersweet chocolate covering the insanely light and fluffy marshmallows doesn't hurt either.
Because I love you and I don't want you to be scared of this, I have a whole in-depth picture tutorial below (thanks to my lovely mom for being the hand model for this post).

But really, you probably don't even need it. They are so simple.
If you can press egg shapes into flour, use a mixer to whip up marshmallows, and have the patience not to curse when strings of marshmallow may or may not end up in your hair, you are good to go.
Homemade marshmallows! Egg shaped! Covered in chocolate! It totally needs to be your thing this week.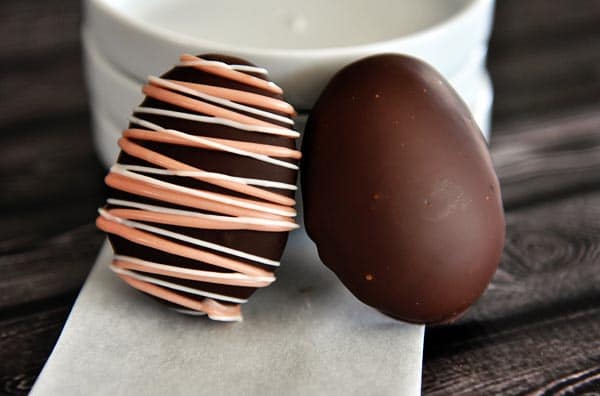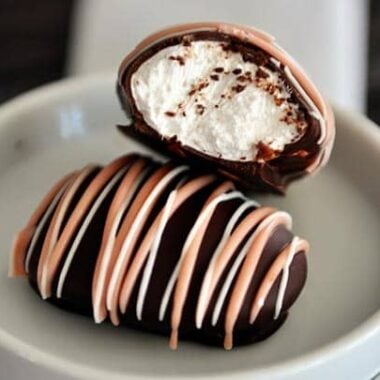 Homemade Marshmallow Easter Eggs
Ingredients
Marshmallows:
½

cup

cold water

3

envelopes

unflavored gelatin

1 ½

cups

(

318

g

)

granulated sugar

1

cup

light corn syrup

½

cup

water

¼

teaspoon

salt

1

tablespoon

pure vanilla extract
Other:
Lots of all-purpose flour

2

cups

(

340

g

)

chopped chocolate or good-quality chocolate chips for dipping

Sprinkles or colored chocolate wafers for drizzling
Instructions
To start, fill two large, rimmed baking sheets (11X17-inch) with flour, shaking to get a mostly even layer. Using a plastic Easter egg (you can also use a real egg or other egg-shape object for the mold), press lightly into the flour to make egg molds. Space the indentations about 1-2 inches apart. If the next indentation messes up the sides of the first indentation, don't stress. Simply press the egg shape lightly into each indentation that needs the edges fixed a bit. Using a 2-inch (in length) plastic egg, I make about 6 indentations across in 3 rows for a total of 18 indentations for each sheet pan. Set the sheet pans carefully aside.

For the marshmallows, pour the cold water into the bowl of an electric stand mixer fitted with the whisk attachment (you can do this without a stand mixer, but you'll need to use an electric handheld mixer that won't burn out after 10 or so minutes of mixing) and sprinkle the gelatin over the top, letting it soften.

While the gelatin softens, combine the sugar, corn syrup, water, and salt in a medium saucepan and heat over medium-low heat until the sugar dissolves. Clip a candy thermometer to the side of the pan and increase the heat to medium. Let the mixture come to a boil and continue cooking without stirring until the syrup reaches 240 degrees F on the thermometer.

Turn the mixer to low speed and (carefully!) pour the hot syrup into the mixer in a slow and steady stream. Once it has all been added, turn the mixer to medium or high and let the mixer whip the mixture for 10-13 minutes, until the mixture is cooled and is thick and fluffy. You don't want it to mix quite as much as when making marshmallows that will be poured into a pan to later be cut into squares. The mixture should be slightly softer than that so that it molds to the egg indentations made in the flour. Mix in the vanilla extract.

Grease two spoons with cooking spray and carefully scoop spoonfuls of the marshmallow mixture into the indentations in the flour (see the pictures below, if needed). Once all the egg molds are filled with marshmallow, let them sit for 10-15 minutes.

Once slightly set, gently lift an edge of the marshmallow and carefully flip over so it is now sticky-side down in the flour. Don't press on it or push it into the flour, just let it gently sit on the top of the flour.

Let the marshmallows set for 1-2 hours (or up to overnight – covered loosely with plastic wrap).

Take each marshmallow egg and rub it briskly with the palms of your hands to remove any excess flour. It's ok if there is still a very light coating of flour on the egg – it won't be noticeable after the egg is covered in chocolate. All the excess flour can be poured right back into the flour bag/container.

Melt the chocolate over low heat or in the microwave on 50% power in 1-minute increments until melted and smooth. To prevent blooming (the white streaks in chocolate after it has set), stir in a bit of reserved finely chopped chocolate into the hot, melted chocolate to lower the temperature just a bit.

One by one, drop a marshmallow egg into the chocolate. Using a fork, cover the egg in chocolate. Lift the egg up onto the fork and tap the handle of the fork on the edge of the bowl to let the excess chocolate fall through the tines of the fork into the bowl. Gently scrape the bottom of the fork on the edge of the bowl and then transfer the egg to a parchment or wax paper lined baking sheet, using the edge of a butter knife to help slide the egg off the fork onto the parchment.

Repeat with the remaining eggs. If using sprinkles, toss them lightly on the eggs while still wet with chocolate. Place the eggs in the refrigerator to let the chocolate set. After the chocolate has set, colored melting wafers or other chocolate can be drizzled over the eggs.

Store in the refrigerator for up to a week.
Notes
Flour: trust me, you can't taste the little dusting of flour on the eggs once they've been wiped clean. It's completely unnoticeable. However, if you still are opposed, you could try and use powdered sugar or cornstarch for the egg molds – but experiment wisely since I haven't tested it myself and don't know how either of those ingredients will hold up to the process. All the excess flour can get poured back right into your flour bag/container.
Corn Syrup: I know corn syrup is the devil to some people and I, like many of you, don't use it very often; however, I'm not opposed to using it for specialty treats like this a couple times a year. If you are looking for a substitution, you'll have to google or experiment as I haven't tried subbing anything for it in these homemade marshmallows. PS: In case you are trying to work out the ins and outs of corn syrup, while it isn't healthy by any means, don't get it confused with high fructose corn syrup (HFCS) – they are two different things (both made from corn but HFCS has much of the glucose in corn syrup converted to fructose to make it much, much sweeter). Moderation, friends, moderation.
Video Tip: here's a quick video tip on tempering/melting chocolate and another on dipping things in chocolate like a pro.
Chocolate: my preferred brand of chocolate is Ghirardelli.
Serving:
1
Egg
,
Calories:
95
kcal
,
Carbohydrates:
20
g
,
Protein:
1
g
,
Fat:
2
g
,
Saturated Fat:
1
g
,
Cholesterol:
2
mg
,
Sodium:
26
mg
,
Sugar:
19
g
Follow @MelsKitchenCafe on Instagram and show me the recipes you are making from my blog using the hashtag #melskitchencafe. I love seeing all the goodness you are whipping up in your kitchens!
Recipe Source: adapted slightly from my Aunt Laurie (who is famous for her chocolate-covered marshmallow eggs!), marshmallow recipe from Ina Garten
Disclaimer: I am a participant in the Amazon Services LLC Associates Program, an affiliate advertising program designed to provide a means for me to earn fees by linking to Amazon.com and affiliated sites. As an Amazon Associate I earn from qualifying purchases.