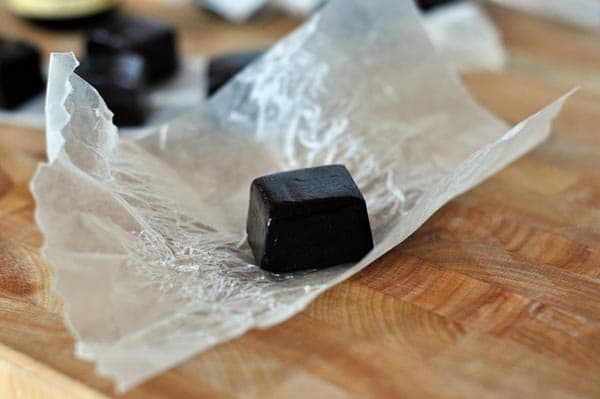 Licorice caramels. Ever had them? They are so, so, so, so good. A little old school, they are absolutely, 100% my favorite flavor of caramel (even trumping these chocolate caramels which is saying a lot).
And wait, if you aren't a black licorice fan, hold up now! Don't turn up your nose!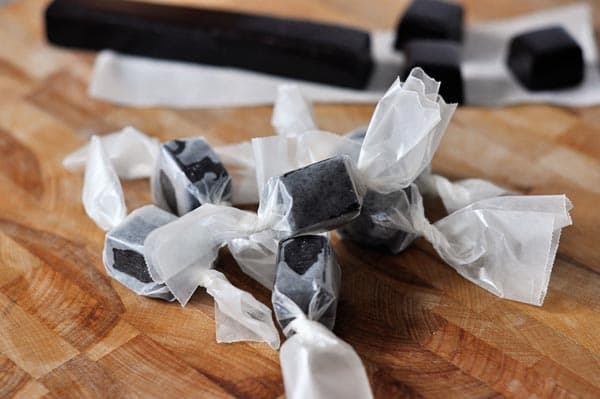 I have been shocked at the number of people who have declared loud and clear they hate black licorice (it's quite a divisive flavor, you know) and yet somehow, someway, they end up devouring these caramels.
I've even known a person who shall remain nameless but might be joined to me by marriage that has been found sneaking these out of the pantry at all hours of the night even though he is a self-professed black licorice hater. With a capital H.
The anise flavor isn't overpowering, at least the way I make them.
Each bite is a creamy explosion of caramel with a subtle, delicious tingle and it leaves you (ok, me) thinking "hmmm, why on earth can I not stop eating these things?"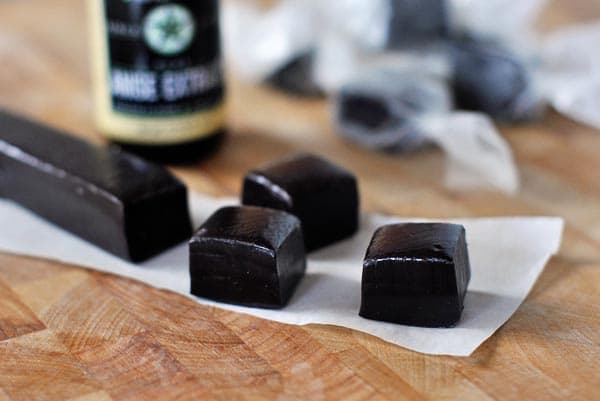 Seriously. They are amazing.
Plus, in this episode of Sugar Rush, you get to make paper cones. And caramels in paper cones are just fun.
There's a kind-of-no-brainer step-by-step below the recipe in case you need it (don't be ashamed, I totally need those kind of hand-holding tutorials and for the record, I'm sure there is an easier/classier/lovelier way to make paper cones but this is how I do it because it's simple and doesn't make me hate crafts).
So you should make both. Licorice caramels and paper cones. I can pretty much guarantee your holidays will be brighter if you do.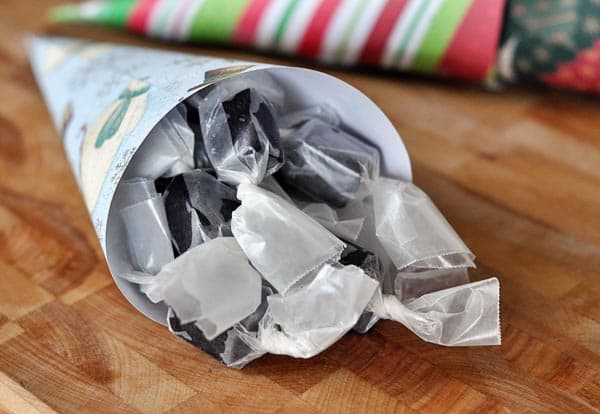 One Year Ago: Killer Crunch Brownies
Two Years Ago: Classic Hummus – Three Ways!
Three Years Ago: Almond Roca
Yield: 8X8-inch slab of caramels

Prep Time: 10 minutes

Cook Time: 20 minutes

Additional Time: 2 hours

Total Time: 2 hours 30 minutes
Ingredients
1/2 cup (4 ounces) water
2 cups (1 pound) sugar
1 can (14 ounce) sweetened condensed milk
1 cup (12 ounces) light corn syrup
1 1/2 sticks butter
2 teaspoons anise extract (see note)
1/2 teaspoon black food coloring paste (optional; see note)
1/4 teaspoon vanilla extract
1/4 teaspoon salt
Instructions
Lightly butter an 8X8- or 9X9-inch pan and set aside.
In a heavy-bottomed 4-quart saucepan, combine the water, sugar, condensed milk, corn syrup, and butter. Bring the mixture to a boil over medium heat, stirring constantly with a heat-resistant rubber spatula. Clip a candy thermometer to the side of the pan, ensuring that the tip of the thermometer isn't touching the bottom of the pan and is inserted at least 1-2 inches into the liquid (or according to your thermometer's directions).
Continue stirring gently while the mixture boils and cooks, until the caramels reach 242-244 degrees F. If the caramels seem to be scorching on the bottom of the pan, moderate the heat to a lower temperature. You can also test the caramels using a spoon and dropping a pea-sized amount of the hot caramel into cold water. If the cooled piece of caramel is firm but not hard, the caramel is properly cooked.
Remove the pot from the heat and stir in the anise extract, food coloring, vanilla extract and salt. Pour the caramels into the prepared pan and allow to cool completely to room temperature, at least 2 hours.
When cool, remove the sheet of caramels from the pan. Cut the caramels into pieces using a large knife or bench scraper. Wrap each caramel square in a bit of wax paper, twisting the ends to secure.
Notes
Ok, let's talk. Anise extract is the classic licorice flavor. It is available in well-stocked grocery stores or online; I bought mine on Amazon (The Star Kay White brand which looks like is currently unavailable) and would encourage you to get pure anise extract not imitation (if there even is such a thing).

I have seen anise oil here and there and I know nothing about it so if you go that route do some research into the potency of the oil. Too much and you'll be hating life and licorice caramels.

I played around with amounts of anise through test batches of these caramels and 2 teaspoons is perfect for my taste but feel free to add more or less depending on how you like the flavor.

Also, the black food coloring is optional. Of course it gives the caramels a look to match their flavor but it doesn't add to the flavor, if that makes sense, so if you are opposed to artificial coloring, you can leave it out but by all means, if you are using it, use the paste/gel and not the liquid.

Recipe Source: from me (method adapted slightly from the Soft Chocolate Caramels)