Hot Chorizo and Cheese Dip
This hot chorizo and cheese dip is a revved up queso dip that is so tasty, it is unreal, and the best part is it uses REAL cheese!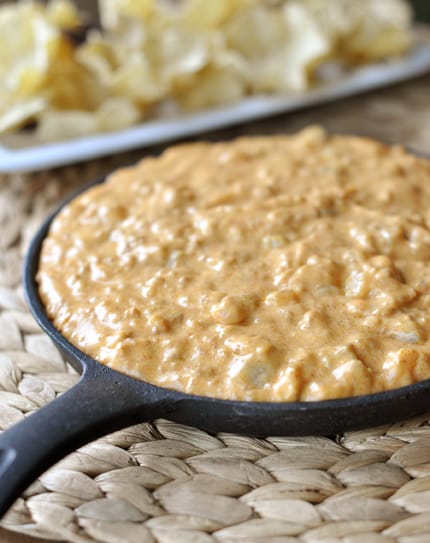 I have to announce for all to hear that I am not a Super Bowl fan.
My husband is cringing right about now – as are many of you, I am sure. And in my defense, all I can say is "he knew what I was when he picked me up."
Anyway, normally, I don't give a twitch for the Super Bowl. But a lot of people (especially in my family) do. So I figure if I have to follow along, I'll drown myself in food along the way.
Here's to a week full of Super Bowl food so delicious you'll forget you are even watching football!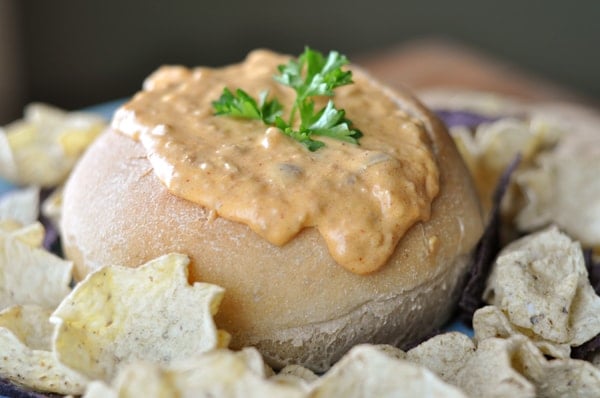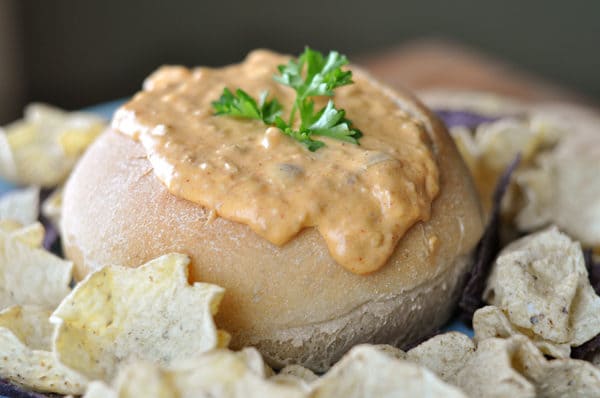 To kick things off (pun completely intended), here is a revved up queso dip that is so tasty, it is unreal. But guess what the most wonderful part is? It uses real cheese. Real cheese!
Can you imagine it? Real cheese in a cheese dip? Love that.
And it manages to stay creamy and smooth and absolutely addicting. Another plus is that this reheats superbly on low, which I only know because we ate this for dinner three nights running while my husband was traveling for business and he still enjoyed some on the fourth day stating, "This is amazing. You should totally do a post on Super Bowl appetizers and blog about it." No, really?? Done.
One Year Ago: BLT Pasta
Two Years Ago: Naan
Three Years Ago: Rice Pudding
Hot Chorizo and Cheese Dip
Yield: 2 cups

Prep Time: 5 minutes

Cook Time: 23 minutes

Total Time: 28 minutes
Ingredients
1 tablespoon butter
1/2 cup minced yellow onion
8 ounces chorizo, casings removed and diced
2 tablespoons all-purpose flour
1 1/2 cups milk
8 ounce cream cheese, softened
1 1/2 cups (6 ounces) medium cheddar cheese, grated
1 small can diced green chiles
1/2 teaspoon salt
Instructions
In a medium saucepan, melt the butter over medium heat. Add the onion and cook, stirring occasionally, until translucent, about 2-3 minutes.
Add the diced chorizo and cook, breaking up the chorizo into smaller pieces if you like, until it is cooked through, about 5 minutes. Pour off all but one tablespoon of fat from the pan.
Add the flour and stirring constantly, cook for 1-2 minutes. Gradually whisk in the milk and combine well. Cook over medium heat until the sauce is thick, about 4 minutes.
Add the cream cheese to the pot in tablespoon-size pieces and stir to combine as the cream cheese melts. Reduce the heat to low and add the cheese 1/4 cup at a time, stirring until each addition is melted before adding more. Stir in the green chiles and the salt.
Serve warm in a bread bowl or with tortilla chips.
Notes
Chorizo: if you aren't familiar with chorizo, it is a pork sausage that is usually cured and requires cooking prior to eating. The outer casing is easily (and should be!) removed prior to cooking. Chorizo is usually located by the other sausage-type meats in the meat section of the grocery store and it can range from mild to spicy so choose the flavor that suits your taste buds best! In a pinch, I'm guessing that another spicy-ish pork sausage would work in place of the chorizo.
Recommended Products
As an Amazon Associate and member of other affiliate programs, I earn from qualifying purchases.

Recipe Source: adapted from Joy of Cooking
Disclaimer: I am a participant in the Amazon Services LLC Associates Program, an affiliate advertising program designed to provide a means for me to earn fees by linking to Amazon.com and affiliated sites. As an Amazon Associate I earn from qualifying purchases.