Lemon and Garlic Grilled Chicken
This grilled chicken will rock your world.
It is amazing.
My sister-in-law, Erin, gave me the recipe to me years ago.
I loved it the minute I tried it but haven't made it in a while until my brother reminded me about it a few weeks ago.
I'm so glad to be back in the saddle with this recipe again! I forgot how much I loved it.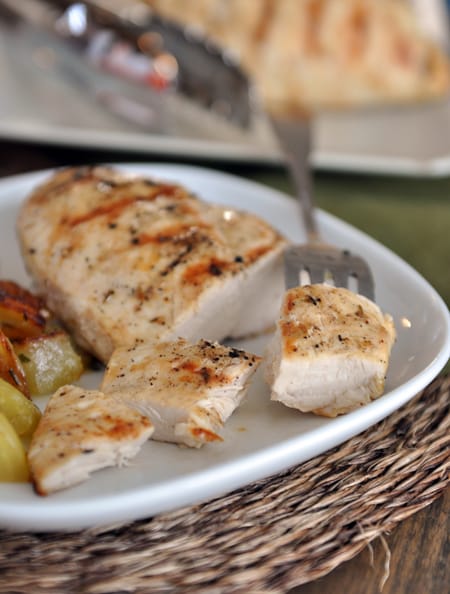 The chicken marinates overnight in a combination of lemon and garlic and the resulting combination makes for an intensely flavorful, tender chicken that can be used in so many dishes (which I'll be posting about in the next couple of days) or served simply with a side of rice or a baked potato.
As a sidenote: if you don't have a grill, simply use an indoor grill pan or you can cook the chicken in a frying pan over medium heat, being careful not to turn too often so it can brown nicely on each side.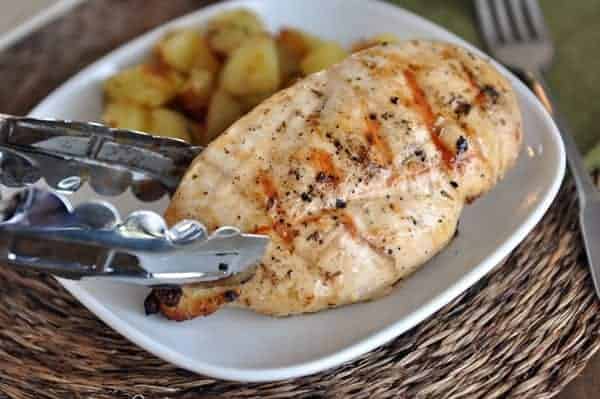 Lemon and Garlic Grilled Chicken
Yield: 4-6 servings

Prep Time: 10 minutes

Cook Time: 15 minutes

Additional Time: 11 hours 55 minutes

Total Time: 12 hours 20 minutes
Ingredients
Juice of 1 lemon, approximately 3 tablespoons
3 tablespoons olive oil
1 teaspoon minced garlic, about 2 medium cloves
1 teaspoon salt
1/4 teaspoon pepper
1/2 teaspoon dried oregano
1 pound chicken breasts (I usually cut really thick chicken breasts down to thin them out and make the pieces a little smaller so they absorb the marinade better)
Instructions
Combine all marinade ingredients. Place chicken in a ziploc bag and pour marinade over chicken. Seal bag and place in fridge overnight. Grill (or cook in frying pan). Serve with sides of your choice or cut into bite sized pieces and add to desired recipe (I'll be sharing a few with you soon). Note: If you cut your chicken into smaller, bite-sized pieces and then marinate it, you can get away with only letting it marinate for 5 or 6 hours instead of overnight.
Often, I will double the marinade and chicken and grill it all up and freeze the extras to use later.
Recommended Products
As an Amazon Associate and member of other affiliate programs, I earn from qualifying purchases.

Recipe Source: adapted from Erin W.