Pesto Pizza with Pine Nuts and Feta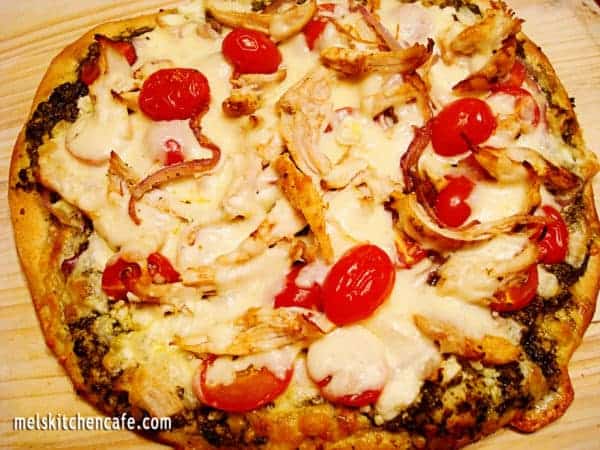 As promised, here is the first of two dishes I made with the fantastic Lemon Garlic Chicken.
Once again, another wonderful recipe from my sister-in-law, Erin, this pizza is such a delicious way to change-up ordinary pizza night.
In our house, we have pizza night every Saturday so I am constantly looking for new ideas for pizza toppings. Even my husband, who is not a fan of pesto, loved this.
The toasty crunch of the pine nuts and other toppings combined with the tang of the feta cheese and smoothness of the mozzarella, all on top of a flavorful bed of pesto, is a winning combination.
Just as a sidenote, I think this would be a perfect panini combo, too. I'll have to try that soon!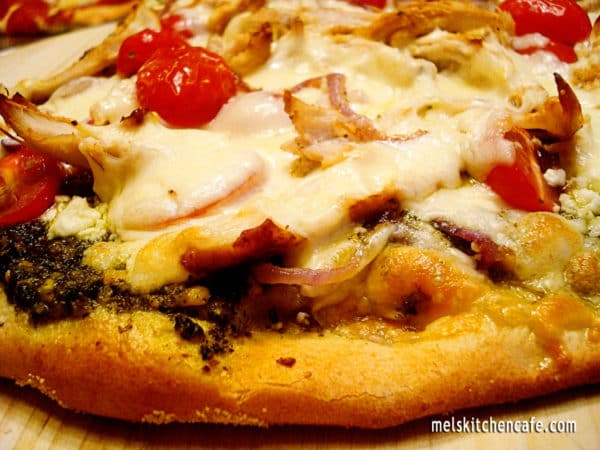 A really great, green salad like this Spinach Salad
Buttery Peas with Thyme or steamed vegetable like broccoli or peas
Fresh, seasonal fruit
Pesto Pizza with Pine Nuts and Feta
Ingredients:
1 batch pizza dough
1 1/2 cups shredded chicken (I used the Lemon Garlic Chicken)
Pesto
4 oz feta cheese
1/2 red onion, cut in slivers
1-2 large tomatoes sliced (I used grape tomatoes cut in half)
Shredded mozzarella (to your liking)
Toasted pine nuts (to your liking)
Directions:
Preheat pizza stone (I preheat my oven and pizza stone at 475 degrees for at least 45 minutes before baking the pizza so the stone is nice and hot). Roll out prepared pizza dough and place on pizza peel (or on pizza pan if you aren't baking it on a pizza stone).
Top pizza dough with the pesto, spreading liberally to outer edges of dough. Layer on additional toppings to your liking (I like to reserve some of the toppings and put them on top of the final layer of cheese) and bake for 8-10 minutes until nicely browned.
All images and text ©
.
Follow @melskitchencafe on Instagram and show me the recipes you are making from my blog using the hashtag #melskitchencafe. I love seeing all the goodness you are whipping up in your kitchens!
Recipe Source: adapted from Erin W.