Lemon Crinkles
These thin and chewy and utterly irresistible lemon crinkle cookies are light and buttery and have tremendous fresh lemon flavor.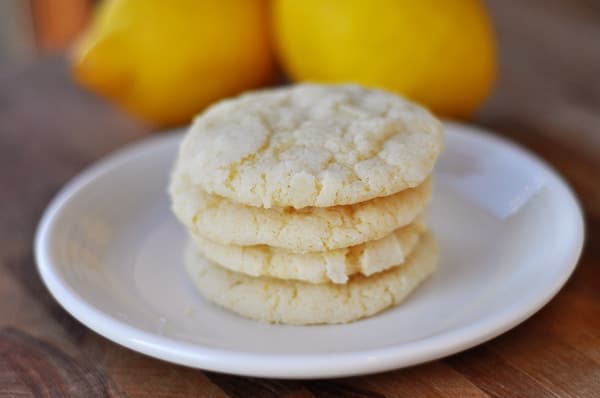 I had no idea what a sensation these lemon cookies were making around the internet (and what I subsequently was missing out on), until Bri, a sweet MKC follower, emailed me alerting that she had made them twice and was thoroughly in love.
When someone with good food taste recommends something and uses the term "in love," well, you know you have no choice but to make the recipe. Sadly, it still took me weeks to get to them but when I did, I was wishing I had tried them ages ago!
Light and buttery with tremendous fresh lemon flavor, these cookies are thin and chewy and utterly irresistible. They remind me of a drop sugar cookie completely amped up with lemon zest and zeal.
The danger is that they are so tasty and refreshing that you think you can get away with eating, say, half a dozen. Let's all repeat together: a cookie is a cookie is a cookie. So don't blame me when you blow your no-cookie-eating New Year resolution on these babies. (And if you really did make such a goal, well, a) I think you are crazy while b) alternately admiring you and c) won't tell a soul when you eat one or ten of these.)
Not only are these cookies perfect to eat just about any day and for any occasion, I think they would be particularly stellar amongst the lighter fare of a baby or bridal shower.
Deliciously appropriate when you need to serve a sweet treat and want something a bit…well, cutesie and bright.
And just so you know, despite the "cuteness" of these cookies, my not-so-concerned-about-cute-desserts husband still managed to down several of the cookies and didn't feel a bit less manly because of it.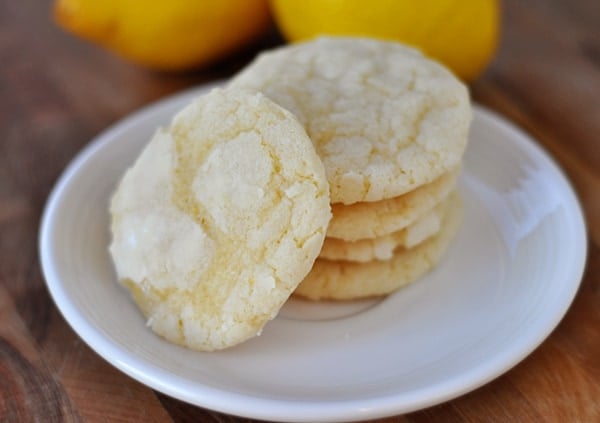 One Year Ago: Cowboy Dinner
Two Years Ago: Kitchen Tip: Menu Planning 101
Three Years Ago: Peanut Butter Crunch Snack Balls
Yield: 2-3 dozen

Prep Time: 15 minutes

Cook Time: 11 minutes

Total Time: 26 minutes
Ingredients
1/2 cup (8 tablespoons) butter, softened
1 cup granulated sugar
1/2 teaspoon vanilla extract
1 large egg
1 teaspoon freshly grated lemon zest
1 tablespoon freshly squeezed lemon juice, from about 1/2 lemon
1/4 teaspoon salt
1/4 teaspoon baking powder
1/8 teaspoon baking soda
1 1/2 cups all-purpose flour
1/2 cup powdered sugar
Instructions
Preheat oven to 350 degrees. Line rimmed baking sheets with silpat liners, parchment or lightly coat with cooking spray.
In a large bowl, cream butter and sugar together until light and fluffy. Add vanilla, egg, lemon zest and juice and mix well, scraping down the sides as needed. Add the dry ingredients (except the powdered sugar) and mix until just combined. Place the powdered sugar on a large plate or shallow pie dish. Roll tablespoon-size balls of dough in the powdered sugar to coat. Place on the prepared baking sheets, about 2 inches apart.
Bake the cookies for 9-11 minutes. The cookies will not be browned on the edges but they will have lost a bit of their shininess on top. Don't overbake! Cool the cookies on a cooling rack and store in an airtight container or eat immediately.
Notes
Lemon: the recipe calls for a teaspoon of lemon zest. I didn't really measure, I just grated the zest from the lemon I was using and threw it in there. My guess is it was more like 2 teaspoons.
Recommended Products
As an Amazon Associate and member of other affiliate programs, I earn from qualifying purchases.

Recipe Source: from Lauren's Latest
Disclaimer: I am a participant in the Amazon Services LLC Associates Program, an affiliate advertising program designed to provide a means for me to earn fees by linking to Amazon.com and affiliated sites. As an Amazon Associate I earn from qualifying purchases.