Smoked Turkey Cobb Wraps
These smoked turkey cobb wraps are out of this world delicious and beyond simple. They are the perfect lunch or simple dinner!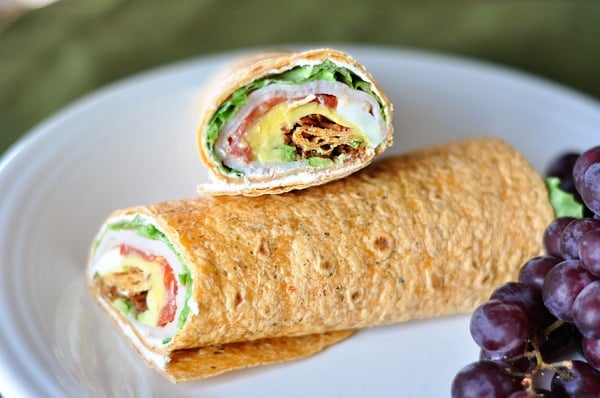 I feel a little silly posting a recipe-that-isn't-really-a-recipe for these amazing wraps but I figure if I adore a meal enough to eat it five, yes five, days straight for lunch, then I owe you the favor of sharing the methodology.
These.Smoked.Turkey.Cobb.Wraps.Are.Out.Of.This.World.
And that's basically all I need to say. But I'll expound a bit more to tell you that the schmear of cream cheese underlying layer upon layer of cobb ingredients (think: lettuce, tomato, bacon, hard-boiled egg, turkey and avocado) works in a way that should be absolutely illegal.
Because I'm pretty sure it was wrong on all sorts of levels for me to eat this wrap as many days in a row as I did last week (and will probably continue to do from here on out).
This easily ranks as one my favorite lunches of all time. And dinner, too, for that matter, since I was still craving it one night when dinner rolled around and served it up for the fam.
The creaminess of the avocado and delicious texture of the hard-boiled egg, surprisingly, is what knocked it over the top for me.
Can you tell I'm having a hard time ending this discussion? Seriously, your life will not be the same until you make and devour one of these babies.
Peace out.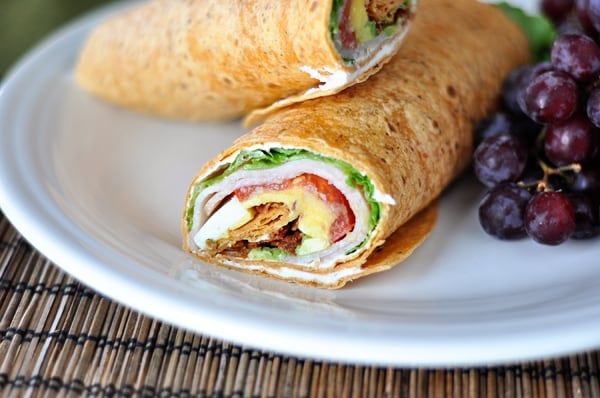 Chips and Divine One-Minute Salsa
Refrigerator Bran Muffins or Whole Grain Banana Chocolate Chip Muffins
Grapes or sliced strawberries
One Year Ago: Kitchen Tip: Measuring Flour
Two Years Ago: Super Bean Burritos
Three Years Ago: Peanut Butter Crunch Snack Balls
Yield: makes 1 wrap

Prep Time: 10 minutes

Total Time: 10 minutes
Ingredients
1 tablespoon cream cheese, light or regular
1 12-inch tortilla or wrap
2 leaves green or romaine lettuce
4-5 slices thinly sliced smoked turkey
4 thin slices tomato
1 large egg, hard-boiled and sliced
4 thin slices red onion
1/2 avocado, seeded and thinly sliced
3 strips cooked bacon, regular or turkey bacon
Instructions
Spread the cream cheese evenly over the tortilla. Place the lettuce down the center of the tortilla. Arrange the turkey over the lettuce. Layer the tomato, egg, onion and avocado over the turkey and top with the bacon.
Roll up tightly and slice in half diagonally. Serve immediately.
Notes
Wraps: my favorite version of this uses a sun-dried tomato tortilla/wrap. You can use the endless variety of wraps available (whole wheat, spinach, etc.)

Variation: also, for a delicious variation, try mixing the cream cheese with a few crumbles of blue cheese. Yum!
Recommended Products
As an Amazon Associate and member of other affiliate programs, I earn from qualifying purchases.

Recipe Source: adapted slightly from The Whole Foods Market Cookbook
Disclaimer: I am a participant in the Amazon Services LLC Associates Program, an affiliate advertising program designed to provide a means for me to earn fees by linking to Amazon.com and affiliated sites. As an Amazon Associate I earn from qualifying purchases.