Let's Talk: Cooking With Kids
I'm talking all about cooking with kids in the kitchen- chores to delegate and other how-tos for having littles help out!

I'm so looking forward to our chat today! Just like last time, I've been wanting to pull up a chair and talk with you about cooking with kids for a long time. Today's the day.
First up, I want to talk about how my kids cook with me.
It should come as no surprise that I'm a bit of a control freak in all things…well, life-related. For a long time when my kids were super little, it was easiest to do all the cooking myself (but hard, too, if you know what it means to have three toddlers clinging to legs and arms at every possible minute of the day).
Several years ago, I decided I was going to have to relax a bit and let my kids help me in the kitchen. Because I spend so much time there, I wanted it to become a family affair and over the years, we've developed a pretty darn good system for cooking together.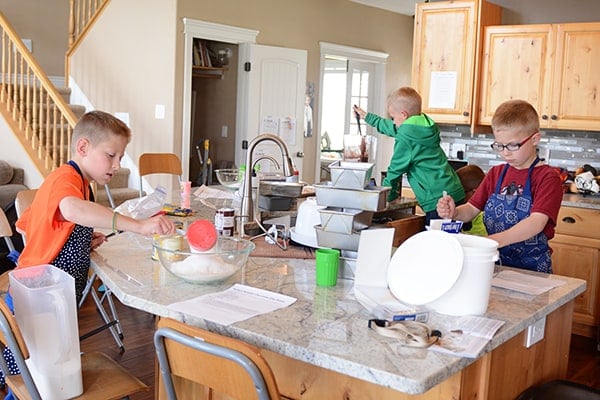 Any time I'm in the kitchen and I have kids at home, I can guarantee at least one, if not more, will come bounding in asking if they can help.
That may or may not be because they usually get to snitch an ingredient here and there but whatever, I'll take it. I used to cringe at the thought of having them help and instantly think: messy! Inefficient! Not enough patience! Noooooo!
But I've learned that because I want my kids to learn how to cook and also because I kind of like the little dudes, no matter what I'm doing or making, there's always something they can do to help.
Plus, one of the main (huge, epic) benefits of the kids helping is that it has made them even more adventurous eaters. If they've been in charge of making the avocado lime dressing or shelling the shrimp or cutting up the leeks, chances are, they're going to eat it at dinner even if it's just a matter of pride.
Here are a few of the things I commonly delegate to the kids:
Grating cheese: I have one of these old-fashioned box graters that is sturdy enough so it doesn't topple over easily.
Opening cans: I've had this can opener for years and years and years (I bought it for about double that price on Amazon a long time ago at a specialty cooking store) and I can't say enough good about it; if one could be in love with a can opener, this would be it – it doesn't get rusty and hard to turn so it's very, very easy for my kids to use.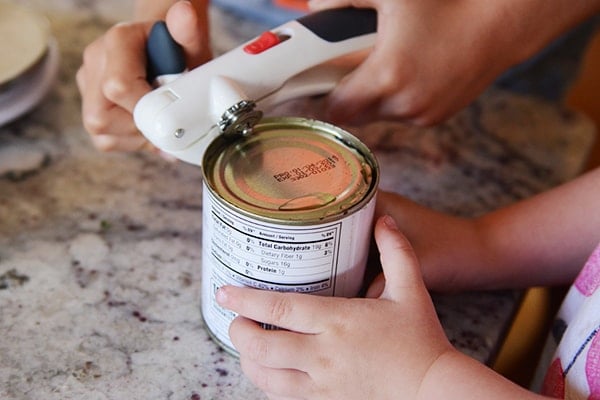 Pouring: this is a task especially great for my 3-year old; she holds the measuring spoon and I pour in the vanilla or soy sauce or whatever – also she can pretty easily pour ingredients from a large measuring cup into a bowl.

Whisking and Stirring: yes, the powdered sugar sometimes flies all over the kitchen but it's a small price to pay for free labor.
Cutting and Slicing Ingredients: I think this is the task scariest to pass on to kids. I wait until my boys have pretty steady fine motor control before telling them to slice it up like they are in Kitchen Stadium.
I start them out cutting really soft ingredients like olives, grapes, cheese, avocados, cherry tomatoes, chicken. My 6-year old on up can manage those tasks but I leave the hard chopping (like carrots and herbs and such) for my 9- and 11-year old. I never leave them alone while they are chopping and always remind them to get their other fingers out of the way.
Over the years, we've had one or two cut fingers – nothing that has required an emergency room, thank goodness – but they have learned quickly how to wield the little cutting knife. Speaking of knives, I don't let them go to town with my huge Santoku knife.
Instead they use either this small Komachi knife, or my favorite is this inexpensive little serrated Victorinox knife (I had one for years – lost it in a move and a sweet friend recently gave me a new one; if you have a Cash and Carry locally look there!) – it's honestly the greatest knife for my kids to use.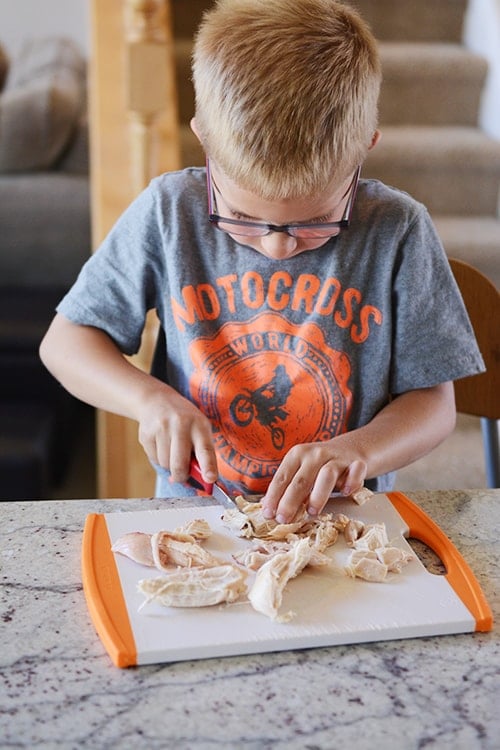 Zesting: this might be the one the kids fight over the most. For some reason, using the microplane/rasp grater (indispensable tool in my kitchen) to zest oranges, lemons or limes or to grate frozen ginger pieces is a coveted task.
Of course, what's not pictured below is how two seconds after the picture was taken, the orange slipped out of Cade's hands and tipped over the measuring cup sending my soy sauce dressing everywhere. Lesson learned: have child zest orange onto plate or paper towel instead of over the bowl.

Oven Duty: understandably, my kids were nervous about taking things in and out of the oven until I invested in some heavy duty, full coverage oven mitts (I found these ones at Costco about a year ago – not sure if they still have them but I love how far up the ol' arm they go). Now they whip open that oven and pop the trays in and out like it's nobody's business.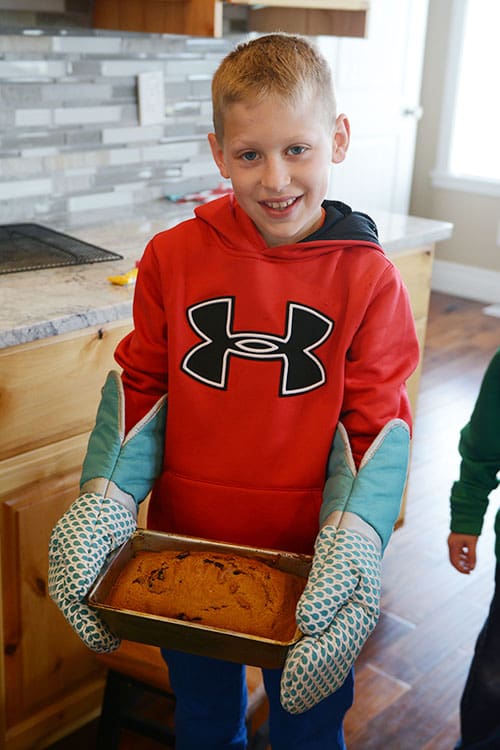 Of course there are accidents and spills and moments where I kind of want to scream and send everyone out immediately, but I can testify that as an uptight mom who used to dread having my kids in the kitchen, I have changed into someone who genuinely loves when they are right there beside me.
They amaze me every single day by the things they can do with my help or by themselves and their cooking and baking confidence is growing by leaps and bounds. When they run out of things to do, they usually pull out the kitchen scale and start weighing anything and everything in sight. And yes, they've tried to put their baby sister on there. ERROR!

Very regularly, especially now with school out, they will ask to make muffins or cookies or brownies or banana bread. Our new rule is if they clean it all up (including doing some of the larger dishes by hand), they can make whatever they want if time allows.
My 6-year old has perfected the fudgy coconut oil brownie bites and my older boys can whip up pao de queijo and cookies and many other things by themselves.

There are so many other aspects of cooking with kids that we won't cover today – like involving them in menu planning, even more specific kitchen duties as they get older, assigning them a dinner night, teaching and motivating them to clean up (right!?!) and more, but let's leave it at this for now!
Thanks for the chance to chat about this! I'm excited to hear your thoughts and ideas on cooking with kids so leave a comment below and chime in!
{Several of the links above are unsponsored, Amazon associate links for products I love and recommend with no strings attached – feel free to shop around for the best deal!}