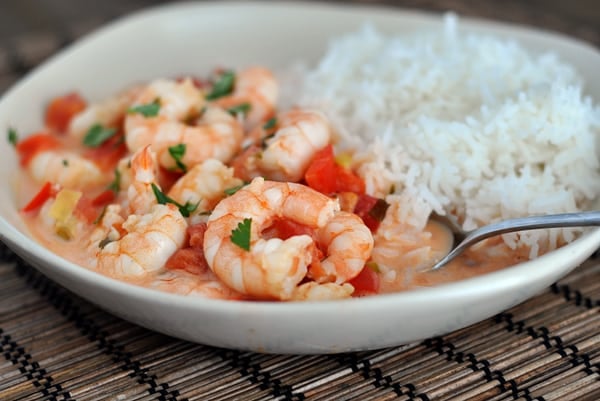 Wow, talk about the power of a completely unassuming (and super fast!) shrimp dish. This is incredibly delicious. Incredibly. Delicious.
And did I mention super speedy? That's the great thing about shrimp; you can usually count on it being a pretty quick meal to throw together and I never, ever complain about that. Do you?
I happen to love shrimp more than life itself. It's definitely in my top-foods-ever category. And it's because of recipes like this – the tasty, quick and really healthy ones – that keep me coming back for more. The combination of light and creamy coconut milk with tomatoes, garlic, a hint of lime and cilantro…well, it's phenomenal. Light and fresh and fantastic. The sauce is definitely on the saucy side of things so serving this in shallow bowls so the beautiful, warm rice can soak up the wonderful sauciness is a really good idea. Consider yourself warned.
And just to leave you on a happy note, here are a few of my other favorite shrimp dishes:
Coconut Shrimp Curry
The Best Shrimp Cocktail
Shrimp Enchiladas
Butter and Garlic Shrimp Penne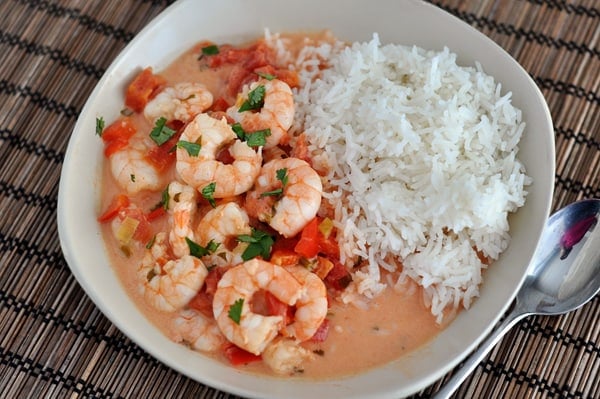 A simple side salad (or something more fun like these simple Caprese Skewers)
A good dinner roll, like these Parker House Rolls, to soak up any extra juices
Fresh Fruit
One Year Ago: Simple Barley Pilaf
Two Years Ago: Whole Wheat Dinner Muffins
Three Years Ago: Chicken Tikka Masala
Garlic Shrimp in Coconut Lime Tomato Sauce
Ingredients
2 pounds jumbo shrimp, peeled and deveined
1 tablespoon extra-virgin olive oil
1 large red bell pepper, finely chopped
6 green onions, white and green parts thinly sliced
1 cup chopped cilantro
6 cloves garlic, finely minced
Salt and pepper to taste
1/2 to 1 teaspoon crushed red pepper flakes (optional)
2 cans (14.5-ounce each) diced tomatoes, undrained
2 cans (14-ounce each) light coconut milk
1 tablespoon fresh lime juice (from about 1 lime)
Hot, cooked basmati, jasmine or long-grain rice for serving
Directions
In a medium saucepan, heat the olive oil on medium and add the red peppers, cooking until crisp-tender, about 2-3 minutes. Add the sliced green onions, both white and green parts, 1/2 cup of the cilantro, red pepper flakes (if using) and garlic. Cook, stirring constantly, for 1-2 minutes until fragrant.
Add the tomatoes, coconut milk and salt to taste (I used about 1 teaspoon). Bring the mixture to a simmer and cook for 10-15 minutes to help develop the flavors and reduce the sauce just slightly.
Add the shrimp and cook for 4-5 minutes until the shrimp are pink and tender (overcooking the shrimp will make them tough so keep a close eye on the mixture).
Stir in the lime juice. Serve immediately over hot, cooked rice garnishing with the remaining cilantro. This makes a soupier-type mixture so deep plates or bowls would be best for serving.
https://www.melskitchencafe.com/light-and-healthy-shrimp-in-coconut-lime-tomato-sauce/
Printed from Mel\'s Kitchen Cafe (www.melskitchencafe.com)
Recipe source: adapted from Skinny Taste {I doubled the recipe and adapted ingredients accordingly, added all parts of green onion to the mixture to saute, edited lime juice amount, simmered uncovered, etc.}