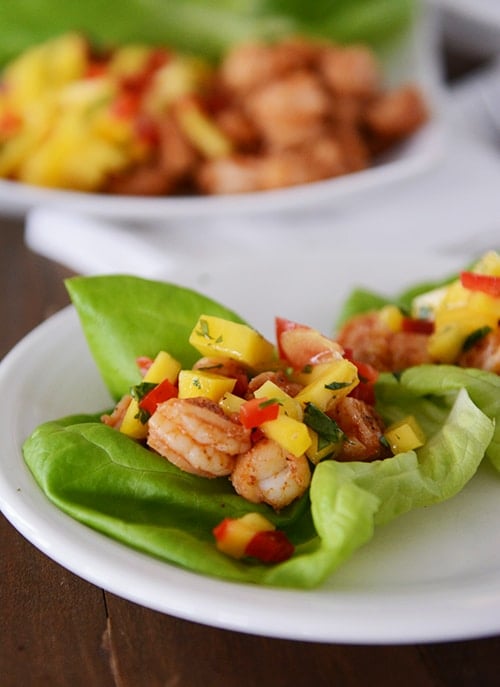 Why does shrimp call my name? Fill my dreams? Make me long for it? Force me to order it on every menu at every restaurant I've ever been to (and often leave a bit disappointed)? I know not everyone is a fan but I am. In a huge way. I could eat it every day and it's so dang versatile, the preparation options are endless.
I alerted the world (ok, a small portion of the world) about this shrimp and mango lettuce wrap recipe on Instagram a while ago and had a hard time not taking a picture and raving about it for the next five days. Because yes, that was me, making it again and eating it for nearly a week straight and coming to terms with my obsessive, one-track mind when it comes to food.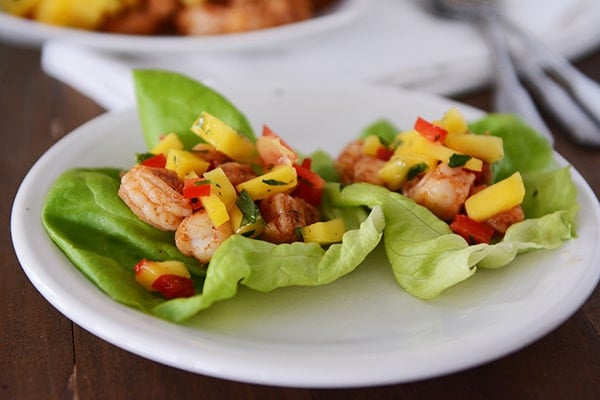 These wraps are so yummy. Healthy, light, flavorful, easy. FAST! Is that not the perfect formula for the best recipe ever? Seriously.
I've actually found deliciously ripe and sweet mangoes at the stores lately and love that I can eat something so fresh and tasty this slightly gloomy time of year. I added some notes to the recipe about making a chopped sort of salad out of the magical ingredients and/or making it slightly heartier for those growing boys (or is that just me and my four boys that have eight hollow legs and never get full, I swear) – it'll be fantastic no matter how you serve it.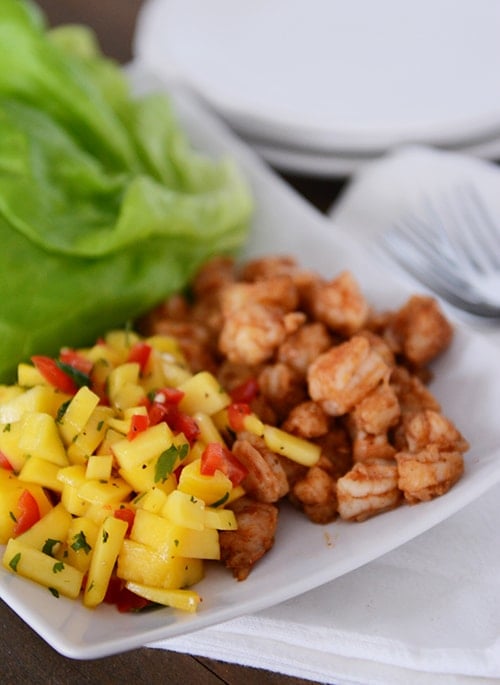 Coconut Rice (included in this recipe)
Steamed or roasted broccoli or other vegetable
Pao de Queijo (super easy Brazilian cheese bread), if you want to get really crazy
One Year Ago: Swirled Peanut Butter and Nutella Stuffed Chocolate Chip Cookies
Two Years Ago: Cinnamon Swirl Bread
Three Years Ago: Rosemary Chicken and Wild Rice
Shrimp and Mango Salsa Lettuce Wraps
The shrimp and mango mixture makes an excellent topping/addition to straight-up salad so if you don't want to mess with wrapping it all in lettuce, take my advice and chop up some lettuce (romaine, iceberg, spinach, etc) and add the shrimp and mango salsa for a chopped-style salad that will be amazing, promise. Also, if you want to add a little heartiness to the lettuce wraps, consider adding rice (coconut rice would be divine!) or quinoa under the shrimp and mango salsa.
Ingredients
1 ripe mango, peeled and chopped
1/2 cup finely chopped red pepper (1/2 of a large pepper)
1/4 cup finely chopped red onion
1 jalapeño, seeded, membranes removed, and finely chopped
2 tablespoons fresh lime juice (1-2 limes)
1/4 cup (or more to taste) chopped cilantro
Salt and pepper to taste
1 teaspoon or so olive oil, avocado oil, canola oil, etc.
2 pounds large shrimp (21-25 per pound), tails removed, if needed, and chopped
1 tablespoon chili powder
1/2 teaspoon ground cumin
1/2 teaspoon salt
1/4 teaspoon pepper
2 heads Bibb or butter lettuce, washed and leaves separated
Directions
Combine all the ingredients for the mango salsa in a medium bowl and toss to combine (don't forget to add salt and pepper to taste). Set aside (or refrigerate: this can be made several days in advance).
For the shrimp, heat the oil in a large, 12-inch nonstick skillet over medium heat and add the shrimp. Sprinkle the seasonings over the shrimp and sauté, stirring often, until the shrimp are pink and tender, 2-3 minutes over medium or medium-high heat. Don't overcook the shrimp or they'll be tough. It only takes a few minutes.
Serve the shrimp on lettuce leaves topped with the mango salsa.
https://www.melskitchencafe.com/shrimp-and-mango-lettuce-wraps/
Printed from Mel\'s Kitchen Cafe (www.melskitchencafe.com)
Recipe Source: taken and adapted from a 30-minute meal in a past issue of Cook's Country (don't know which one, sorry, the card was torn up when I found it in my pile of recipes to try!)