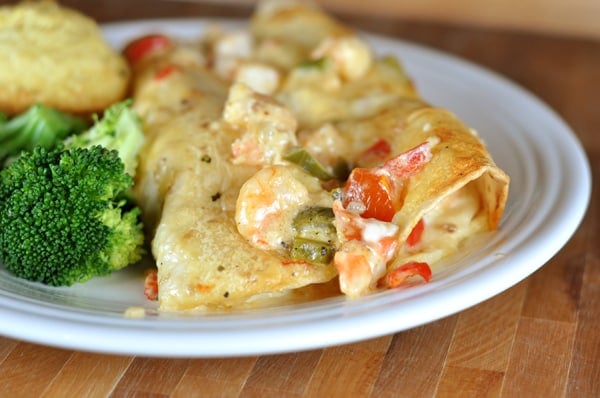 Update 12/10: After two plus years of this recipe residing on my blog, I can still say these enchiladas are one of my favorite meals.
They definitely rank up there with special occasion dishes but are well worth the splurge on ingredients and time (I request them every year for my birthday dinner!).
The creamy, cheesy sauce is seasoned perfectly with just the slightest kick of heat.
Combined with the succulent, tender shrimp, these enchiladas are a knock out! I've streamlined the recipe just a bit from when it was originally posted to cut down on a few steps.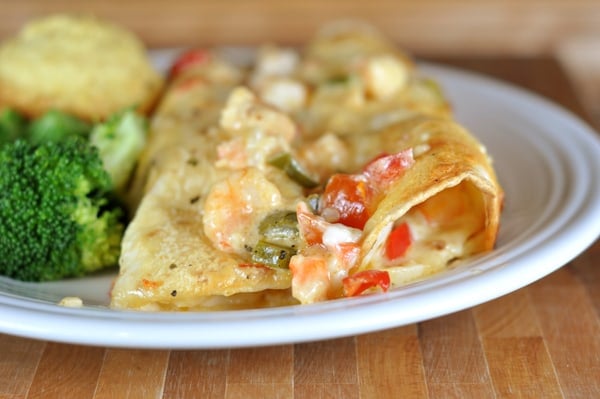 Steamed Broccoli
Pao de Queijo
Fresh Fruit
Shrimp Enchiladas
Ingredients:
Cheese Sauce:
1/2 cup chopped red bell pepper
1/2 cup chopped yellow or white onion
1/2 cup chopped green bell pepper
2 tablespoons butter
1/2 teaspoon salt
1/2 teaspoon oregano
1/4 teaspoon garlic powder
1/4 teaspoon cayenne pepper
1/4 teaspoon black pepper
1 tablespoon all-purpose flour
3/4 cup whipping cream or milk
1 cup Monterey Jack cheese or Pepper Jack cheese
1/2 cup sour cream, light or regular
Shrimp Mixture:
1 tablespoon butter, canola oil, coconut oil or olive oil
1/2 cup onion, chopped
1 1/2 pounds shrimp, peeled, deveined and chopped into bite-size pieces
2 cups ripe tomatoes, chopped
1 1/2 cups Monterey Jack cheese or Pepper Jack cheese
8 (9-inch) flour tortillas
Directions:
Preheat the oven to 350 degrees. Lightly grease a 9X13-inch dish and set aside.
Saute red pepper, onion and green pepper in 2 tablespoons butter until crisp-tender. Add oregano, salt, garlic powder, pepper, cayenne pepper, and flour; blend well and cook, stirring constantly for about a minute. Whisk in the cream or milk and continue cooking for 3 minutes or until slightly thickened. Add the cheese; stir until melted. Add sour cream, stir to blend. Set aside.
In another skillet, melt 2 tablespoons butter. Saute onion in the oil until translucent and soft, 3-5 minutes. Add the shrimp and cook until the shrimp are pink (don't overcook or the shrimp will be tough). Add chopped tomatoes and 1/2 of the cheese sauce. Spoon 1/3 cup shrimp mixture into each tortilla. Sprinkle a bit of cheese on top of shrimp mixture. Roll the enchiladas up tightly. Arrange seam side down in a 9X13-inch glass baking dish. Spoon remaining cheese sauce over tortillas and sprinkle with remaining cheese.
Bake at 350 degrees for 30 to 35 minutes.
Notes:
Update 12/2013: After making these for the bazillionth time, I made some calorie-cutting changes that still produced fabulous tasting enchiladas. I've made notes in the recipe below but basically I cut the butter in the cheese sauce from 4 tablespoons to 2, used milk instead of whipping cream, used light sour cream, used coconut oil (and less of it) in the shrimp mixture, cut down on the cheese in the sauce just a bit.
All images and text ©
.
Follow @melskitchencafe on Instagram and show me the recipes you are making from my blog using the hashtag #melskitchencafe. I love seeing all the goodness you are whipping up in your kitchens!
Recipe Source:

adapted from a recipe A. Marilyn sent me