Lightened Up Creamy Cajun Chicken Pasta
Get this recipe for a fabulous, lightened up creamy cajun chicken pasta that is full of flavor- a staple in our house!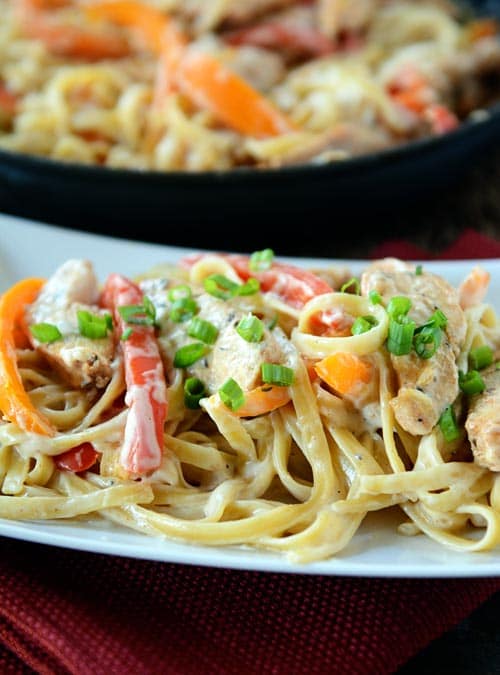 Do you have your "regulars" – those dishes you seem to always gravitate to on a restaurant menu?
I kind of pride myself on being adventurous and daring and wanting to try something new and different when I eat out (which admittedly is not very often, not very often at all) but that's only achieved when I stay far, far away from the cajun chicken pasta on any menu.
I don't know why but it always calls my name. Shouts to me. Right along with Caesar salad.
Brian about falls off his chair in frustration when I order either of those (because I always regret doing so and proceed to eat his entire entree instead of my own).
Well, I'm happy to report that now I'm good because I've finally perfected my own version of cajun chicken pasta and it doesn't call for a quart of heavy cream (love the stuff but trying to not down cups of it at dinner) like most of the restaurant versions do.
I'm not saying this is health food, exactly, but it's definitely a lightened up version of my true love.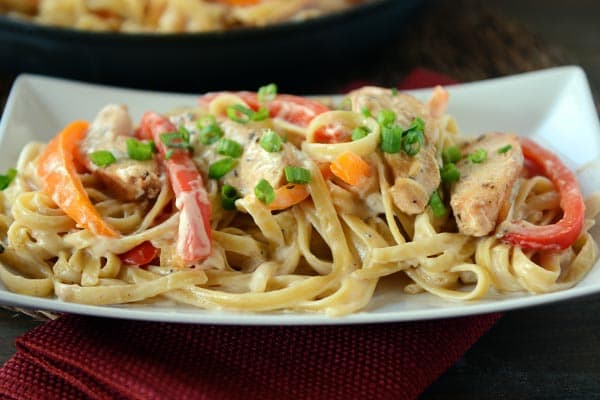 Don't be intimidated by the ingredient list. It's actually really quick and easy (and I'm not just saying that).
Once the flavorful, lightly spicy seasoning mixture is tossed together, it's simply a matter of cooking that chicken until golden and juicy, adding the peppers and onions and then whipping up the light and creamy sauce which takes mere minutes (and if you've made the quick Garlic Alfredo Sauce on my site, you'll be an old pro; just keep your eye on a few little changes).
All those fabulous ingredients are combined with the tender pasta and then armed with a warning (warning: prepare to be in creamy cajun chicken pasta heaven), you are ready to dig in.
Now that we've moved to the land of real, live restaurants (our premove location was remote, to say the least), I can now go forth prepared to order something unique and out of the box on date night* since I can get my cajun pasta fix at home.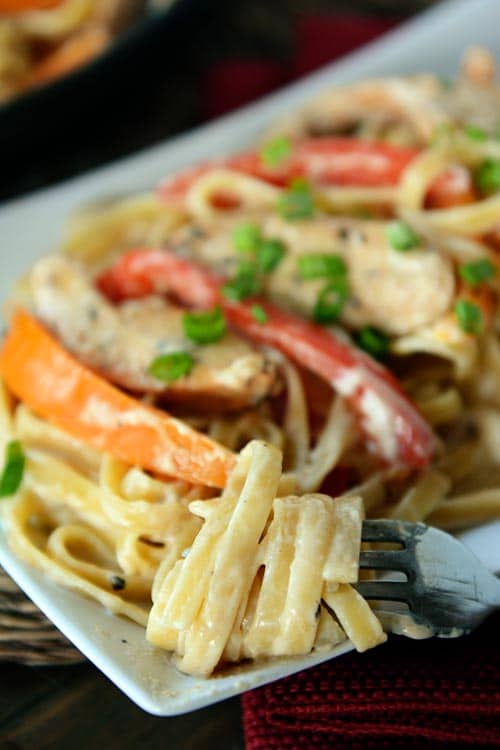 Green Salad (this recipe is fabulous if you are looking for something more than just your average green salad)
Make-Ahead Crispy, Buttery Garlic Bread
One Year Ago: Orzo Salad with Tomatoes, Basil and Feta
Two Years Ago: Homemade Pita Bread
Three Years Ago: Zucchini Bread
Lightened Up Creamy Cajun Chicken Pasta
Yield: 4-6 servings

Prep Time: 15 minutes

Cook Time: 15 minutes

Total Time: 30 minutes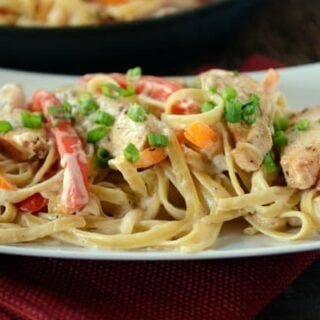 Ingredients
Seasoning Mixture:
1 teaspoon salt
1 teaspoon garlic powder
1 1/4 teaspoon paprika
1/2 teaspoon black pepper
1/2 teaspoon onion powder
1/2 teaspoon cayenne pepper (more if you want to up the heat)
1/2 teaspoon dried oregano
1/2 teaspoon dried thyme
Chicken and Pasta:
2 teaspoons oil
1 1/2 pounds boneless, skinless chicken breasts, cut into 1/4 to 1/2-inch strips
2 bell peppers, any color (I prefer red and orange), sliced into thin strips
1 yellow onion, cut into thin half moon slices
12 ounces fettuccine noodles
Sauce:
1 tablespoon butter
2 cloves garlic, finely minced
4 ounces light cream cheese, softened
1 cup milk
1/2 cup low-sodium chicken broth
1 1/2 tablespoons cornstarch
Salt and pepper to taste
Instructions
Mix together all the seasoning spices in a small bowl and toss all but 1 teaspoon of the mixture with the chicken pieces, reserving the 1 teaspoon for later.
Bring a large pot of salted water to a boil and cook the noodles according to package directions.
While the noodles are boiling, heat the oil in a large nonstick skillet over medium to medium-high heat until the oil is hot and rippling. Add the seasoned chicken pieces in a single layer and cook until golden on each side and cooked through, 3-5 minutes. Remove to a plate and set aside, leaving as much liquid in the pan as possible.
Return the skillet to medium heat and add the peppers and onions. Sprinkle the reserved spice mixture over the top and cook for 4-5 minutes, stirring often, until the onions are softened. Scrape the veggies on top of the chicken.
Return the skillet to the heat and make the sauce by adding the butter and garlic. Stir constantly for 30 seconds or so until the garlic is fragrant. Add the cream cheese in large pieces and whisk or stir until smooth and thick.
In a large liquid measuring cup, whisk together the milk, broth and cornstarch until well combined.
Gradually pour this mixture into the skillet, whisking vigorously to avoid lumps. Bring the mixture to a simmer, stirring constantly, and cook for 2-3 minutes until the sauce is slightly thickened. Add salt and pepper to taste (I'd suggest about 1/4 teaspoon each and work up from there as needed).
Add the chicken, peppers and onions and stir to coat with sauce. Remove from the heat.
Once the noodles are finished cooking, drain and return to the pot. Pour the sauce mixture over the top and toss to coat the noodles with sauce. Serve immediately, garnishing with green onions, if desired.
Notes
Ingredients: the ingredient list looks a bit long for this recipe but don't be intimidated - most of the ingredients are for the seasoning mixture which takes seconds to mix together.

Serving: this pasta is best served right away since it loses a bit of its creaminess if left to sit for a while.

Noodles: also, you could use a full pound of fettuccine noodles if you want it to serve a few more people but it won't be quite as saucy/creamy.
Recommended Products
As an Amazon Associate and member of other affiliate programs, I earn from qualifying purchases.

Recipe Source: from Mel's Kitchen Cafe (inspired by this creamy fettuccine recipe; changed to a cajun version)
Disclaimer: I am a participant in the Amazon Services LLC Associates Program, an affiliate advertising program designed to provide a means for me to earn fees by linking to Amazon.com and affiliated sites. As an Amazon Associate I earn from qualifying purchases.