Mel's Mini Holiday Gift Guide: Kids + His & Hers
Another year, another mini gift guide! Check out this post for some inspiration for gifts for everyone on your list: his, hers, and kids!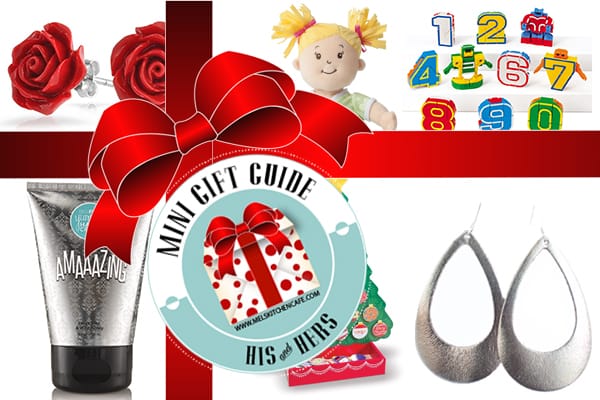 Disclaimer: this post is unsponsored (just sharing things I love); there are a few Amazon affiliate links scattered here and there. As always, feel free to shop around for the best deal!
Are you out Black Friday shopping? If you are me, you are not. You are snuggled away in your warm home possibly shopping online but more likely eating a cinnamon roll, thinking of what to make for dinner, and definitely not braving the crowds. I'm popping in today with the last of my holiday gift guides. I've combined the whole kids + him + hers theme today so I can get on with posting some delicious holiday recipes starting next week!
So here it is. Some gift ideas for a whole range of people in your life! I'm very excited about these fun, versatile, quirky gifts.
As before, besides a few affiliate links from Amazon, everything below is pure, unsponsored love.
Let's start with the adults, shall we?



1) The Stand. If you cook from your iPad as much as I do, these kitchen stands for cookbooks and tablets are awesome. I love that they are pretty, functional, AND they are handcrafted one at a time from a recycled resin material. Seriously. Who does that? It's awesome. I have the raspberry silk (pssst, it's on sale!).
2) Vosges Chocolate. I'm always on the lookout for unique and delicious mail order chocolates to send to family and friends for birthdays and holidays and graduations and just becauses. Vosges is amazing – the options are crazy unique and absolutely astounding. I'm quite partial to the dark chocolate peanut butter bonbons and caramel marshmallows. I mean, you didn't think I'd be sending these all over the country without trying them out for myself, did you?
3) Moleskin notebook. These are my favorite notebooks for jotting down…well, notes! For years, I've kept our Christmas morning list in these (so we know who gets a thank you note) and I use them religiously (no pun intended) for my nightly scripture study notes. I love the bendy but sturdy covers and they just have a nice feel to them while still being a really functional notebook.


4) Big Fat Yummy Hand Creme. I didn't think I could love anything as much as that healing honey hand cream I shared a while ago but I'm in love with Perfectly Posh's big, fat, yummy hand creme. My favorite is currently on closeout (snowed in vanillamint) but every other one I've tried is amazing, too. I'm stocking up for gift-giving. Oh, and their snarky bars (a deliciously exfoliating soap bar) are a staple; I use it on my feet every morning in the shower and I don't want to brag, but I have very, very soft feet because of them. Just sayin'.
5) Nickel and Suede Earrings. I don't remember where I heard about this company but let me say, these lightweight, beautiful leather earrings are so awesome. I love my aqua and silver pair. I've given them as gifts over the last few months and I always get compliments when I wear them. Unique and pretty!
6) Radio Theatre Chronicles of Narnia. My sis-in-law, Mary, lent us this reader's theatre version of the Chronicles of Narnia on our last road trip and we were enthralled. For like seven hours. Which is saying a lot with a carful of rowdy kids begging for another package of fruit snacks. As lovers of the Chronicles of Narnia books this audio version (it's not just the books being read; there are characters and music and sound effects – it's like watching a movie through the radio) is amazing. It's been so fun to listen to them as a family and I can see us cycling through this for many years.


7) Rose Stud Earrings. Another favorite earring as of late are these rose studs from Bling Jewelry. I love them! And have them in lots of colors. How could I choose just one? You can buy them as single colors or in a bundle. Dainty and pretty (but perfect for even a sweatshirt and jeans kind of day).
8) Pellet Grill and Smoker. I wasn't kidding in last week's giveaway when I said this grill/smoker is still one of my favorite things in the history of ever. I use it all the time. I wish I could state that effectively without sounding hyperbolish. I'm not being dramatic; promise. It's obviously a bigger ticket item but judging by the amount of usage in our house, I'm claiming it's totally worth it.
9) Boom Chicka Pop Holidrizzle. Ok, so maybe this isn't a gift giving item as much as a favorite thing. As in, I don't know that I'd part with this stuff. Buy yourself a case and keep it hidden away – and since it's a limited time thing, act fast. I've seen it at Fred Meyer and I hear it's at Target too. And of course it's available from the Boom Chicka Pop website. Seriously, run. That dark chocolate drizzled one is madness.
Ok, now on to the kid stuff!



1) Wooden Doll High Chair. Cam got this last Christmas and she still plays with it constantly (I'd be a liar if I said one or more of my children have not tried to climb in to see what would happen; I don't recommend that as goose eggs may result). Durable (for dolls not children!) and made of wood, it's a must-have for little dollies who play with even littler dollies.
2) Melissa and Doug Advent Calendar. The perfect advent calendar for little fingers! This isn't a formal holiday piece at our house – it's played with and rearrangd and sometimes stepped on (#kids). A great way for young fingers to get in on the holiday action.
3) Klip Klop Stable. I have to be honest – I'm not a big fan of large, plastic toys. They usually get broken and take up way too much space. But this Klip Klop Stable is the one exception at our house thanks to my friend, Leslie, who has three girls and recommended it to me last year. The object is simple but it apparently never gets old (says a little sister AND her four brothers, yesiree) to let the horses klip-klop their way down the slanted pathways.


4) Melissa and Doug Stamps. We take arts and crafts time very seriously around these parts and have huge bins dedicated that direction. In the depths of those bins are several sets of Melissa and Doug stamps – all of them several years old and going strong. They give a fun variation to regular ol' crayons and paper.
5) Baby Stella. This cute dollie was one of Cam's first babies (thanks to her brother's sweet kindergarten teacher many years ago) and she still plays with it (the one I linked to is a newer version since Cam's isn't available any longer). The magnetic binkie is the icing on the cake.
6) Spirograph. Speaking of arts and crafts, this summer I realized my boys had never spirographed. The horror! Quickly remedied, we've been spirographing ever since. My boys are hooked and have come up with some pretty wicked designs. They get a little snippy when I elbow my way in to spirograph a little myself. I can't help it! It's very fun and addicting.


7) Design Your Own Bracelet. A simple way for little-ish girls to start designing their own jewelry, these Melissa and Doug design-your-own bracelets are inexpensive and cute. Cam loves to make them for herself and for me; and I proudly wear it anytime she tells me it goes with my outfit (it won't be long before her fashion sense is better than mine, I can tell!).
8) Sweet Corolle Baby. Another favorite baby doll (which is saying a lot since I think we have about 32 baby dolls), this Corolle baby is one I particularly love. For Camryn, of course. The soft body is cuddly and the sweet face isn't creepy like so many other dolls out there. It's on the smallish side which is the perfect tucking size for 2- and 3-year old arms.
9) See Kai Run Shoes. I wait every year for the huge See Kai Run sale to stock up on shoes for my younger kids. Their shoes are durable and sturdy but still so cute. Highly, highly recommend these shoes (and I think there's a pretty mad deal going on right now!).


10) Beanie Boos Stuffed Animals. I know all you moms are cringing out there. Do any of us really need another stuffed animal around the house? Well, you might reconsider with these funky looking stuffed animals. My 6-year old gave one of these to Cam last Christmas and she still sleeps with it every night (she has the Chihuaha but there are tons of other options). The big eyes and quirky colors and features are endearing (unless you happen to see it spying at you in a dark corner one night when you check on your sleeping little girl and you shriek so loudly, everyone wakes up).
11) Youth Receiver/Football Gloves. My older three boys would probably spend the rest of their lives tossing the football to each other and pretending to be Tanner Mangum if they didn't have real life responsibilities like showering, making their beds, homework and gathering eggs from the chickens. They each have a pair of these youth football gloves and I'm pretty sure they don't leave the house without them. You never know when someone's going to toss you a football.
12) SKLZ Pro Mini XL Bball Hoop. I may have talked about this one before but we love it too much not to share again. When weather doesn't permit the throwing of the football to each other, my boys will be found up in the bonus room making shots on this thing. It's so much sturdier than other flimsy versions we've had and it's great fun for them (ahem, and for their dad).


13) Giant Stringing Beads. A gift from Brian's mom, these giant wooden beads are wonderful. We make necklaces with them, string just for fun and sometimes just stack the colorful beads on top of each other. Cam and I pull these out often when the boys are at school (and they are very willing to join in the party when they get home as always!).
14) Number Bots. Another Lakeshore Learning favorite, these number bots are one of my 6-year olds favorite toys and have provided hours and hours of play. He actually bought them with his own money earlier this year and I thought for sure it would be another of those choices I let him make but do the whole I-told-you-so thing later when it was money wasted. I'm throwing away my pride (for just one second) to say I was wrong. We love these – such clever toys; highly recommend.
15) Fold-up Soccer Goals. Ok, so maybe it isn't just football and basketball. Soccer gets some time, too. My 11-year old got these goals for his birthday last spring and the kids have loved setting them up in the backyard and scrimmaging for hours (or until someone gets kicked in the face by the ball; that's usually a game-ender).
And that's it! See you on the other side of the crazy shopping weekend with a fabulous, healthy holiday dish!
Disclaimer: I am a participant in the Amazon Services LLC Associates Program, an affiliate advertising program designed to provide a means for me to earn fees by linking to Amazon.com and affiliated sites. As an Amazon Associate I earn from qualifying purchases.