Holiday Pomegranate Guacamole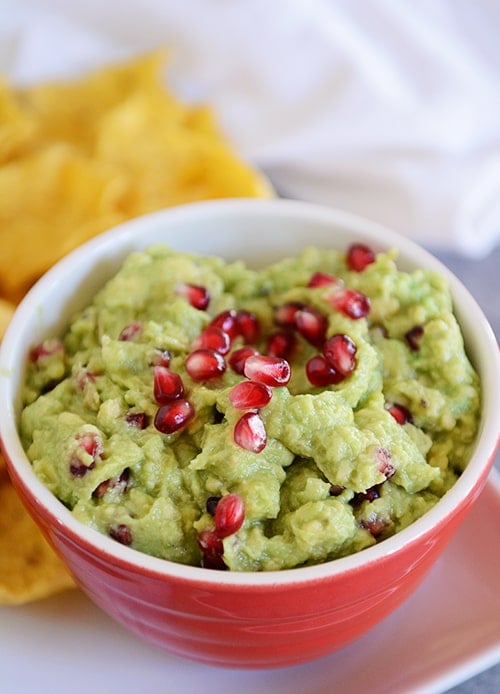 Over Thanksgiving I was talking to Brian's aunt who lives in California and she off-handedly mentioned she has a pomegranate shrub in her front yard (conversation brought on discussing this divine pomegranate cheesecake I made for dessert).
I'm not sure but I think I made a fool of myself asking if I could visit or move in or maybe just come and get it. You know, lovingly take it off her hands and transplant it to Idaho.
I heart pomegranates big time.
And since I double heart guacamole, it seems only sensible to combine the two.
I don't have an actual recipe for guac since I usually throw and mash those yummy avocados together with fresh lime juice, garlic, salt and pepper and call it good.
But I have a feeling now that I know about (and have devoured) this pomegranate guacamole, I'm going to be shedding buckets of tears in, say, June, when there isn't a pomegranate to be found in my grocery store.
Good thing I know where to find homegrown ones even if it would necessitate a 15-hour road trip.
Assuming the little beauties grow year round, that is. I actually have no idea if they do.
Now I feel like I need to go study up on my horticulture unless one of you smarties wants to enlighten me (since I'm too lazy, blame it on post-Thanksgiving lethargy, to just google it).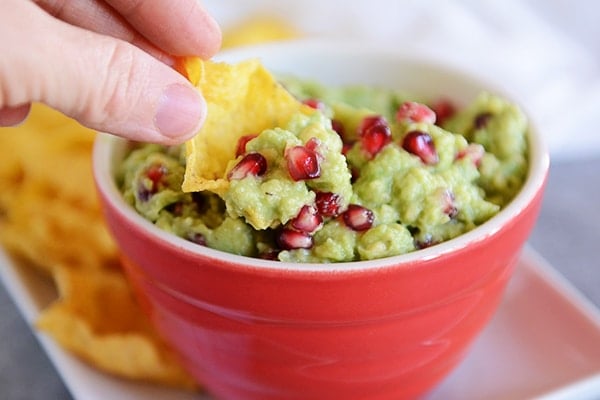 One Year Ago: Perfect Pumpkin Pancakes
Two Years Ago: Apple Dapple Cake with Warm Vanilla Cream Sauce
Three Years Ago: Black and White Holiday Bark
Holiday Pomegranate Guacamole
Yield: 2 cups of guacamole

Prep Time: 10 minutes

Total Time: 10 minutes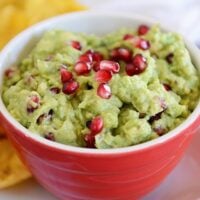 Ingredients
2-3 medium avocados
1 tablespoon fresh lime juice
1/2 teaspoon coriander or cumin
1/2 teaspoon salt + more to taste
Pinch of black pepper
Pinch of cayenne pepper
1/2 - 3/4 cup pomegranate arils (from about 1 medium pomegranate)
Instructions
Halve the avocados, take out the seed and scoop the flesh into a medium bowl. Drizzle the lime juice over the avocados and lightly mash the avocados with a fork. Add the coriander or cumin, salt, pepper and cayenne, and mash again until desired consistency. Gently stir in the pomegranate arils. Serve immediately.
Notes
A few tips: seeding avocados became so much easier when I learned the knife trick. Basically, halve the avocado and pull the two halves apart. Using a sharp knife (a santoku style knife works great) carefully hatchet the knife into the seed, twist and it will pull right out. For a visual, here's a good post.

For the pomegranate, I used to use the bowl full of water trick to get the arils out - until the wooden spoon trick came into my life. Again, like the avocado, halve the pomegranate (score it along the outside and dig your fingers in a bit to pull it apart) and then turn it over so the cut side faces your palm. Get a large spoon and paddle the back of the pomegranate and the arils will fall right out into your palm. I sometimes have to stretch and break the membranes of the pomegranate a little between smacks to help loosen the arils. Here's another way I saw online that doesn't require water or hitting anything with a spoon; I think I'll try it this way next time I eat a pomegranate (like, tomorrow).

Recipe Source: lightly adapted from a recipe sent to me by a reader, Caitlin J (thanks!)