Mexican Lasagna
Looking for a change in your lasagna night routine? This Mexican lasagna is different and unique and absolutely delicious.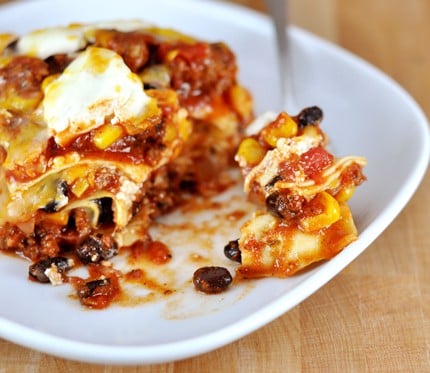 Jeez. Isn't it totally annoying when people can't settle on their favorite lasagna? Changing their loyalties with every variation that comes on the scene. Fair weathered lasagna friends. Shame on them.
Oh wait, that's me.
I have a thing for lasagna. I heart it big time. Back in my college days, along with Cowboy Dinner, we whipped up Mexican lasagna all the time but I've forgotten it in my old age.
When Heather B., a reader, sent me her version, I remembered the Mexican lasagna of yesteryear and decided to come up with the ultimate Mexican lasagna.
This is it. Tender layers of pasta noodles. A meaty and flavorful sauce studded with black beans and juicy corn kernels. And all of it smothered in cheese with creamy pockets of sour cream and cream cheese.
It's different and unique and absolutely delicious.
Now I'm left thinking what lasagna variation will bowl me over next. I'm thinking of entering the Guinness Book of World Records for "Longest List of Favorite Lasagnas."
Er, maybe not.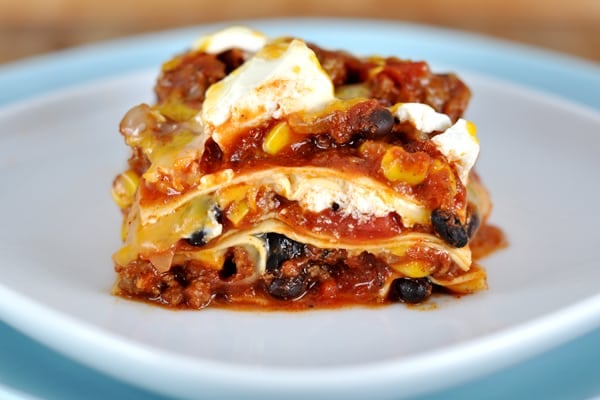 Cornbread or Layered Mexican Cornbread Salad
Fresh fruit
Steamed veggie like broccoli or peas, or Roasted Asparagus
One Year Ago: Oatmeal Chocolate Caramel Bars
Two Years Ago: Lemon Cream Pasta with Chicken
Three Years Ago: Chicken and Corn Chowder with Sweet Potatoes
Yield: 6-8 servings

Prep Time: 15 minutes

Cook Time: 55 minutes

Total Time: 1 hour 10 minutes
Ingredients
1 1/2 pounds lean ground beef or turkey
1 yellow onion, coarsely chopped
2 garlic cloves, finely minced
1 (6 ounce) can tomato paste
1 tablespoon chili powder
2 teaspoons ground cumin
dash of ground cayenne pepper
1 teaspoon dried oregano
1/2 teaspoon salt
1/2 teaspoon pepper
3 (8 ounce) cans tomato sauce
1 (14.5 ounce) can diced tomatoes, drained
1 (15 ounce) can black beans, rinsed and drained
1 ½ cup frozen corn kernels, white or yellow
1 (6 ounce) can olives, chopped
9-12 no-boil lasagna noodles (I love the Barilla brand), or boil and drain regular lasagna noodles
2 cups shredded mozzarella cheese
1 cup shredded cheddar cheese
1 cup sour cream, light or regular
8 ounces cream cheese, light or regular
Instructions
Preheat the oven to 350 degrees. Lightly grease a 9X13-inch pan and set aside.
In a large 12-inch skillet, brown the ground beef or turkey and onion over medium heat until the meat is no longer pink. Drain the grease. Add the minced garlic and tomato paste. Stir to combine well and cook for about a minute. Stir in the chili powder, cumin, cayenne, oregano and salt and pepper. Mix well. Add the diced tomatoes and tomato sauce. Stir to combine. Add the black beans, corn and olives. Mix well and heat through, about 5 minutes.
Remove the skillet from the heat. Spread 1/2 cup sauce in the bottom of the prepared pan. Layer three (or four, depending on the brand of noodles you use) noodles over the sauce. Spread 1/3 of the sauce over the noodles. Dollop 1/3 of the sour cream and 1/3 of the cream cheese (just pinch off chunks and toss them on top) across the sauce. Sprinkle with 1/3 of the cheeses. Repeat the layers two more times until all the ingredients are used.
Cover the lasagna with foil and bake at 350 degrees for 35 minutes. Uncover and bake 10-15 minutes more, until the lasagna is hot and bubbly. Let stand 10 minutes before cutting into and serving.
Notes
Sauce: this lasagna isn't super heavy on the sauce, just enough to plump up the pasta noodles perfectly and help everything hold their shape (not dry…just not overly saucy).

Layers: I split all the ingredients (sauce, cheese, noodles) into three layers but feel free to simplify and just halve everything and do two layers only. Less noodles, more sauce. It's up to you.

Ingredients: also, the ingredient list looks long, but it comes together quickly, especially with the no-boil lasagna noodles.

Make Ahead Instructions: The lasagna can be prepared up to 12 hours in advance. Following the recipe instructions, let the meat/sauce mixture come to room temperature before assembling. Assemble the lasagna according to the recipe. Cover with tin foil and refrigerate. Bake as directed, adding an additional 5-10 minutes if needed.
Recommended Products
As an Amazon Associate and member of other affiliate programs, I earn from qualifying purchases.

Recipe Source: inspired by a recipe from Heather B., a reader, and an old much-loved recipe from my college days
Disclaimer: I am a participant in the Amazon Services LLC Associates Program, an affiliate advertising program designed to provide a means for me to earn fees by linking to Amazon.com and affiliated sites. As an Amazon Associate I earn from qualifying purchases.