Skillet Summer Vegetable Lasagna
I have a vegetable garden.
It is pathetic.
It wouldn't be so bad except that my neighbor's garden is about three feet away and the comparison is hilarious. Honestly. It's hard for me not to giggle-slash-cry when I stand there watering my piddly little plants and spend the time staring at Mike and Sara's lush Garden of Eden.
Here's proof for you, just in case you don't believe my dramatics:
See? I told you.
Anyway, the point here is that even though my garden is a'strugglin', it did give up it's first fruits in the name of one zucchini and one squash, both of which found their way into this delicious and simple skillet summer veggie lasagna. The result was a deliciously light and refreshing pasta dish that was full of flavor and vegetables!
Assuming that I'll still get a few zucchini and squash this year (because seriously, who can kill a zucchini plant? Er, I may have just jinxed myself), I'm not sure I want to use them for anything other than this fantastic meal.
Not only is this recipe quick and easy, it is made start-to-finish in one skillet. I feel like shouting from the rooftops, "I LOVE SKILLET MEALS!" Because I really, really do.
What I don't love is my neighbor's garden. It makes me feel insecure and bad about myself. I guess I'll go drown my sorrows in the leftovers of this skillet meal. That is a surefire pick-me-up in the face of gardening woes if I've ever heard one.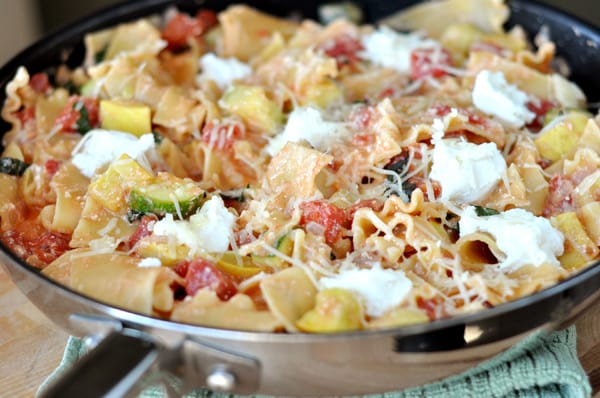 Grilled Island Chicken, Grilled Rosemary Buttermilk Chicken, or Broiled Parmesan and Lemon Chicken
Divine Breadsticks
Spinach Salad with Sweet-Spicy Nuts, Apples, Feta & Bacon or Strawberry Spinach Salad
One Year Ago: Peach Brown Betty
Two Years Ago: Simple and Meaty Skillet Lasagna
Three Years Ago: Chopped Cobb Salad with Blue Cheese
Skillet Summer Vegetable Lasagna
Yield: 4-6 servings

Prep Time: 15 minutes

Cook Time: 20 minutes

Total Time: 35 minutes
Ingredients
2 tablespoons extra virgin olive oil
1 yellow onion, chopped fine
4 garlic cloves, minced
1 (28-oz.) can diced tomatoes
Salt and pepper
10 curly-edged lasagna noodles, broken into 2-inch lengths
1 small zucchini, cut into 1/2 inch chunks
1 small yellow squash, cut into 1/2 inch chunks
1/4 cup shredded fresh basil
1 cup part skim ricotta cheese
1 cup freshly grated Parmesan cheese
Instructions
Heat oil in a large 12-inch skillet over medium heat until shimmering. Add onion and cook until softened, about 3 minutes. Add garlic and cook until fragrant, about 30 seconds. Drain tomatoes into a 2-cup liquid measure. Add water to tomato liquid to make 2 cups. Add tomato/water mixture and 1 teaspoon salt to skillet.
Scatter noodles into the skillet, layer tomatoes over the noodles and bring to a simmer. Reduce the heat to medium and cook, covered, stirring occasionally (so the noodles won't stick!) for about 10 minutes.
Stir in zucchini and squash, cook, stirring now and then, until noodles and squash are tender, about 8 minutes. Add basil and half of the ricotta cheese and half of the Parmesan cheese to the noodles, stirring until the sauce is creamy. Dollop remaining ricotta cheese over the noodles, season with salt and pepper, and sprinkle with remaining Parmesan cheese.
Recipe Source: adapted slightly from America's Test Kitchen