Mini Gift Guide: Random Lovely Stuff for Guys and Gals
Look no further for a great list of ideas for random lovely stuff- mini gifts for all the guys and gals in your life!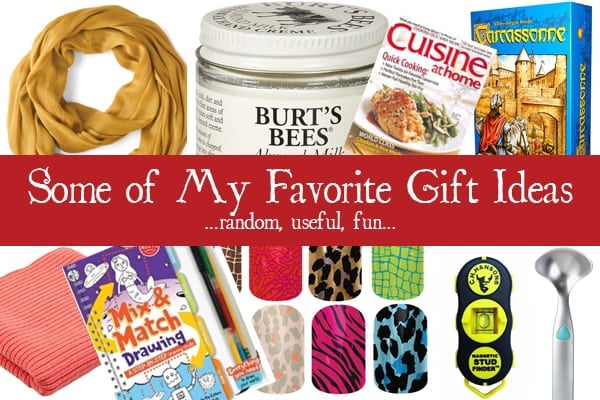 This gift guide is kind of all over the place, but hey, all I can say is…when things are fabulous, they're fabulous. And I want to share some of my fabulous favorites with you in case it might help as you are doing necessary holiday shopping (or at the very least, maybe adding to your own wish list).
Keep in mind if you are looking for kitchen/cooking specific items, I have a whole list of favorites here. And for toys and games perfect for kids, here's a mini gift guide I posted last week with some of my kids' main loves.
None of the items below are sponsored (or given to me free); I either bought them myself or was gifted them and love them too much not to share. Just like last week, a heads up that the only affiliate links are the ones from Amazon for the products I've actually purchased there. Feel free to shop around for the best deal (part of the fun of shopping, right)!
Now…on to the good stuff!


1) I love so many things about ModCloth – especially their scarves (and can I just say how much I love that people can submit their own photos so you can actually see the outfits/items on real, live people and not unrealistic model figures?). I own this circle scarf in mustard and blue; it's ultra soft and slightly crinkly and super awesome. Plus, as of last look, it's on sale! PS: If you forced me to give another shout out to some of their clothes it would be this tunic (incidentally, I wear this with that mustard scarf above), these cardigans and this dress (which I tie in front and it looks fab with the red card). At the very least, a scarf makes a great gift!
2) Ok, let me hear it: do you jamberry? I just recently bought some of these nail wraps (I don't mess with painting/decorating my fingernails but I'm all over the toenail painting) and I have to say, my skepticism was instantly put to rest. I am a huge fan. The pattern I put on my toenails lasted, no kidding, almost 4 weeks. Plus, I had at least three people ask me if I had just gotten a pedicure (which is funny because I've only had three pedicures in my entire existence). Jamberries are sold through independent consultants so find one in your area (or I can recommend my friend, Deb, who recently started selling them – her website is here – not an affiliate or sponsored link). Talk about a great gift for those that love painting toenails and fingernails!
3) Switching gears a bit, is it wrong to be in love with dish soap? I know. Soap is soap. But I loooooove Meyers dish soap. The basil? It's magical. The smell is so light and refreshing and yummy that it almost (almost but not quite) makes washing dishes a celestial experience. My mom has used Meyers soap for years and converted me. I have found it at my local World Market and it's also on Amazon. I never thought giving the gift of soap would be something I would want to do, but trust me, Meyers is worth gifting.

4) True lime. Thanks to Rebecca L. for telling me about it via email because it's changed my life. All natural, dehydrated limes for sprinkling. It's almost weird how much fresh lime flavor it gives to anything from salsa to fajitas to chicken tortilla soup. After discovering the wonders of this, I'm going to be sneaking it into several people's stockings this year (people I know…don't worry).
5) I have been a long-time user of these most fabulous Norwex kitchen cloths. The reason? Along with being soft and scrubbing well…get ready for this…they don't stink. I can use them for an astoundingly long time before they get that sour kitchen rag smell (you know what I'm talking about, right?). The key is to wash them in natural (like an allergen/fragrance free) detergent and never use dryer sheets (I let them air dry). Slide a little note into the gift explaining their wonders and they make a lovely gift (yep, I'm giving some this Christmas). PS: I love their fruit scrubber cloths as well. Norwex is sold through independent consultants: I have two sweet friends who sell it (Melanie and Michelle), you can click on their names to access their websites (not affiliate or sponsored) or use the search function to plug in your zipcode to find a consultant in your area.
6) I've waxed poetic about hand cream in the past but if you need another variety, this Burt's Bees Almond Milk hand cream is divine. Love, super love.

7) I love Thrive products. I've been ordering from them for years and have my little monthly shipment that gets delivered right on schedule (to help build up our food storage with some extras that are harder to find with a long shelf life: like brown sugar, powdered sugar, powdered eggs, dehydrated fruit and vegetables, etc.). However, these yogurt bites don't get put on the food storage shelves – we eat them like crazy. They go in school lunches, snacks for road trips, grab-and-go treats. They are so yummy AND I've even rehydrated the yogurt on several occasions to use in smoothies. We particularly love the pomegranate and vanilla flavors. Each #10 can lasts a long time, so the price per can goes a long way. Wrap a bow around one of these and you've got a stellar gift.
8) I kind of think everyone needs a pair of Muk Luks because the name is just plain fun to say. I receive a lot of compliments on these grey Lilly beauties every time I wear them (although they are on the grayish brown side). They are snug and comfortable and look great with that rustic yet cute feel. I'm normally an 8 1/2 or 9 but based on the reviews I bought an 8 and they are perfect. I wear these an astonishing number of days a week and if you are in tune with your gift-getter's fashion sense, these would make a great surprise.
9) I feel like we should give three cheers for Carcassone. We looooove this game. Brian's sister gave it to us several years ago for Christmas and it is a family favorite. It took a time or two to get the hang of the rules but man, this game never gets old. We've gotten several families addicted to the Carcassone fun as well. I noticed on Amazon that it's jumped up in cost (the supplier got changed/bought out a while ago) but I found this great website that has the Basic game and the Carcassone II game for much cheaper (the Carassone II game – a revised version of the original game – is on preorder but I bought one and it should be shipping in December).


10) As much as I love recipes and cooking, I only subscribe to two cooking magazines (I've tried several others and have always been disappointed and decided it wasn't worth the subscription cost). I highly, highly recommend either of these for anyone that loves to cook and enjoys reading about why and how recipes work (both of these magazines test their recipes like crazy). Cook's Country and Cuisine at Home subscriptions make wonderful gifts.
11) At a loss to know what to give that person who has everything? A classic white serving dish like this is safe and beautiful (my favorite white platters and serving dishes happen to all come from Crate and Barrel, I wish that store was in my backyard). Most nights, we eat dinner scooped right out of the skillet, but there are definitely occasions when serving the mashed potatoes or fruit or rice pilaf out of a lovely bowl like this is perfect and very classy. I wish I owned 100 of these. I use the few I have all the time.
12) Sending good-quality, juicy, fresh fruit through the mail is one of the greatest perks of our generation. I love Hale Groves grapefruit! A box of grapefruit is my go-to gift for many occasions (that's what will be going to our sweet grandparents this year).

13) Dare I say that I wear these earrings nearly every day? They are dangly and cute and go with everything. Somehow they manage to dress up any outfit (even the sweatshirt and jeans and Muk Luks I wear 5 out of 7 days). For the price, they can't be beat (and look just like new after wearing them for several months). Brian usually sneaks a pair of earrings into my stocking every Christmas; if I didn't have these already, I'd be sending some strong hints his way.
14) I talked about this fondue pot a few weeks ago; my friend Kim very highly recommends it and although I haven't bought one yet, you can bet it is at the top of my wish list (especially after reading all the great reviews – there are more reviews on the red pot although it's slightly more expensive than the blue one). I think a fondue pot makes such a fun, unique gift for anyone who loves enjoying time with family and friends over really good food.
15) FitBit! Do you have one? It is such a fantastic tool for tracking your fitness goals and makes a wonderful gift for anyone no matter their fitness level. I love that you can sync the fitbit with your smartphone (if you have one) and link up with other friends who have a fitbit to motivate each other. These are the greatest little things since sliced bread.

16) Immersion blenders are one of the only specialized kitchen tools that I think everyone needs to have. I use mine constantly – from pureeing soups (instead of risking life and limb to process them in the blender where they may or may not explode on me) to mashing potatoes (or making mashed cauliflower). If you don't get this for someone on your list this year, get one for you. Seriously. You need one.
17) My mom has the greatest 10-inch skillets for making crepes and they completely won me over when I was at her house (I use them for crepes and for these fabulous rollup pancakes). The ones I love are from Target; I haven't found the same ones on Amazon although they may have a good equivalent. They clean up so well and I love the white nonstick interior – perfect for cooking a variety of things.
18) This may be kind of obvious, but in this day and age, who couldn't use another USB thumb drive or five? These are my faves. I have several of them and use a little label on the back to let me know what they are for (photos, documents, etc.). I'm giving these for Christmas gifts this year to those on my list who do a lot on the computer. They don't have an end cap you have to mess around losing and finding, and well, I guess you could say I have a major crush on these USB drives.


19) When it comes to exercise videos (my main form of physical exertion besides occasionally jogging slowly in my neighborhood), I think I might have exercise ADD. I get bored very easily. (Um, so if you live close to me, feel free to come borrow from my extensive exercise video library; that way Brian thinks they're getting used.). What I'm trying to say is, I have a lot of exercise videos and can tell you which ones NOT to buy. Instead I'm going to tell you this one I'm absolutely in love with right now. PiYo. It's a crazy mix of pilates and yoga – it tones, strengthens, helps with flexibility (which I desperately need and am already seeing benefits) and makes me sweat profusely. Plus, you don't need any special equipment. I've been doing this workout for a few weeks now and am still motivated to keep going (read: not bored). If you know someone looking for an exercise boost, this would make a great, great gift (although please be veeerrrrryyyy sure your giftee has expressed an interest in getting an exercise video for a gift so you don't send the wrong message, if you know what I mean).
20) The irony is not lost on me that I'm talking about the best ice cream scooper in all the land right after touting the benefits of my favorite exercise DVD's. But truth is truth. And this ice cream scoop (by Wilton) is phenomenal. We've had ours for years (after a sweet visitor left a bow-wrapped one on our guest bed after staying with us when we lived in Wisconsin) and it's simply stellar. And talk about a fun little stocking stuffer.
21) I may have talked about this bamboo salt box in the past but it's wonderful enough to mention again. For the last four or so years, mine has been constantly replenished with coarse kosher salt and it never leaves it's place beside my stove. So fabulous for someone who loves to cook and likes to add a pinch of this and a pinch of that. It is beautiful, functional and fun; I dig in to mine daily.


22) You never know you need a gravy boat until you need one or get one. I'm not opposed to ladling out gravy with a big cereal spoon from the pot but there are those occasions when a gravy boat is just plain awesome (holidays, entertaining, Sunday dinner, whenever you want to get your fancy on). This one is my fave – it holds 24-ounces but also does just fine with smaller amounts (plus it can be microwaved to heat up the sauce/gravy).
23) This gift guide is heavily leaning toward gifts for the female population but I have to give a shout out to this studly stud finder (recommended by several tool geeks in my family who know their stud finder stuff and helped me when I needed advice for Brian who also has a birthday in December). Perfect for a gift-gift or for a stocking stuffer. Since I do the picture hanging (mostly) in our family, I love this little thing, too.
24) I realized after I posted the kids' gift guide that I left off one of our most favorite ever kid things so I'm tacking it on here. We've had these Klutz Mix and Match Drawing books for years and I wish I could adequately shout through the computer screen to tell you how much my kids love them. LOVE!!! They get pulled out nearly every day since the kids love to color/draw after school. I am totally and completely amazed at the freehand pictures my kids draw from these books. They are clever and fun and just plain awesome (my kids and the books).
That about sums it up! As always, I'd love to hear about anything you are loving in the comments below!
Disclaimer: I am a participant in the Amazon Services LLC Associates Program, an affiliate advertising program designed to provide a means for me to earn fees by linking to Amazon.com and affiliated sites. As an Amazon Associate I earn from qualifying purchases.