Perfect Pumpkin Pancakes
Healthful, hearty, and tasty, these glorious whole grain pumpkin pancakes are a delicious power-packed breakfast.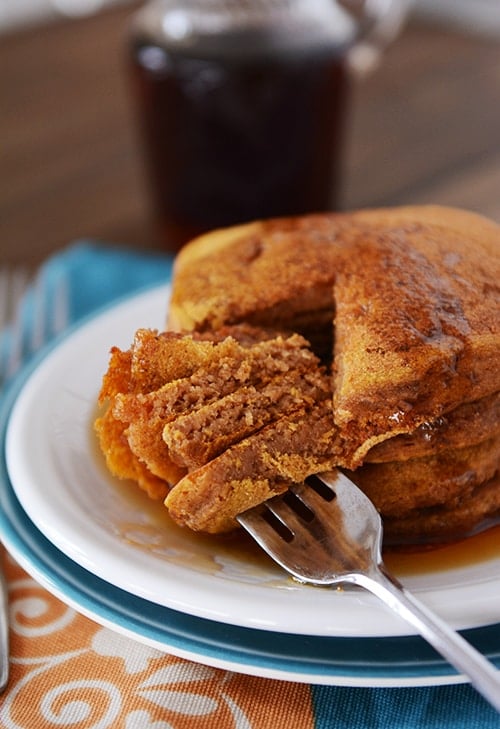 I've talked hot breakfasts to death around here but let me just plug these perfect pumpkin pancakes as the newest best thing to serve for breakfast.
Even my non-pumpkin lovers (sadly, we have a few of those in this house) enjoyed them. That may or may not have been due to the chocolate chips dotting the pancake (not pictured, we ate all the chocolate chip ones before I could snap a shot), but I still count it as a pumpkin victory.
Healthful and hearty, these glorious whole grain pancakes are a delicious power-packed breakfast.
And since many of you might be burned out of cooking this week by, say, Friday (hmmm, I wonder why?), these pancakes are definitely not off limits for a quick breakfast-for-dinner option.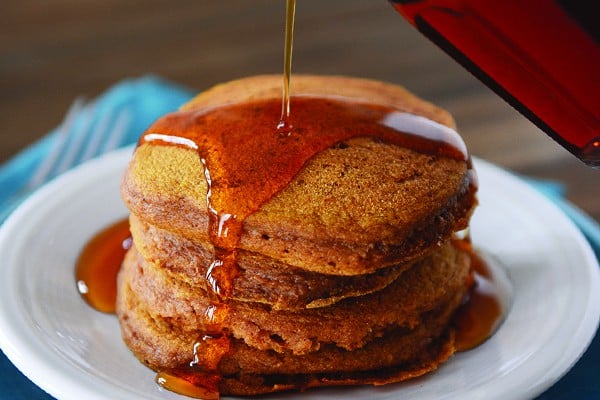 In case you are wondering (and even if you're not), here are a few of our other favorite breakfasts we've been rotating through lately:
[wp_cpl_sc cat_id=775 is_thumb="true" show_comments="false" list_num="12″ sort_using="5″ show_excerpt="false" show_date="false" show_author="false" css_theme="2″ sort_order="asc"]
One Year Ago: Apple Dapple Cake with Warm Vanilla Cream Sauce
Two Years Ago: Brownie Batter Truffles
Three Years Ago: Vegetable Sauté with Simple Cream Sauce
Yield: a dozen pancakes

Prep Time: 15 minutes

Cook Time: 2 minutes

Total Time: 17 minutes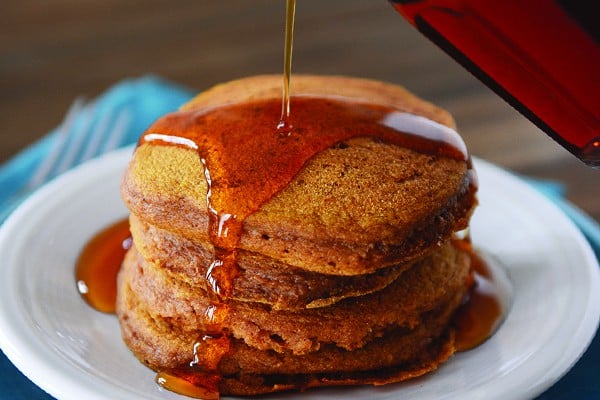 Ingredients
2 cups whole wheat flour
1/4 teaspoon ground nutmeg
1/2 teaspoon ground ginger
2 teaspoons ground cinnamon
1 teaspoon baking soda
2 teaspoons baking powder
1/2 teaspoon salt
3 tablespoons sugar
1 3/4 cups buttermilk (click here for super simple buttermilk substitutions)
1 egg
1 cup pureed pumpkin (canned or homemade)
2 tablespoons coconut or vegetable oil
1 cup chocolate chips (optional)
Instructions
In a large bowl, whisk together the dry ingredients. Make a well in the center and add the buttermilk, egg, oil, and pumpkin. Whisk together until just combined (it's ok if there are a few dry spots remaining; over mixing pancakes can make them thick and dry).
Preheat a griddle or skillet on the stovetop to medium. Pour about 1/3 cup or so batter into circles on the griddle or skillet. Sprinkle with chocolate chips (if using). Cook until bubbles appear on the surface of the batter, 1-2 minutes. Once the bubbles begin popping, flip the pancakes and cook for another 30 seconds to 1 minute.
Notes
Flour: if you don't have whole wheat flour, all-purpose flour could be used.

Buttermilk: remember that making your own buttermilk is super easy (a quick suggestion would be to use 1 3/4 cups milk and 2 tablespoons lemon juice or vinegar).
Recommended Products
As an Amazon Associate and member of other affiliate programs, I earn from qualifying purchases.

Recipe Source: adapted a little from a recipe my friend, Kim B. sent me (thanks, Kim!)
Disclaimer: I am a participant in the Amazon Services LLC Associates Program, an affiliate advertising program designed to provide a means for me to earn fees by linking to Amazon.com and affiliated sites. As an Amazon Associate I earn from qualifying purchases.