Boston Clam Chowder
Classic, warm, creamy and hearty. This boston clam chowder is delicious and perfect for the cool weather. It is even better served in a homemade bread bowl!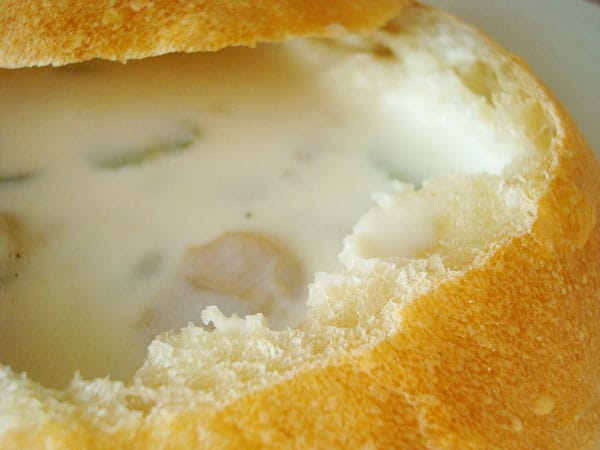 Clam chowder is my husband's favorite soup of choice. I've tried many, many recipes over the years, some thick as glue and others fairly decent.
I have a wonderful recipe for a Quick and Delicious Clam Chowder (can I get a hooray for this soup, Queen B.?) which is light and creamy and a bit soupier than the traditional clam chowder that is thick and hearty enough to stand up to a good bread bowl.
Other than the quick recipe noted above, this recipe I'm going to share with you is hands down our favorite classic clam chowder.
It originates from my sister-in-law, Erin (contributor to The Sisters Cafe blog) and her mom has been making it for years and years. Can we say tried-and-true? I turn to it every fall when the weather cools down and it never fails to please.
Classic, warm, creamy and hearty.
This soup is delicious and perfect for the cool weather.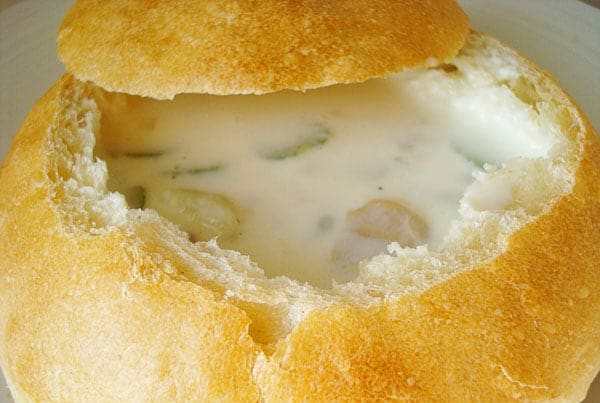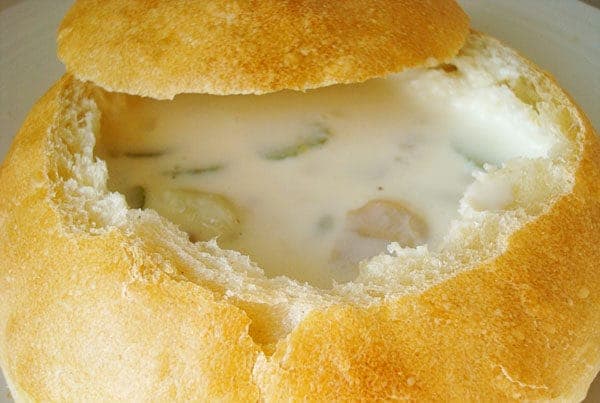 Store bought or homemade bread bowls (for homemade I suggest these Bread Bowls)
A green salad like this Spinach Strawberry Salad
Sliced cheddar cheese
My Favorite Boston Clam Chowder
Yield: 6-8 servings

Prep Time: 10 minutes

Cook Time: 15 minutes

Total Time: 25 minutes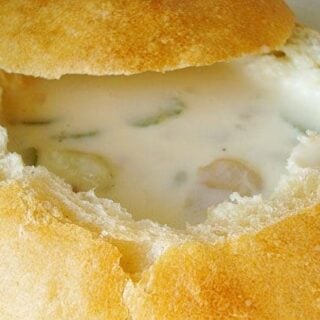 Ingredients
1 cup chopped onion
1 cup chopped celery
2 cups diced, peeled potatoes (I use Yukon Gold or Red potatoes)
3/4 cup butter
3/4 cup flour
1 quart half-and-half
2 (6.5-oz.) cans minced clams
1 1/2 teaspoons salt
1 1/2 tablespoons red wine vinegar
Pepper to taste
Instructions
Drain the clams and reserve the liquid. In a large pot, place the vegetables and pour the claim juice over the top. Add enough water to barely cover the vegetables. Simmer over medium heat until the vegetables are almost tender (don't overcook them in this step!), about 5 minutes.
Meanwhile, in a saucepan, melt the butter and add the flour, making a roux with a wire whisk. Constantly stirring, add the half-and-half slowly. Cook and stir until smooth and thickened, without boiling. When slightly thickened, add the roux to the vegetables and add the clams, salt, vinegar and pepper (to taste). Can keep warm (without boiling!) for a up to an hour or serve immediately.
Recommended Products
As an Amazon Associate and member of other affiliate programs, I earn from qualifying purchases.

Recipe Source: slightly adapted from my sister-in-law, Erin
Disclaimer: I am a participant in the Amazon Services LLC Associates Program, an affiliate advertising program designed to provide a means for me to earn fees by linking to Amazon.com and affiliated sites. As an Amazon Associate I earn from qualifying purchases.