Blue Cheese and Cheddar Scalloped Potatoes
This recipe is perfect for blue cheese and cheddar scalloped potatoes if you want potatoes with a dutch-oven taste, without the hassle.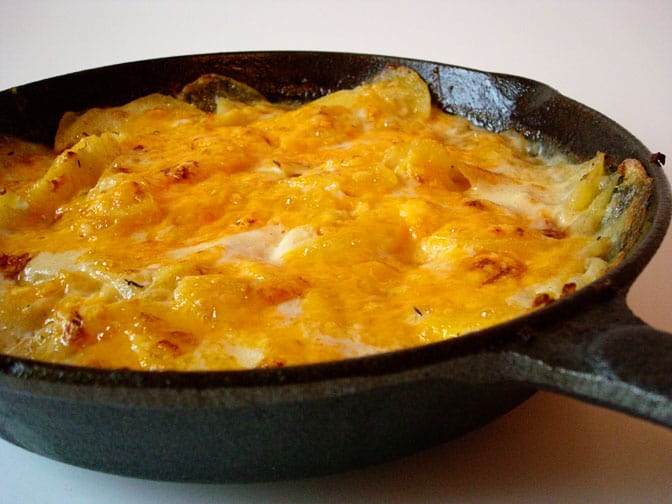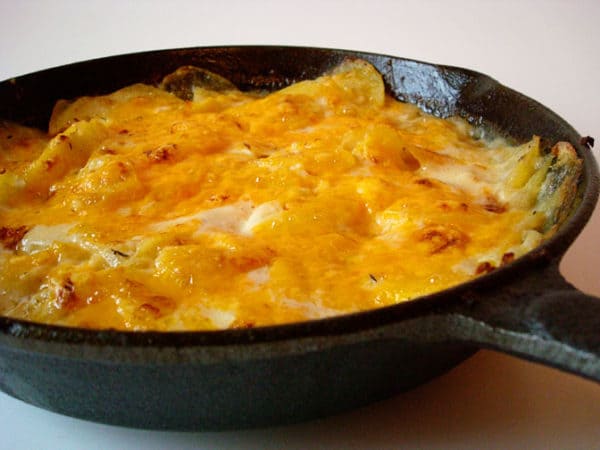 In a pinch, I nabbed this recipe off the internet and made them to go along with grilled chicken last Sunday. I'm a HUGE fan of cheesy, creamy potatoes, but wanted a recipe that didn't call for any condensed soups.
If you want to know what these potatoes tasted like, after taking two or three bites, my husband mumbled something like this, "Wow, these taste like they are right out of a dutch oven." And that's high praise considering my husband could subsist on dutch oven potatoes (and sweet and sour chicken) for the rest of his life.
The flavor and browning of the potatoes is helped along by a well-seasoned cast iron skillet. I have one hiding in the depths of my cupboards and am always so glad I keep hanging on to it when I use a recipe like this. (If you don't have one, a) consider saving up for one and b) in the meantime, use an ovenproof skillet.)
The potatoes were perfectly tender without being soggy, the flavors of the garlic and onion were delicious and the cheese and cream bubbled and blended magnificently.
I threw in some blue cheese because I happen to have an ongoing love affair with blue cheese and it took these potatoes over the top. Seriously, Over The Top.
I tossed my grilled chicken to my 3-year old and dove in to the potatoes as my main course.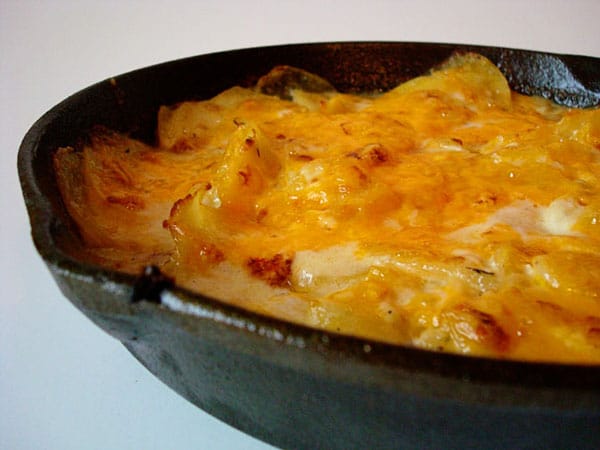 Blue Cheese and Cheddar Scalloped Potatoes
Yield: 4 servings

Prep Time: 10 minutes

Cook Time: 30 minutes

Total Time: 40 minutes
Ingredients
1 tablespoon butter
1 1/4 pounds russet or yukon gold potatoes, peeled and sliced 1/8-inch thick (I used the side of my box grater that has long lines to grate on)
1/2 medium onion, minced
2 cloves garlic, minced
1 teaspoon dried thyme
1/2 cup chicken broth
1/2 cup heavy cream
1 bay leaf
1 cup grated sharp cheddar cheese
1/4 cup crumbled blue cheese (or more to taste)
Salt and pepper
Instructions
Preheat the oven to 425 degrees. Heat a large cast iron skillet over medium-high heat. Add the butter. When melted, add the onion, cook for 2-3 minutes until translucent and beginning to lightly brown.
Toss in the garlic and thyme and cook for 30 seconds, until fragrant. Add a pinch of salt and pepper. Dump in the potatoes, chicken broth, cream and bay leaf. Bring to a simmer and then cover, reduce the heat to medium-low and cook for about 10 minutes.
Remove the cover, sprinkle the cheese on top, and place the iron skillet in the oven. Cook for 15 minutes or until the cheese is bubbling and slightly browned. Let rest for 5-10 minutes before serving. Season with salt and pepper to taste.
Recommended Products
As an Amazon Associate and member of other affiliate programs, I earn from qualifying purchases.

Recipe Source: adapted from Serious Eats
Disclaimer: I am a participant in the Amazon Services LLC Associates Program, an affiliate advertising program designed to provide a means for me to earn fees by linking to Amazon.com and affiliated sites. As an Amazon Associate I earn from qualifying purchases.