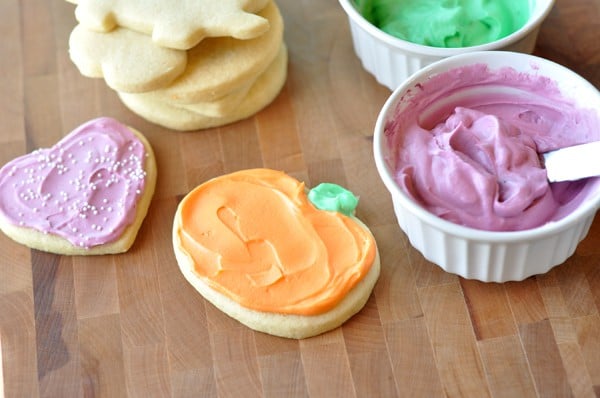 Be honest here: in a lineup of a classic chocolate chip cookie, an oatmeal cookie, a double chocolate cookie, a peanut butter cookie or a sugar cookie, which cookie, if you could only pick one, would you choose to eat every day for the rest of your life?
Seriously, I want to know.
Because, as much as I have droned on and on about my favorite cookies, I would choose a sugar cookie hands down to win out against any other kind of cookie.
Every day. Every time. I cannot resist a good sugar cookie. I simply can't resist. And I have the thighs to prove it.
Because I am a self-professed sugar cookie lover, and I mean LOVER, I am particular about my sugar cookies.
I like them soft and really thick while still holding their shape while baking. They need exceptional flavor; something different to set them apart from the rest of the sugar cookie pack.
And don't even get me started on the frosting. The frosting will make or break even the best sugar cookie.
Let's be real: sugar cookies are a lot of work. I want to know after all the mess and rolling and vying for Mother of the Year award for letting my kids help in the first place that the finished sugar cookie is going to blow my mind in deliciousness.
I have tried more sugar cookie recipes than I care to count and I will honestly say there are only two recipes that I ever make – and I've been making both for years now.
The first recipe I posted a while ago (a phenomenal, creamy, unique sugar cookie). I adore them. But I like to have options, and the recipe I am posting today is undeniably one of the best sugar cookie recipes on the planet.
The powdered sugar in the buttery dough creates a light, melt-in-your-mouth quality as the very, very subtle lemon flavor tickles your palate.
These cookies take sugar cookie devotion to new levels. They are unbelievably delicious.
The keys to sugar cookie success: the right recipe (I've got your back on this one), don't overbake (we're talking eight minutes max here, probably more like seven), roll them thick (at least 1/4-inch if not slightly thicker), and fantastic frosting.
I mostly top my beloved sugar cookies with my favorite frosting, which I've typed up below the recipe.
Light, decadent, creamy and beyond compare, this frosting is the icing on the cake. Or the cookie, so to speak.
It's very soft, very creamy, very rich – I get that not everyone will love it as much as I do, so if you want a sturdier, more classic sugar cookie frosting, the quick, vanilla buttercream recipe in this post is my next go-to.
So as you contemplate the land of sugar cookies and my apparent snobbery when it comes to them, don't forget to enlighten me on which lineup cookie you would choose.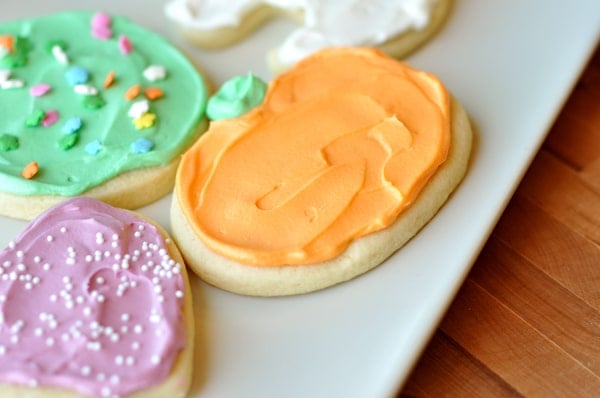 One Year Ago: Homemade Spaghetti Sauce
Two Years Ago: Creamy Chicken Fettuccine
My Favorite Sugar Cookies
The baking temperature for this recipe may seem high but I believe it is one of the keys to success. The cookies still remain soft and light because they bake for such a short time (and they keep their shape really well!).
Also, many of you have reported the dough is way too soft and sticky to roll out right away. So much depends on how the flour is measured - but if you don't want to chill the dough, add an extra 1/4-1/2 cup of flour to the dough to roll out right away.
Ingredients
1 1/2 cups (3 sticks, 12 ounces) butter, softened to cool room temperature
1 1/2 cups (11.25 ounces) granulated sugar
1/2 cup (2 ounces) powdered sugar
4 large eggs
1 teaspoon vanilla
1/2 teaspoon almond extract (optional)
1 tablespoon lemon zest (from about 1 lemon)
5 cups (25 ounces) all-purpose flour
2 teaspoons baking powder
1 teaspoon salt
Directions
Preheat oven to 400 degrees.
In a large bowl, cream together the butter and sugars for 3-4 minutes, until the mixture is light and fluffy. Add the eggs one at a time, mixing well after each addition. Add vanilla extract, almond extract and lemon zest; mix. Add two cups flour, baking powder and salt. Mix. Add remaining flour and mix just until flour is incorporated and the dough is smooth and soft.
The dough can be wrapped in plastic wrap and kept in the refrigerator for up to a week or it can be rolled out right away (if it seems too sticky add another 1/4 cup flour or refrigerate for an hour or so). Dust a counter with powdered sugar or flour and roll the dough to desired thickness (I prefer my cookies on the thick side so I roll my dough out to about 1/4-inch, maybe even slightly thicker than that). Cut the dough into shapes. Place the cookies on a lined or lightly greased baking sheet. Bake for 7-8 minutes. The cookies won't appear browned on top (or on bottom) when they are done baking so don't let them overbake! I find 7 1/2 minutes is about perfect but if they are even lightly browned on bottom, I decrease the time by 30 seconds. I like them super soft with not even a hint of browned edges or bottom. This way they literally melt in my mouth.
Cool the cookies completely on a wire rack before frosting. The baked cookies (unfrosted) can be stored in a tupperware or ziploc bag in the freezer for up to a month. I also often freeze 1/2 of the sugar cookie dough when I don't have time or don't want to roll it out and cut shapes. I wrap the dough in plastic wrap and then stick it in a freezer-safe ziploc bag and freeze it for up to a month. I take it out the night before I want to roll it out and store it in the refrigerator to thaw (for about 12-15 hours). About 30 minutes before I want to use it, I let it sit on the counter to soften a bit and then I roll it out and cut out the cookies.
https://www.melskitchencafe.com/my-favorite-sugar-cookies/
Printed from Mel\'s Kitchen Cafe (www.melskitchencafe.com)
Recipe Source: method adapted slightly from Good Things Catered

Whipped Cream Cheese Frosting

*Note: the key to success here is using really soft cream cheese and beating it with the powdered sugar until no lumps remain.
*Makes about 4 cups of frosting
1 (8 oz.) block cream cheese, softened
1 1/2 cups powdered sugar
1/8 teaspoon salt
1/2 teaspoon vanilla extract
1 1/2 cups heavy whipping cream
In a large bowl, combine the softened cream cheese, powdered sugar, salt and vanilla. Mix until very smooth and light and no lumps remain. In a separate bowl, beat the cream to stiff peaks. Add the whipped cream to the cream cheese mixture. Mix until well combined and smooth. Store in the refrigerator for up to one week.
Recipe Source: My Kitchen Cafe