Soft Sour Cream Sugar Cookies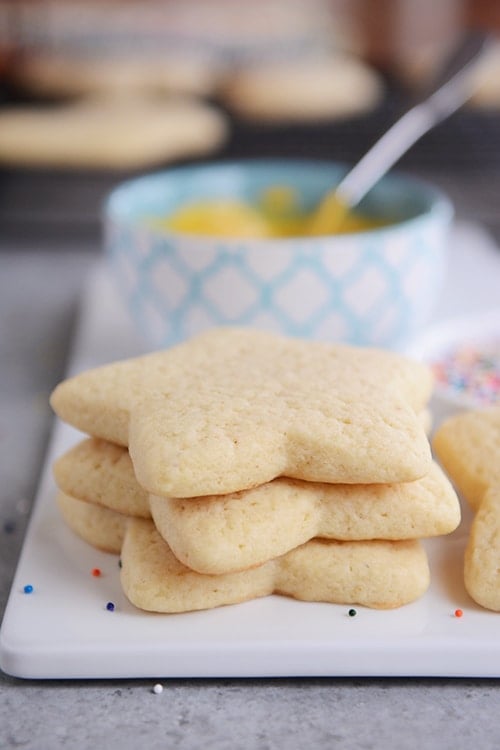 Are frosted sugar cookies on your timeline to make this season?
Whenever we get those neighbor cookie plates, I always try to sneak away with the sugar cookies, if there are any. Especially if they are soft-baked, thick-cut and smothered in frosting.
Sprinkles don't hurt either. Yum.
So what I'm trying to say is, if you bring frosted sugar cookies to my house, I won't turn you away.
I have a favorite sugar cookie recipe (this one) that's been my go-to for years and years.
But last week when I was flipping through my tattered recipe binders, I found the recipe my grandma used to always make, and I remembered how much I loved them.
I knew the risk in remaking them would be that my fond memories were with the sweet grandma part of the equation and not the actual sugar cookie, but wonderfully, they were as delicious as I remembered: very soft, just lightly sweet, and they keep the shape of the cookie cutter which is always a bonus.
And I loved the nostalgia as the rush of loving grandma memories swirled around on baking (and eating) day.
One of the reasons these cookies win me over is because of the very slight hint of nutmeg. It makes the sugar cookies extra special without overpowering the classic sugar cookie flavor. (But it's definitely an optional component if you are a nutmeg naysayer.)
I almost always use this quick vanilla buttercream for frosting sugar cookies (this whipped cream cheese frosting – bottom of the post – is sinful, too, but a bit less sturdy than the buttercream); the combination of sweet, creamy frosting and buttery, tender sugar cookies is…just…too delicious.
I prefer these cookies baked with very little, if any, golden color on the bottom or sides. Soft and yummy. It's the only way to go.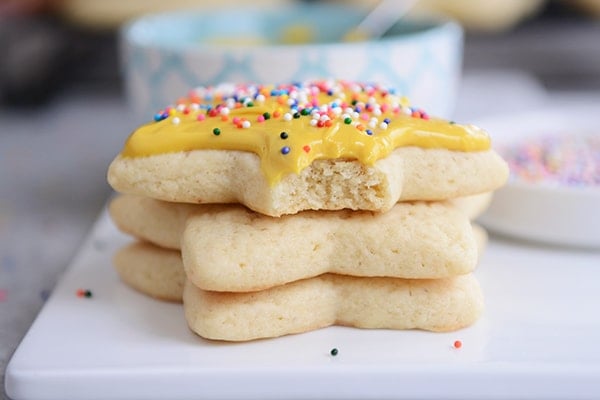 One Year Ago: Chocolate Chip Gingerbread Cake Truffles
Two Years Ago: Homemade Thin Mint Cookies
Three Years Ago: Chocolate Shortbread Fingers
Soft Sour Cream Sugar Cookies
Yield: 2-3 dozen cookies

Prep Time: 20 minutes

Cook Time: 11 minutes

Total Time: 31 minutes
Ingredients
1 cup (2 sticks, 8 ounces) butter, softened
2 cups (15 ounces) granulated sugar
2 large eggs (3.5 - 3.6 ounces)
2 teaspoons vanilla extract
5 1/2 cups (27.5 ounces) all-purpose flour (UPDATE: see note!)
2 teaspoons baking powder
1/2 teaspoon ground nutmeg (optional)
1/2 teaspoon salt
1 cup (8 ounces) sour cream
1 1/2 teaspoons baking soda
Instructions
In a large bowl with a handheld electric mixer (or in an electric stand mixer), cream together the butter and sugar for a minute or so. Add the eggs and vanilla and mix until well-combined.
Add the flour, baking powder, nutmeg (if using) and salt. Mix until combined; the mixture will be in little pieces.
In a separate bowl, stir together the sour cream and baking soda. The sour cream may foam a bit - that's totally normal.
Add the sour cream mixture to the cookie dough and mix until combined. Don't overmix - just until it is smooth and looks like sugar cookie dough.
Wrap the dough in plastic wrap and refrigerate for 1-2 hours.
Preheat the oven to 375 degrees F.
Roll the dough on a lightly floured counter to about 1/4-inch thick and cut into desired shapes, using additional flour on the counter or rolling pin as needed. Place the cutout cookies on a parchment or silpat lined baking sheet a couple inches apart and bake for 9-11 minutes, depending on the size and thickness of the cookies. Don't overbake. They'll be puffed up a bit and should be lightly browned (or not browned at all) on the bottoms; they'll be softer if there's no browning on the sides and top.
Let the cookies rest a minute or so on the baking sheet before removing to a wire rack to cool completely.
Notes
Flour Amount: there have been a lot of people reporting back about crumbly dough. The original recipe called for 6 1/2 cups flour but after making this over and over, I've changed the amount to 5 1/2 cups. I apologize for the issues (related to an automatic recipe conversion that happened a year or so ago). If you've had good luck using the original amount, stick with it, but I think the lesser flour amount will work better for most people.
Recommended Products
As an Amazon Associate and member of other affiliate programs, I earn from qualifying purchases.

Recipe Source: from Mel's Kitchen Cafe (my sweet grandma's old recipe)