These sugar cookie bars? Well, they are phenomenal. The glorious goodness of sugar cookies in bar form. And that in itself is truly brilliant.
I adapted my favorite-sugar-cookie-of-all-time for these babies and I may never go back to chilling, rolling and cutting. Ok, actually, I will, because sugar cookies have a special place in my heart.
But if you don't want to chill, roll or cut, these sugar cookie bars are for you.
They are perfect for a sugar cookie fix that needs to be satisfied nearly immediately and talk about a stinking cute treat to bring to a potluck or to a friend or surprise kids after school.
Your fellow potluckies and friends and kids will love you forever.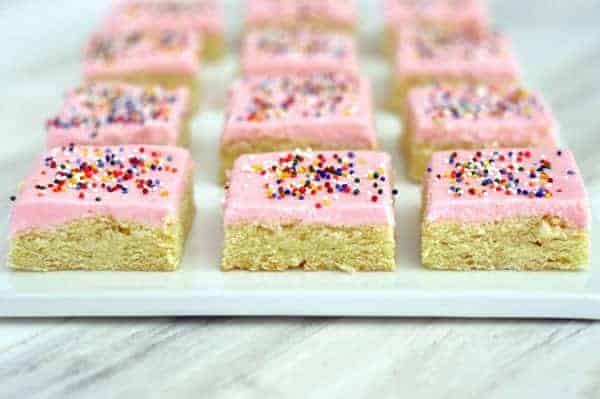 One Year Ago: Spring Penne Pasta with Light Butter Sauce
Two Years Ago: Penne with Roasted Asparagus and Balsamic Butter
Three Years Ago: Philly Cheesesteak Calzone
Yield: 9X13-inch pan

Prep Time: 20 minutes

Cook Time: 13 minutes

Total Time: 33 minutes
Ingredients
Bars:
3/4 cup butter (1 1/2 sticks), softened to cool room temperature
3/4 cup granulated sugar
1/4 cup powdered sugar
2 large eggs
1 teaspoon vanilla extract
1/2 tablespoon lemon zest (optional)
2 1/4 cups all-purpose flour
1 teaspoon baking powder
1/2 teaspoon salt
Frosting:
6 tablespoons butter, softened
2 1/2 cups powdered sugar
3 tablespoons milk or cream
1/4 teaspoon vanilla extract
Sprinkles (optional)
Instructions
Preheat oven to 375 degrees F.
In a large bowl, cream together the butter, granulated sugar and powdered sugar until light and fluffy. Add the eggs and vanilla and mix for 1-2 minutes. Stir in the lemon zest, flour, baking powder and salt. Mix until combined.
Lightly grease a 9X13-inch baking pan with cooking spray. Press and/or spread the sugar cookie mixture gently into an even layer into the bottom of the pan.
Bake for 10-13 minutes. Don't overbake! The bars shouldn't have any color around the edges and barely be set in the middle. Let the bars cool completely before frosting.
For the frosting, cream together the butter and powdered sugar until smooth (if the mixture has trouble coming together, add a drop or two of milk). Add in the vanilla and mix. Add the milk or cream and mix until the frosting is light and fluffy. Add food coloring, if desired.
Recommended Products
As an Amazon Associate and member of other affiliate programs, I earn from qualifying purchases.

Recipe Source: Mel's Kitchen Cafe