No-Knead Bread
The beauty of this no-knead bread recipe is that it is SO EASY, you don't have to pull out your heavy-duty mixer to make it.
Have you heard about the famous No-Knead Bread? It became a phenomenon around 2007 when Jim Lahey from the Sullivan Street Bakery published a recipe for it and it has created an enormous revolution for bread-bakers everywhere.
My aunt passed along the recipe to me and I'll admit I was kind of a skeptic when I first read through it. But I tried it and I can honestly say I make this bread at least three or four times a month.
It is the perfect pairing for almost any meal: Italian (it works wonders with lasagna!), chicken and rice, you name it. The beauty of this recipe is that it is so easy, SO EASY, you won't even believe it.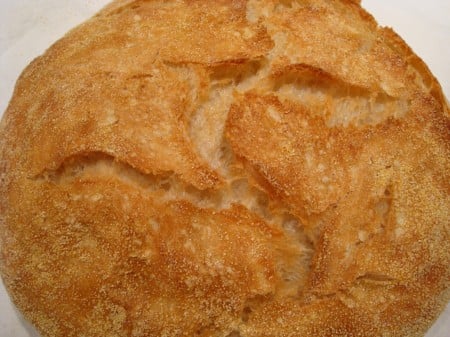 The truth is in the name, you don't have to knead this bread dough AND you don't have to pull out your heavy-duty mixer to make it. If you know me well enough, you know I heart my Bosch mixer with every fiber of my being, but I'll gladly leave it on the shelf for this bread.
Most importantly, you can wow your friends beyond belief (and who doesn't like to wow every now and again, really).
It is true artisan bread – just like the kind that comes in the basket before your meal at those fancy-dancy Italian or Steakhouse restaurants. And if you ask me, it is even better the day after.
One disclaimer is you have to have a covered pot/dish to bake this in. I have an enamel cast iron pot I use that I had prior to this bread recipe coming into my life. (I could write another two pages on the benefits of owning an enamel cast iron pot, by the way…it is one of my single-best kitchen pots and I would buy it all over again in an instant.
Mine is not a pricey Le Cruset but just a Mario Batali knock-off I found on Amazon and it works great for everything: soups, bread, roast, ribs, etc.) My aunt told me she has made it in a glass Pyrex bowl with a glass lid and it worked great, too.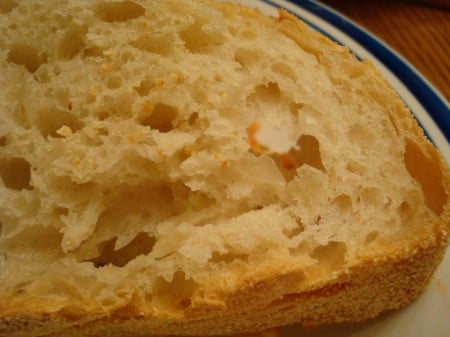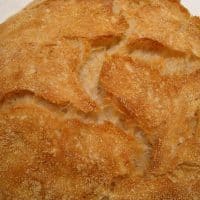 No-Knead Bread
Ingredients
3

cups

all-purpose flour or bread flour

,

more for dusting

¼

teaspoon

instant yeast

1 ¼

tesapoons salt

Cornmeal or wheat bran as needed
Instructions
In a large bowl combine the flour, yeast and salt. Add 1 5/8 cups water and stir until blended; dough will be shaggy and sticky. Cover bowl with plastic wrap. Let dough rest at least 12 hours, preferably about 18, at warm room temperature, about 70 degrees.

Dough is ready when its surface is dotted with bubbles. Lightly flour a work surface and place dough on it; sprinkle it with a little more flour and fold it over on itself once or twice. (Don't be fooled, your hands will be COVERED in sticky dough right about now…that is ok!) Cover loosely with plastic wrap and let rest about 15 minutes.

Using just enough flour to keep dough from sticking to work surface or to your fingers, gently and quickly shape dough into a ball. Generously coat a cotton towel (NOT terry cloth) with flour, wheat bran or cornmeal; put dough seam side down on towel and dust with more flour, bran or cornmeal. Cover with another cottong towel and let rise for about 2 hours (I usually go for about 3 hours). When it is ready, dough will be more than double in size and will not readily spring back when poked with a finger.

At least a half-hour before dough is ready, heat oven to 450 degrees. Put a 6- to 8-quart heavy covered pot (cast iron, enamel, Pyrex or ceramic) in oven as it heats. When dough is ready, carefully remove pot from oven. Slide your hand under towel and turn dough over into pot, seam side up; it may look like a mess, but that is OK. Shake pan once or twice if dough is unevenly distributed; it will straighten out as it bakes. Cover with lid and bake 30 minutes, then remove lid and bake another 15 to 30 minutes (I only ever do an additional 5-10 minutes max because I don't like a really hard, dark crust), until loaf is beautifully browned. Cool on a rack.
Notes
This dough is sticky, VERY sticky so don't be alarmed. When you stir together the biga (the starter the night before) you will wonder how on earth this gooey matter will ever form bread but don't worry, it will. I have tried cutting the water down by 1/8 cup and it produces a less sticky dough. It turns out fine but using the full 1 5/8 cups yields a more tender bread dough. Also, I always use cornmeal for my dusting and all-purpose flour for the dough. Finally, the recipe says once you have baked the bread for 30 minutes to uncover the pot and bake an additional 15 to 30 minutes. The most I ever let it bake after removing the lid is 5-10 minutes because I don't like a really dark, hard crust. I like mine a little bit lighter.
Follow @MelsKitchenCafe on Instagram and show me the recipes you are making from my blog using the hashtag #melskitchencafe. I love seeing all the goodness you are whipping up in your kitchens!
Recipe Source: adapted from Jim Lahey, Sullivan Street Bakery
Disclaimer: I am a participant in the Amazon Services LLC Associates Program, an affiliate advertising program designed to provide a means for me to earn fees by linking to Amazon.com and affiliated sites. As an Amazon Associate I earn from qualifying purchases.