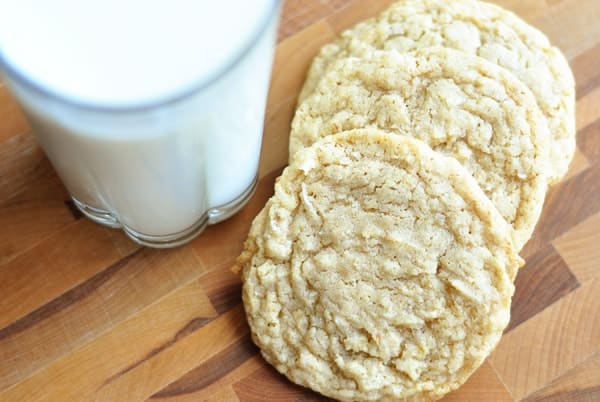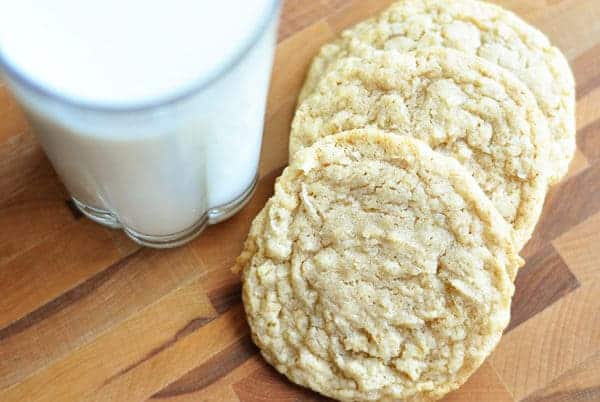 These are my new favorite cookie. There, I said it. And I hope this cookie and this cookie and this cookie aren't jealous since I've declared them all to be my favorite in days gone past.
This new love is my Aunt Laurie's recipe (sister to the famed Aunt Marilyn), sent to me by Stacey, my cousin, Laurie's daughter. Following?
Anyhow, Cousin Stacey and Aunt Laurie instantly catapulted to favorite-extended-family status after I made this recipe. And then I instantly demoted them based on the number of calories I consumed after making and devouring these cookies twice in one week.
These cookies are buttery, soft, chewy, filled with coconut and oatmeal…and that all adds up to being some of the best cookies ever. Plus, the baked cookies freeze wonderfully. Not that they'll make it that far.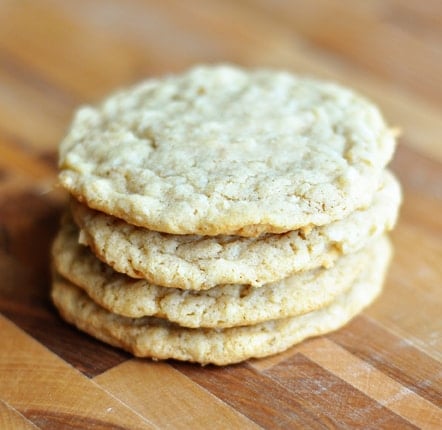 One Year Ago: Gingerbread White Chocolate Blondies
Two Years Ago: Pineapple Meatballs
Yield: 2 dozen

Prep Time: 13 minutes

Cook Time: 11 minutes

Total Time: 24 minutes
Ingredients
1 cup granulated sugar
1 cup brown sugar
2 eggs
1 cup (2 sticks) butter, softened to cool room temperature
2 teaspoons vanilla
1 teaspoon baking soda
1 teaspoon baking powder
1/2 teaspoon salt
2 1/2 cups flour
1 cup shredded, sweetened coconut
1 cup quick oats
Instructions
Preheat the oven to 350 degrees. In a large bowl cream together the sugar, eggs, butter and vanilla until light and fluffy. Add the dry ingredients and mix until combined. Drop by tablespoonfuls onto a greased or lined (silpat or parchment) baking sheet.
Bake at 350 degrees for 9-11 minutes, until the cookies are set but not overly browned (bake a few minutes longer for a crispier version).
Notes
Flour: a couple of the times I've made these, I have substituted white wheat flour for the all-purpose and they turned out delicious!
Recommended Products
As an Amazon Associate and member of other affiliate programs, I earn from qualifying purchases.

Recipe Source: my Aunt Laurie via my cousin Stacey B.