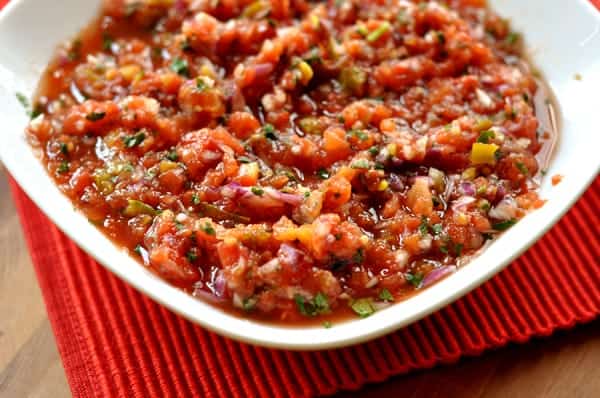 Simply delicious, I've made this salsa four or five times since discovering the recipe.
Initially, I was thrilled to have another application for the jalapenos I keep on hand for this recipe. But when I tasted the finished concoction, I knew I would be making this time and time again (and stocking up on jarred jalapenos).
This recipe is definitely the best combination of flavors I've ever had in a salsa.
Despite the use of canned tomatoes (so convenient when fresh tomatoes aren't available!), this salsa tastes fresh as fresh can be.
Stir in one or two avocados right before serving and I've officially died and gone to heaven.
One Year Ago: Lemon Pudding Cake
Two Years Ago: Crispy Chicken Wraps
Yield: about 3 cups

Prep Time: 5 minutes

Total Time: 5 minutes
Ingredients
1/2 small red onion, peeled and quartered
1/2 cup fresh cilantro leaves
1/4 cup drained jarred pickled jalapenos
2 tablespoons lime juice
2 garlic cloves, peeled
1/2 teaspoon salt
1 (28-ounce) can diced tomatoes, drained
Instructions
In the bowl of a food processor (or a blender), pulse the onion, cilantro, jalapenos, lime juice, garlic and salt until coarsely chopped.
Add the drained tomatoes and pulse until combined. Don't overprocess in this step if you want your salsa to remain chunky – just give it a few good 1-second pulses until everything is mixed. Place the salsa in a fine mesh strainer or sieve and drain briefly. Transfer to a bowl and serve. (The salsa can be refrigerated in an airtight container for up to 2 days.)
Notes
This salsa is unbelievably good with a couple diced avocados mixed in just before serving.

Recipe Source: from Cook's Country